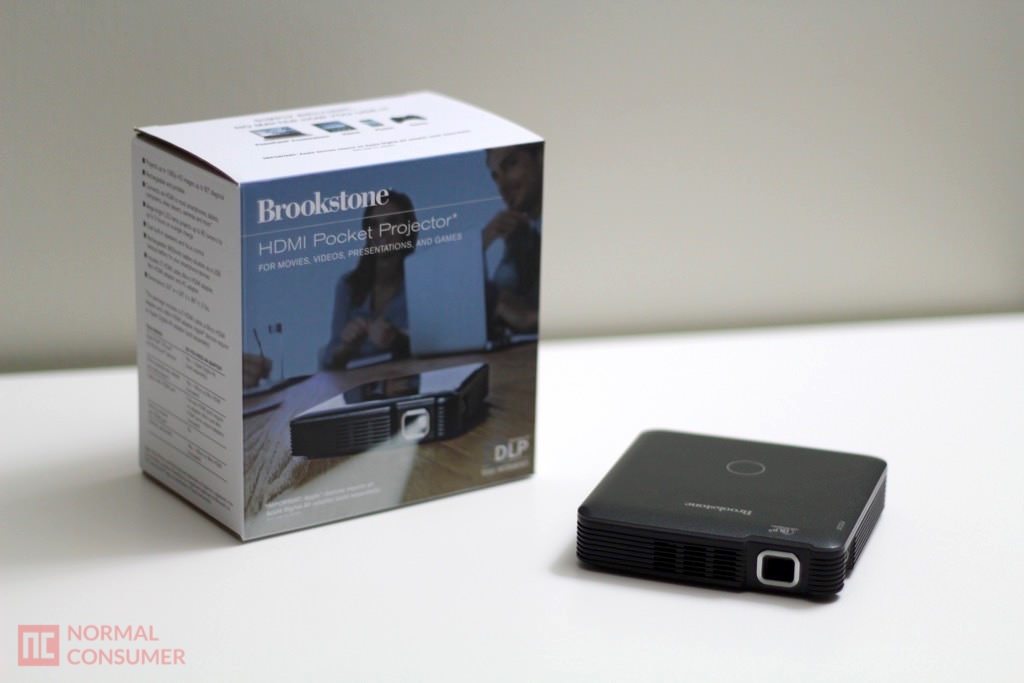 Brookstone Pocket Projector is one of the coolest and most portable projector in the market. This compact projector is able to output 85 lumen and that may sound small compared to some 3000 ones you may find in commercial use, but it's fully capable of projecting movies, presentations, games, and more! It's advertised to project up to 80″ diagonal image but we found it to go above 100″ in a dark setting — perfect for watching movies.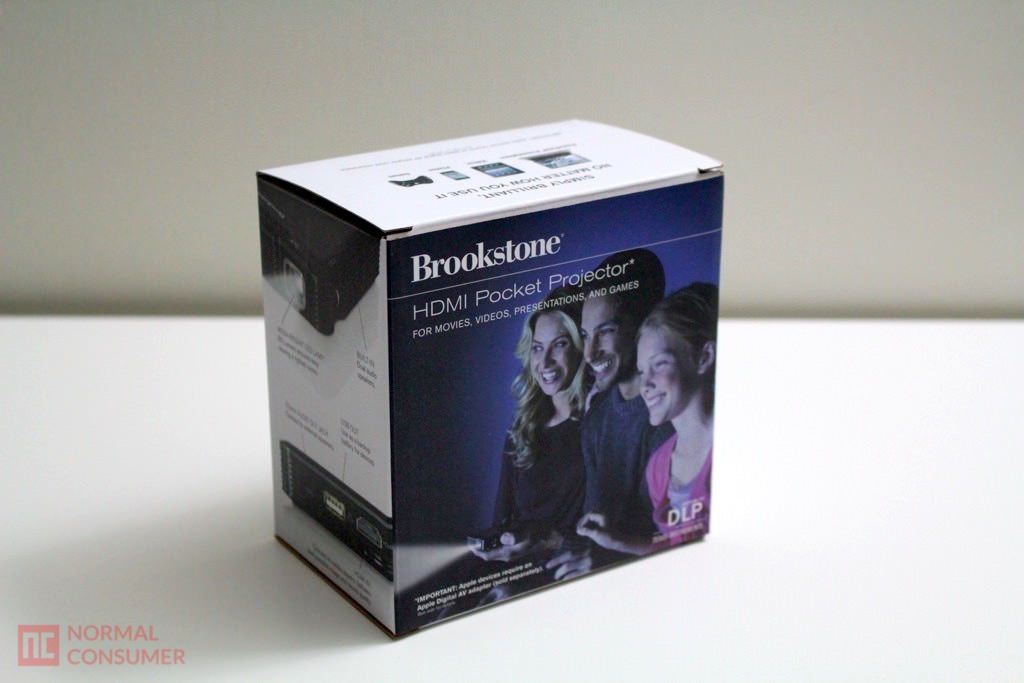 Packaging comes in a very informative and compact box that tells you everything you need to know about the projector. Some of the highlight features are:
85 lumens in brightness
854 x 480 (WVGA) native resolution that will take up to 1080p inputs
Rechargeable 3800mAh battery that will last about 2 hours and also can charge other devices via USB
Built in dual speakers
Small and portable with full HDMI input port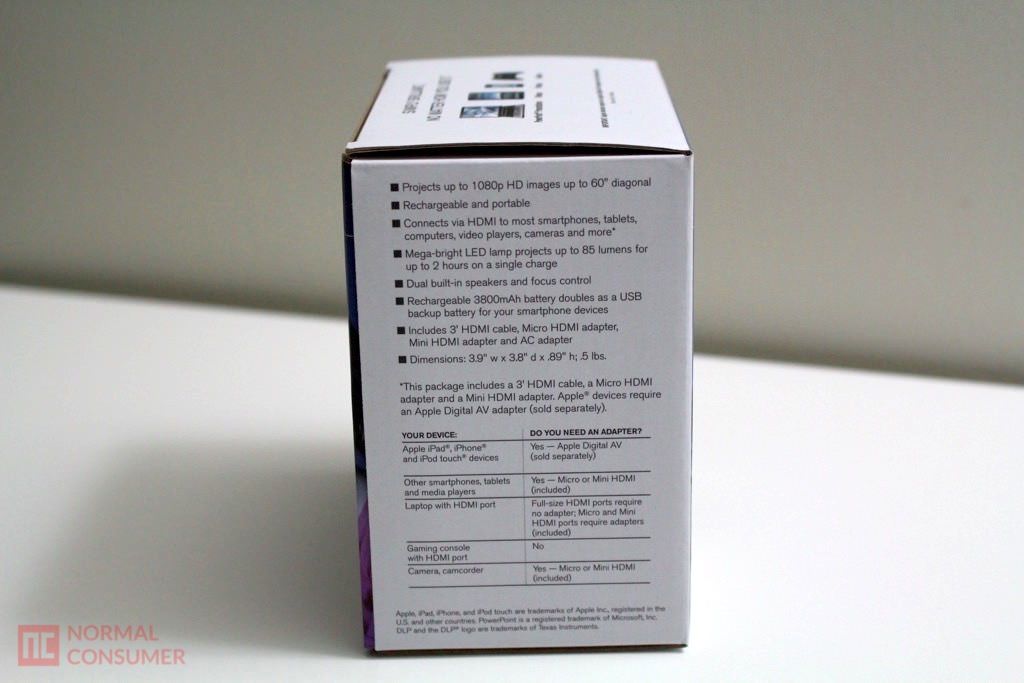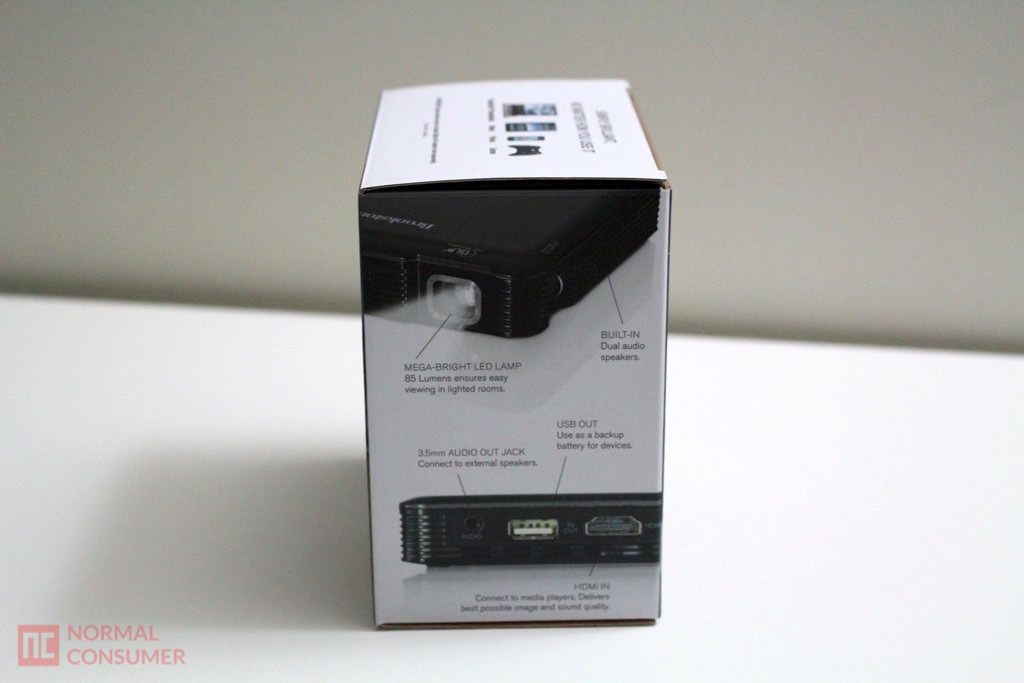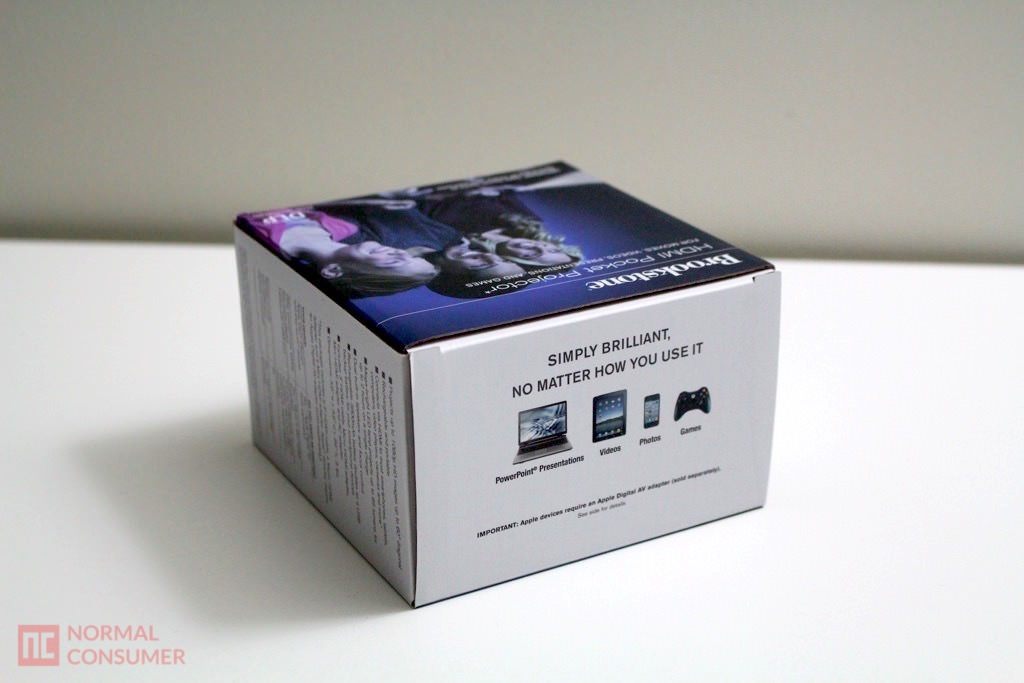 They advertise the projector to be compatible with computers, tablets, smartphones and game consoles, but the fineprint says Apple devices require an Apple Digital AV adapter (lightning or 30 pin).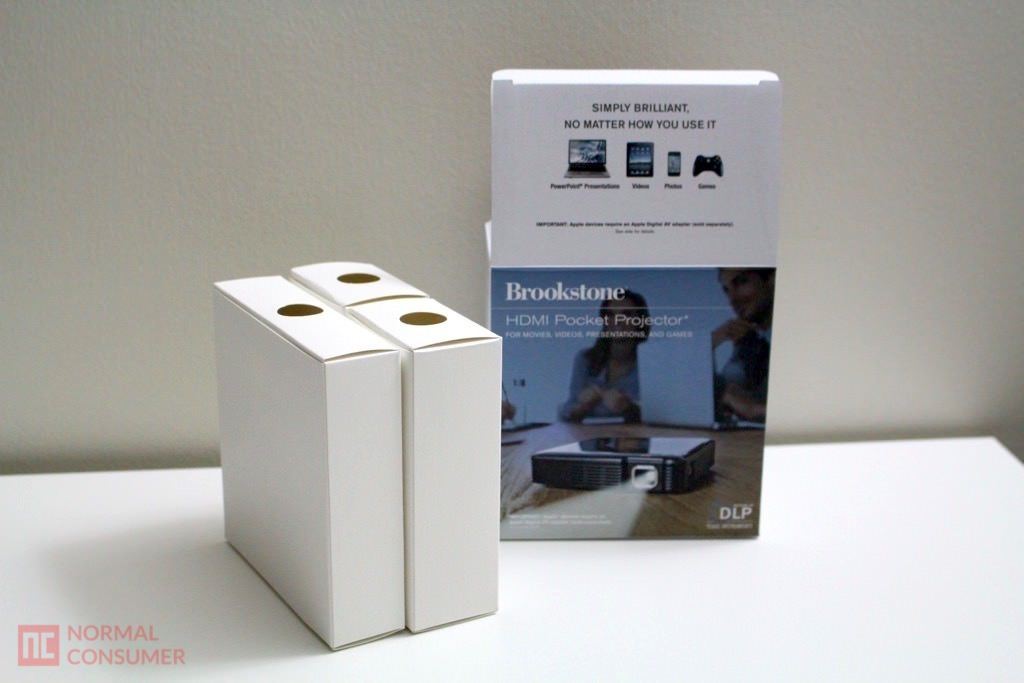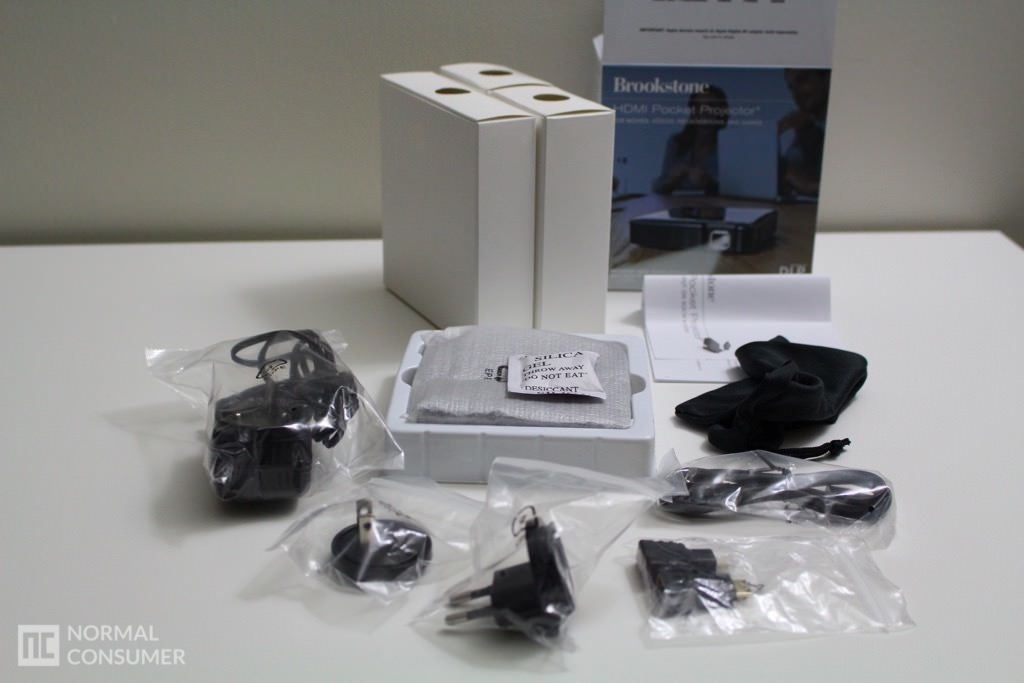 Opening the box reveals three smaller boxes. One for the projector itself and others for accessories like the power adapter (Both 220v and 110v plugs), HDMI cable, micro HDMI & mini HDMI adapters, and a thin pouch bag. Do note that this bag will only protect the projector from scratching its glossy surfaces and if you're looking for an actual protection, Brookstone also offers a dedicated travel case.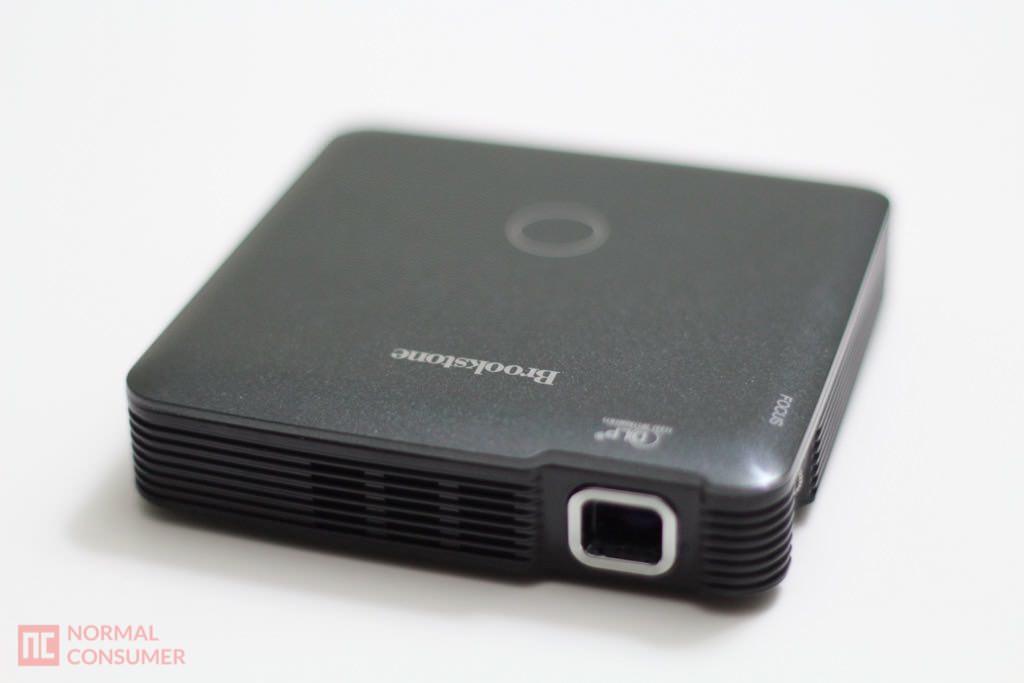 The dimension of the projector is 3.9″ w x 3.8″ d x .89″ h, weighing only .5 lbs. This little package can project a huge screen without any hiccups.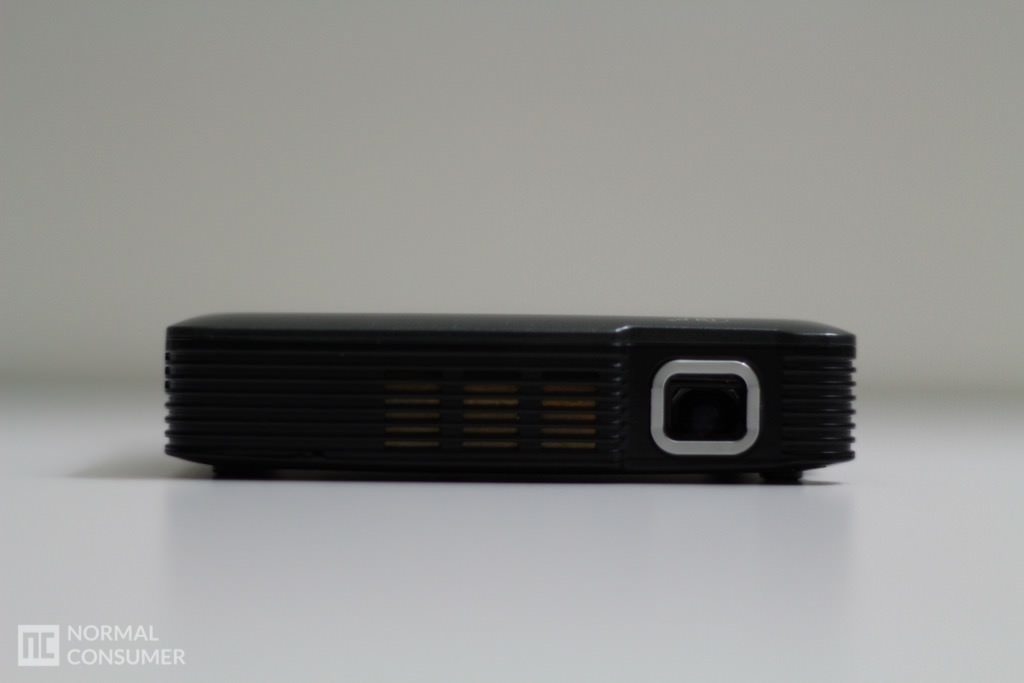 Front reveals the lens that beams the projection, wrapped in chrome like material for a nice touch and the heat sink is also visible in the center to keep the air flowing.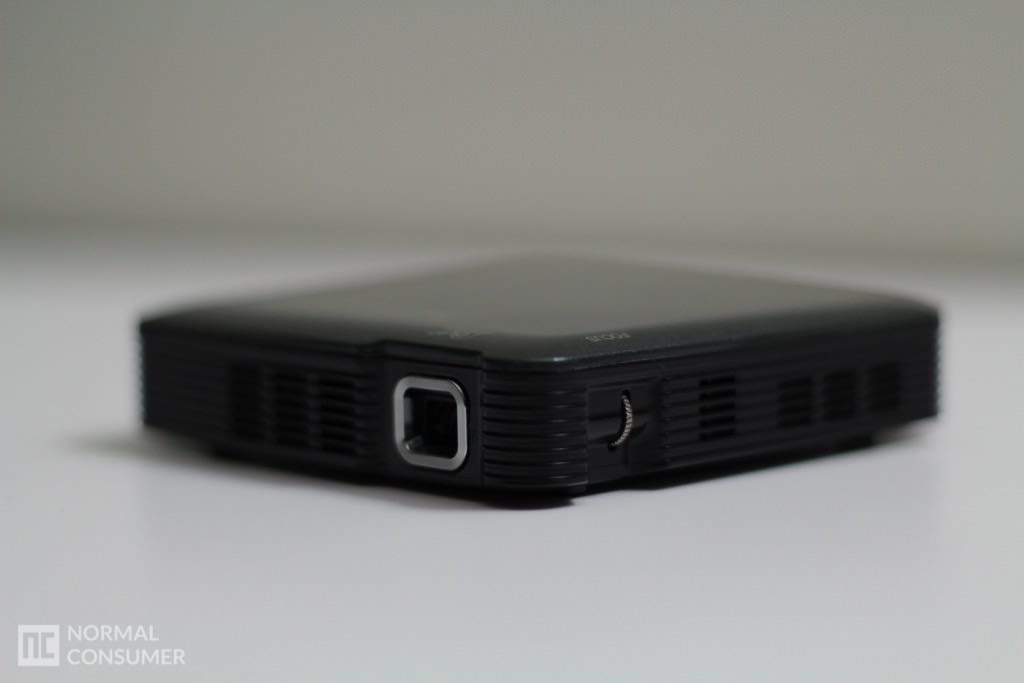 Each side has more openings to prevent the projector from overheating, but on the left side by the lens sits a focus ring. Because it's not a normal sized projector, even the focus ring is very small and is sensitive to touch. I've found the focus to remain still unlike some other projectors that changes upon turning on, so it's nice and quick – no waiting time.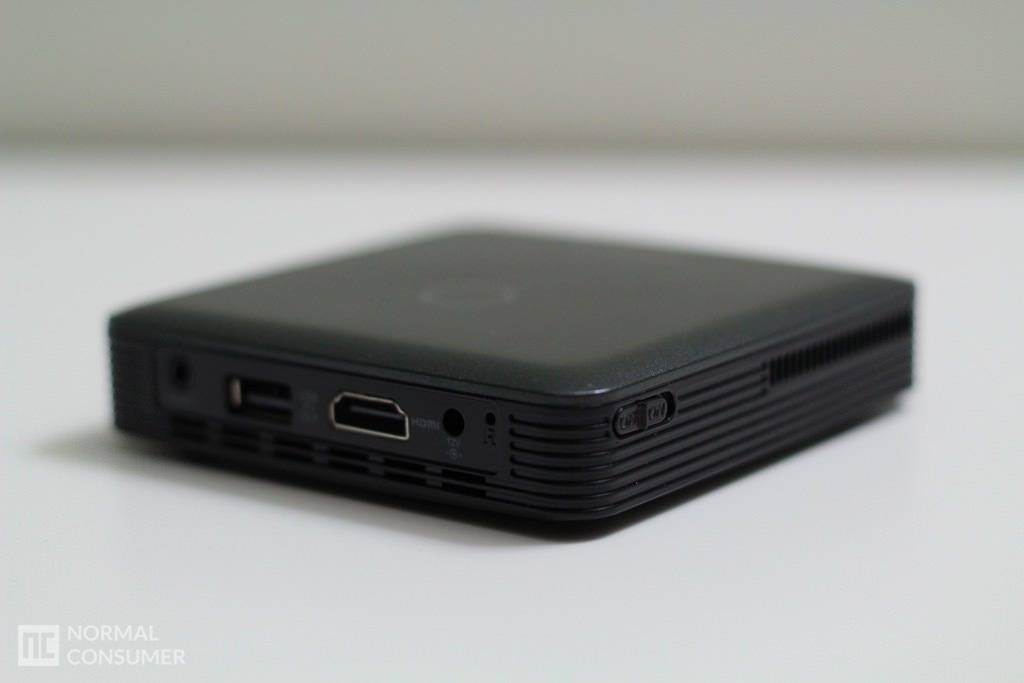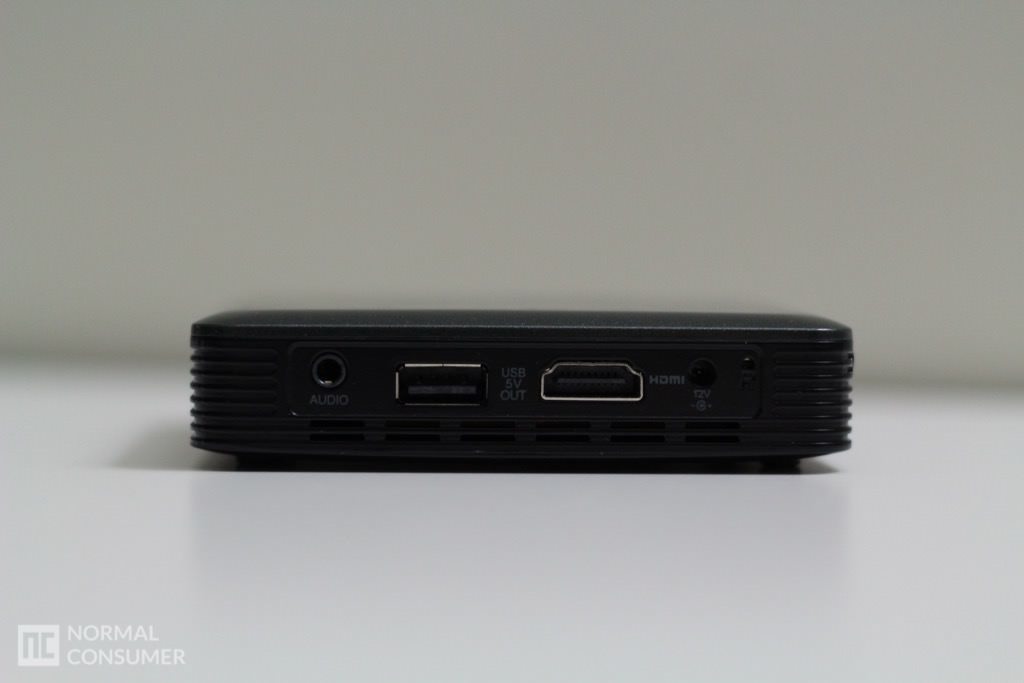 In the back, we can see all the available ports: 3.5mm audio jack, a full sized USB, HDMI, and a jack for the power supply. While each functions as expected, the USB port does not unfortunately. It's got an ability to charge other devices via USB out of the 3800mAh internal battery, but it's not able to read anything from a USB storage. It would've been nice if it could play images, videos or presentation files immediately from a USB but it'll require you to connect to a computer, TV or other devices unfortunately.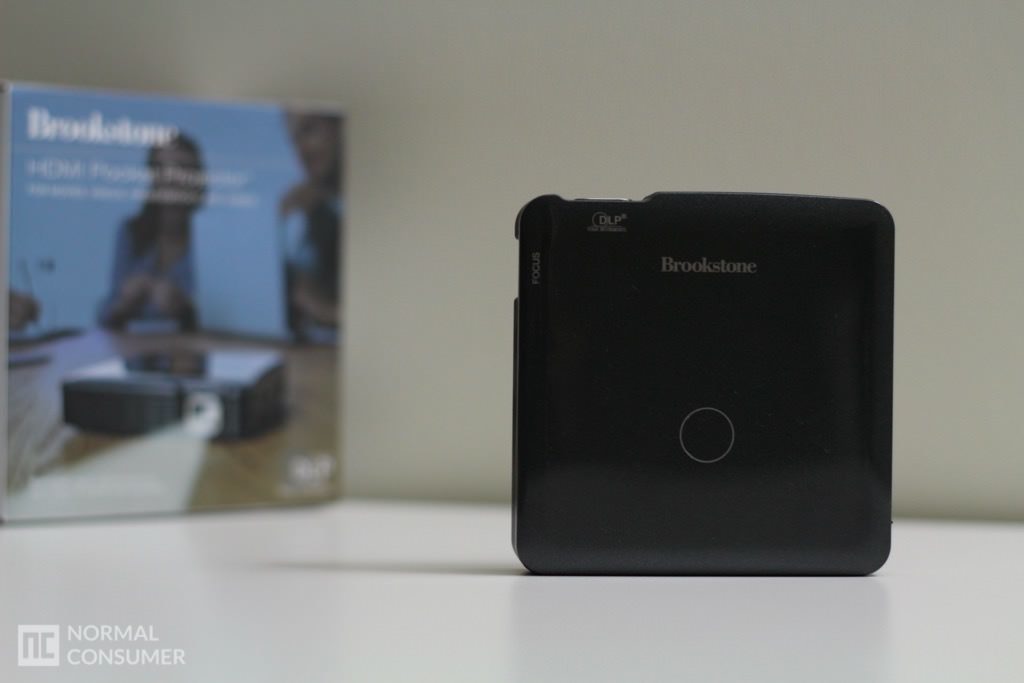 The top is simple with a few logos and a circle in the center where a few controls are. We'll get there in a bit.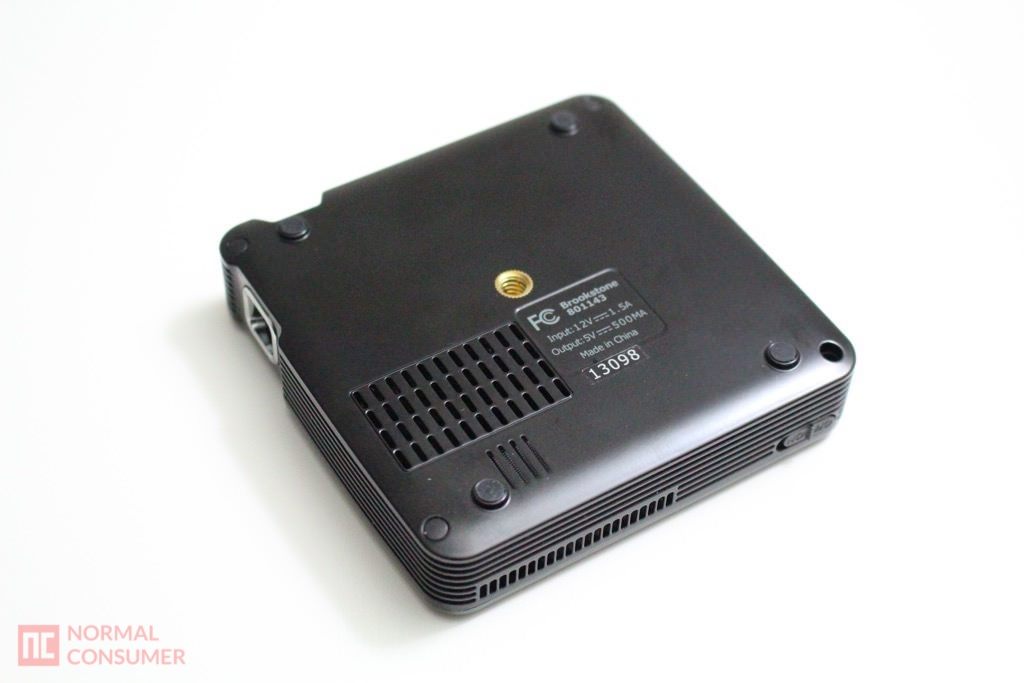 Bottom has a standard hole for tripods so that you can have a better experience, unless you plan to just use it on a table top. That would be fine too.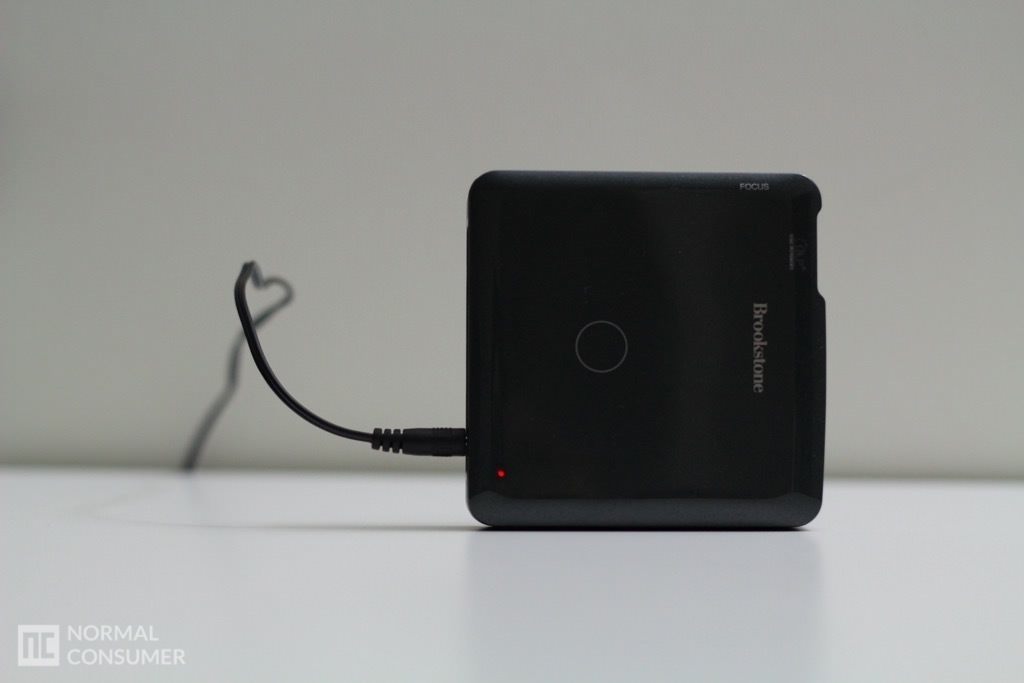 When you charge the projector, it'll indicate with a small red light and after a several hours, it'll go away and be ready for a 2 hour showtime. While the internal battery gives you an option to project this wherever you go without power, for watching movies or using it for an extended time, having it plugged in would be highly recommended. But we never had it die on us because the screen will indicate when the battery is running low to prompt you to start charging.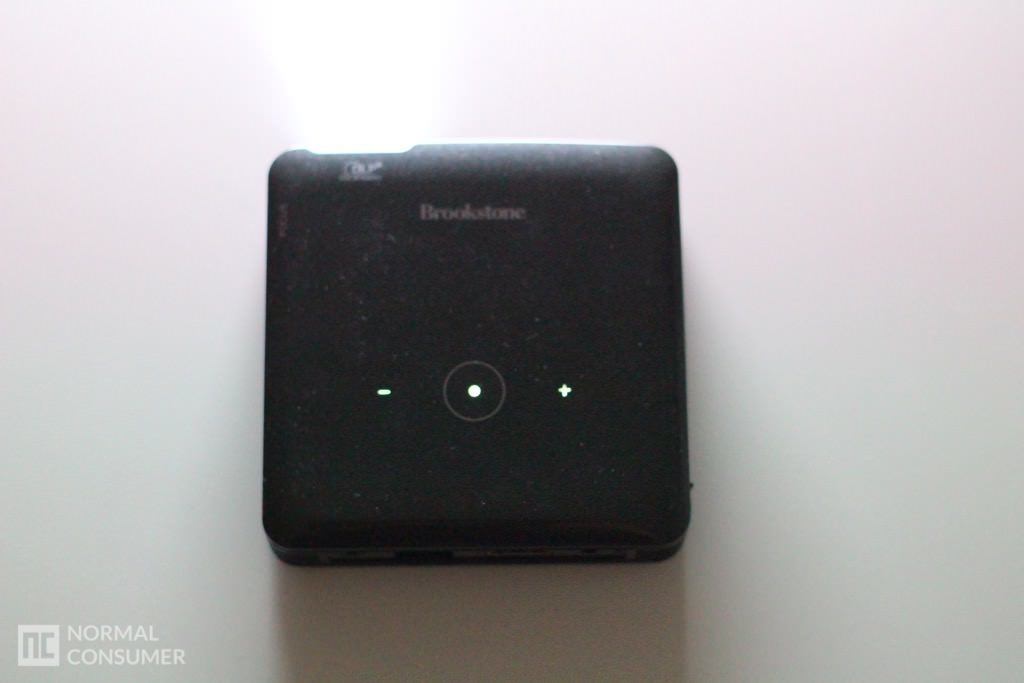 The controls on top illuminates and is touch sensitive. Tapping on the circle will switch you from Document mode and Movie mode. We found document mode to be a bit high in contrast but for normal use, the movie mode worked well. The minus and plus buttons are for volume control. Thanks to its built in speakers, you won't need an additional set of speakers for a simple use, but again, would recommend a set if you're going to watch anything for some time. While the touch is neat, we wouldn't have minded actual buttons that will press and click, but no biggie.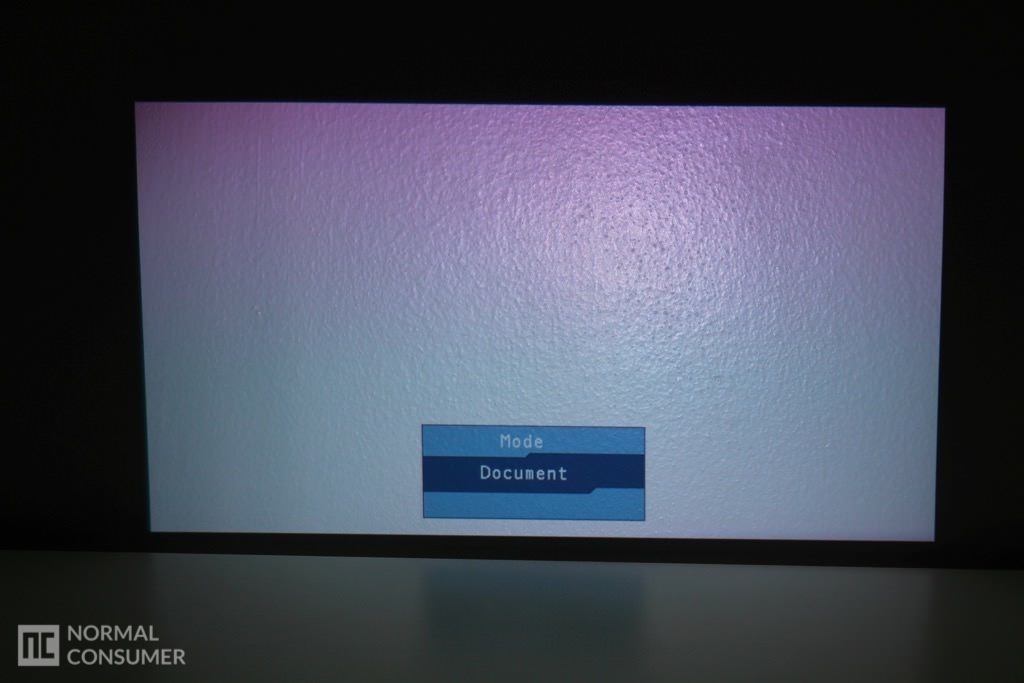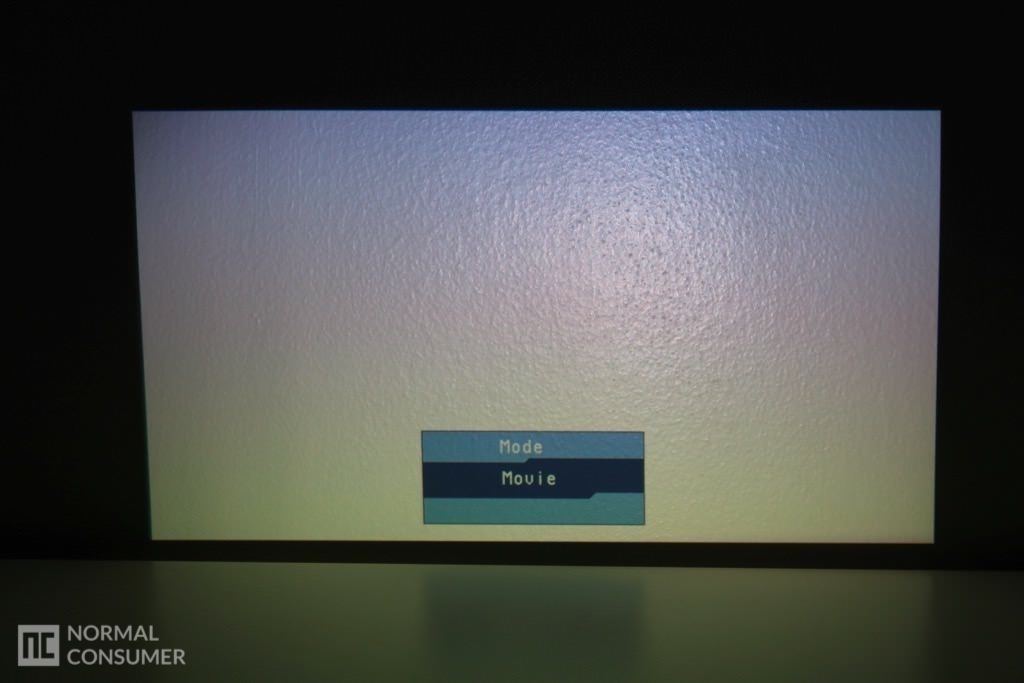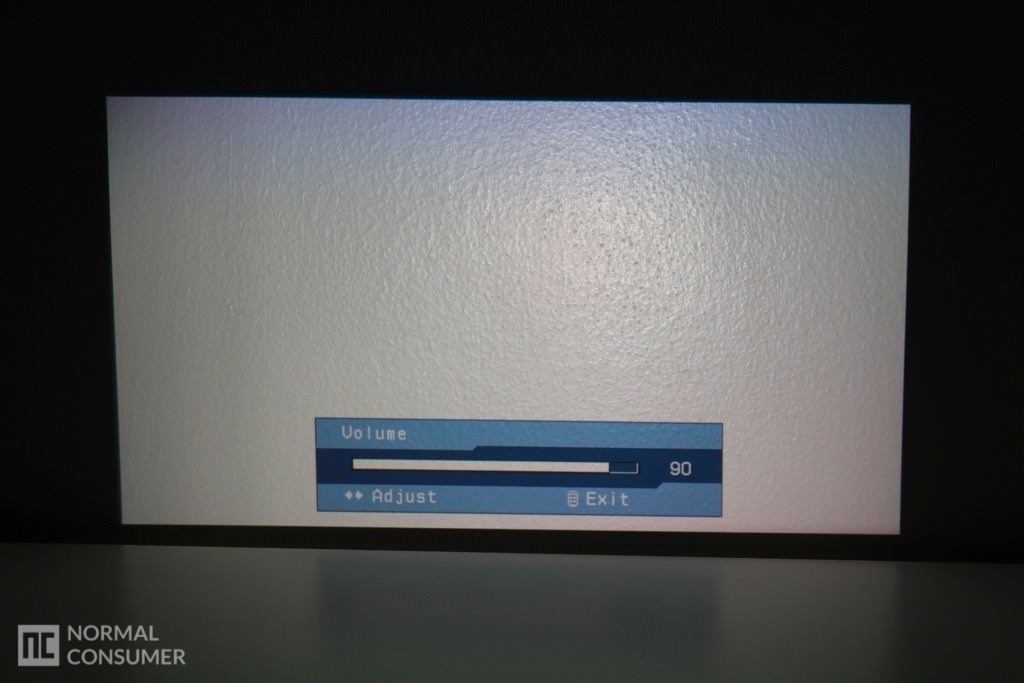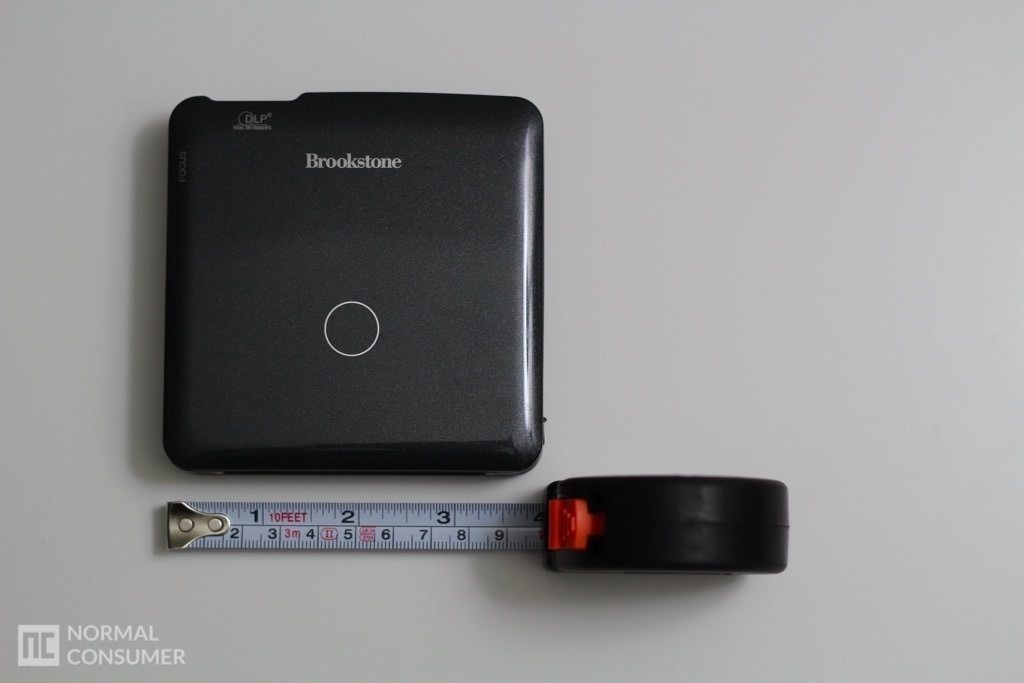 Again to emphasize how small this projector is, measurements don't lie — just about 4 inches wide. For another comparison, below shows the projector and an iPhone 5.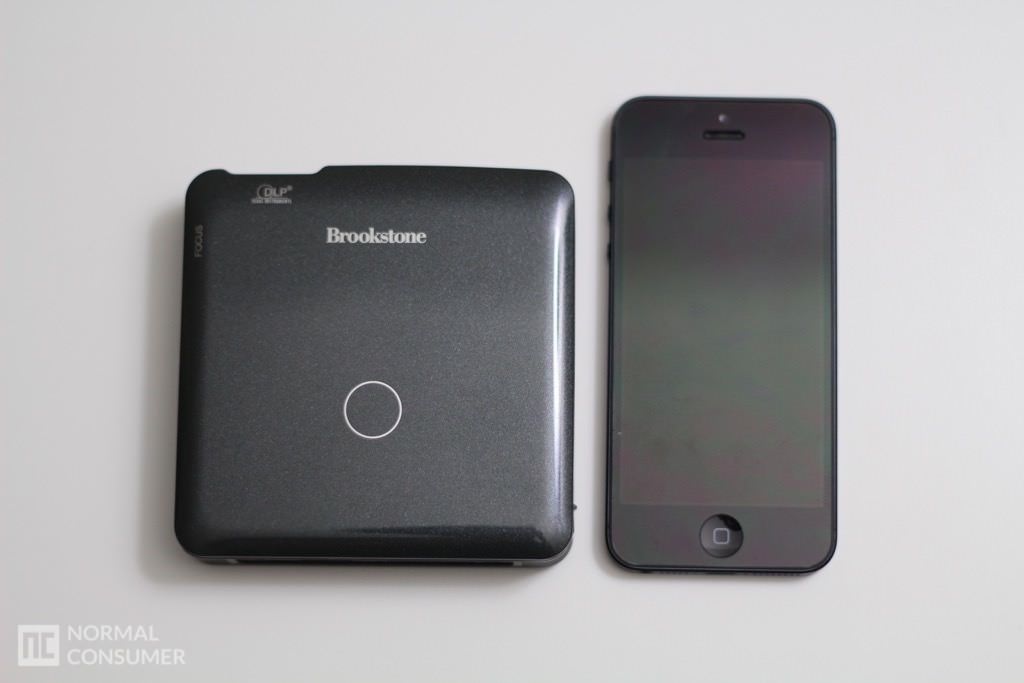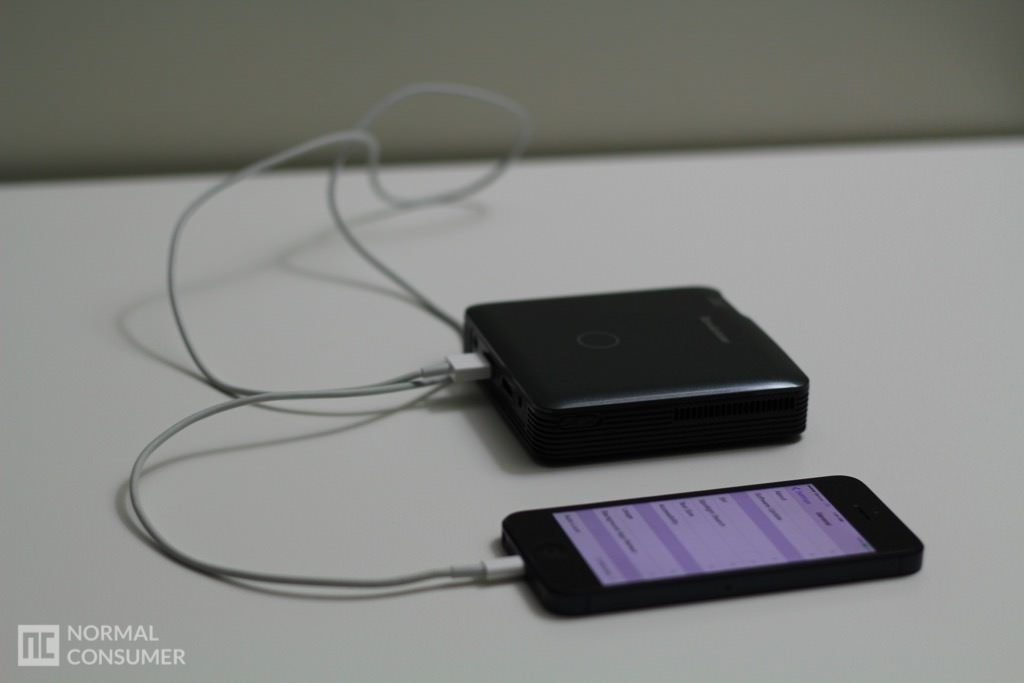 By connecting a USB cable to the back of the projector and another device like a smartphone, you can charge things! With its dual purpose as a projector and a charger, it can definitely come in handy.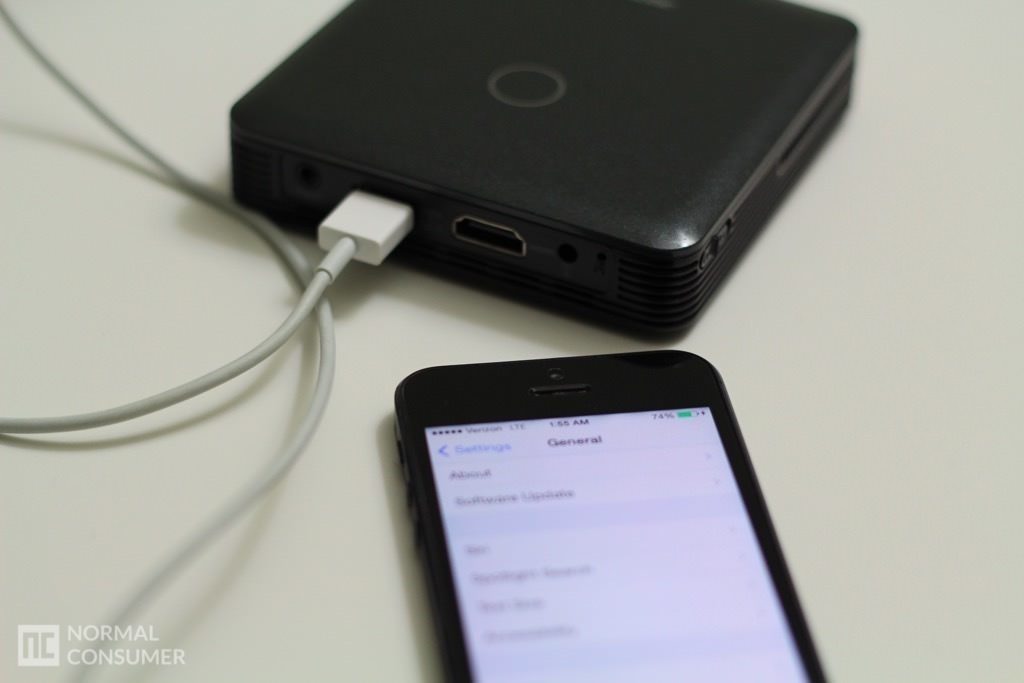 Now to the most important part — how well it works as a projector.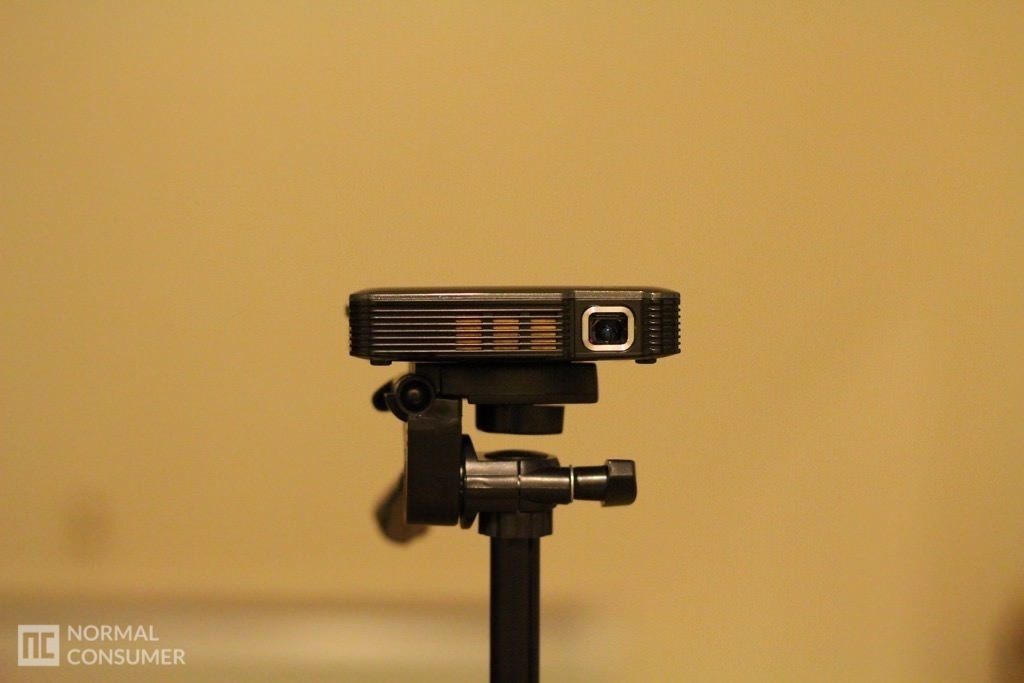 We hooked up the projector to an affordable tripod and it sits nicely. You can also try to mount this on a ceiling, but do note that your image is going to be flipped and there isn't a setting to change that, unless you do that from your computer's display settings.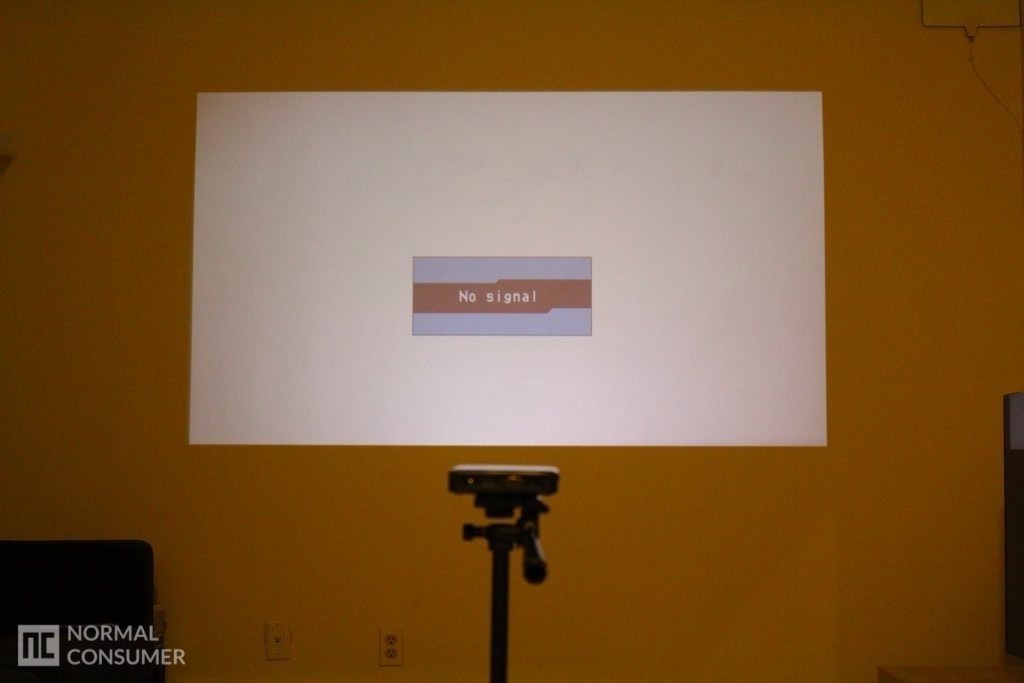 Upon powering it on, it tries to find an input source and when nothing is connected, it'll say "No signal". You can see that it's able to project a bright white image through warm yellow lights shining from the ceiling.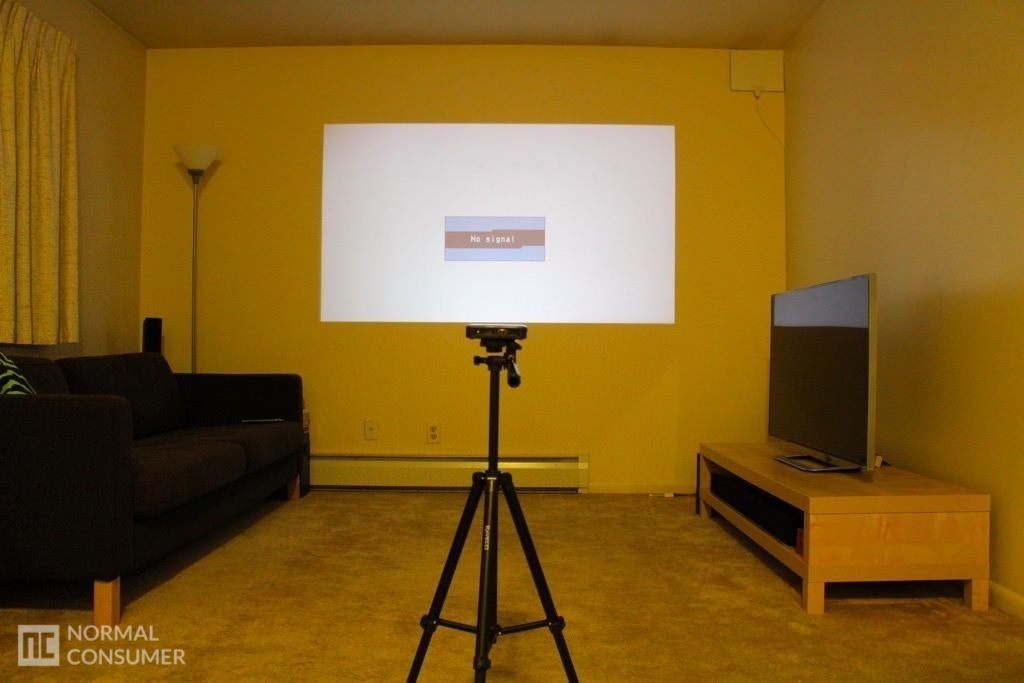 Let's turn off the lights.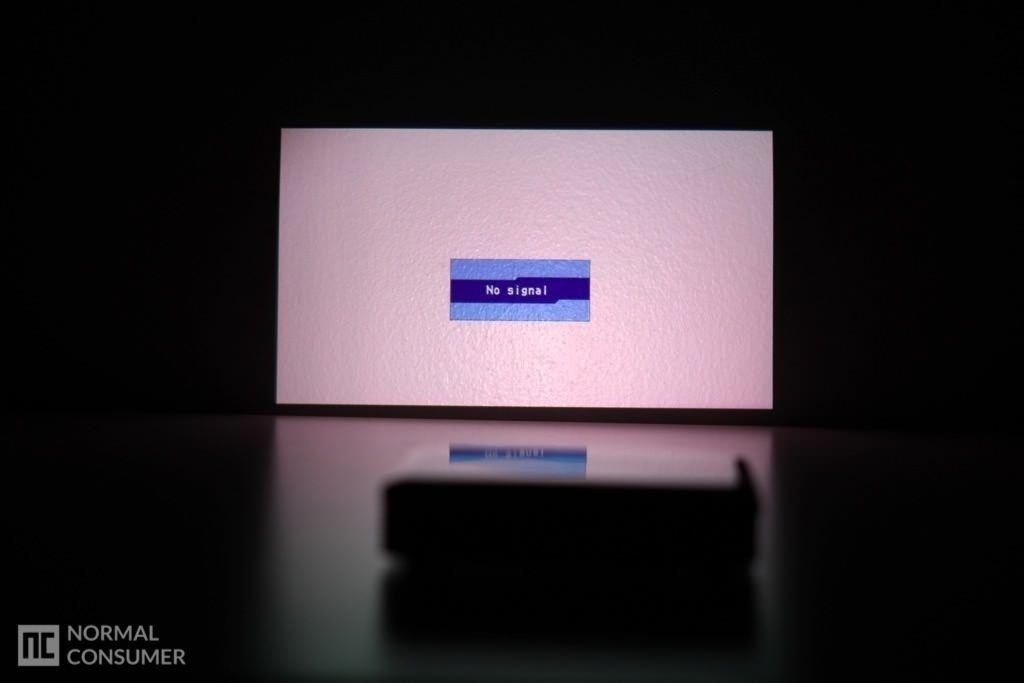 Now it's extremely bright and you'll have absolutely no problem watching your favorite movie. There is your little home theater!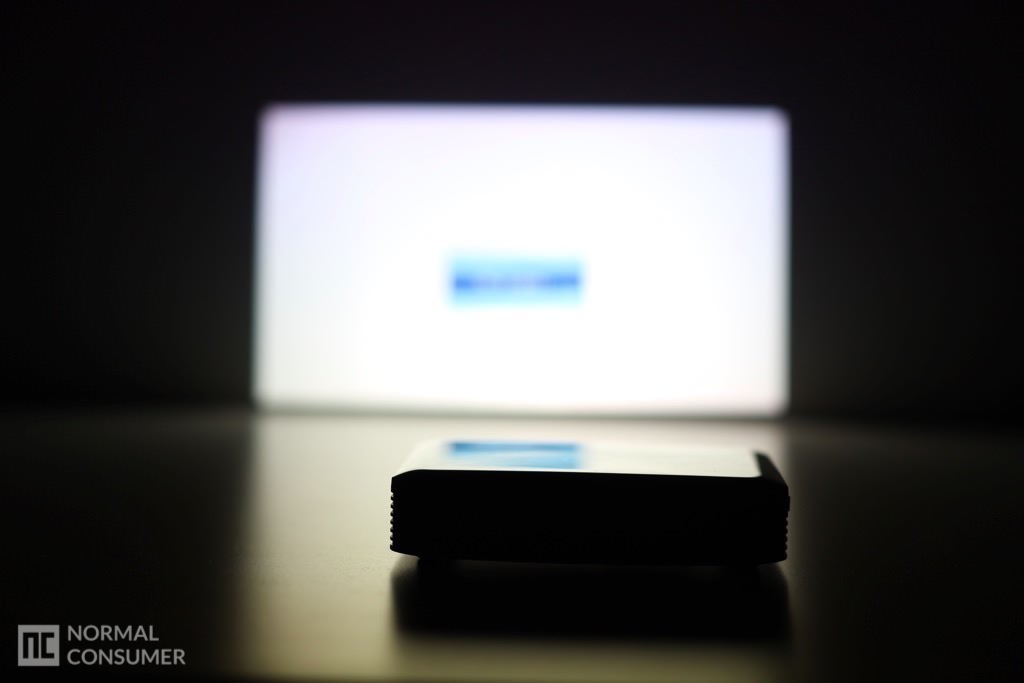 Brookstone advertises the maximum projection image to be 80 inches, but that's simply because it'll get darker as the screen gets larger. We've stretched our image to 107 inches and enjoyed watching things in the dark, but you could definitely tell the difference in brightness when the screen is 50 inches big versus 100 inches.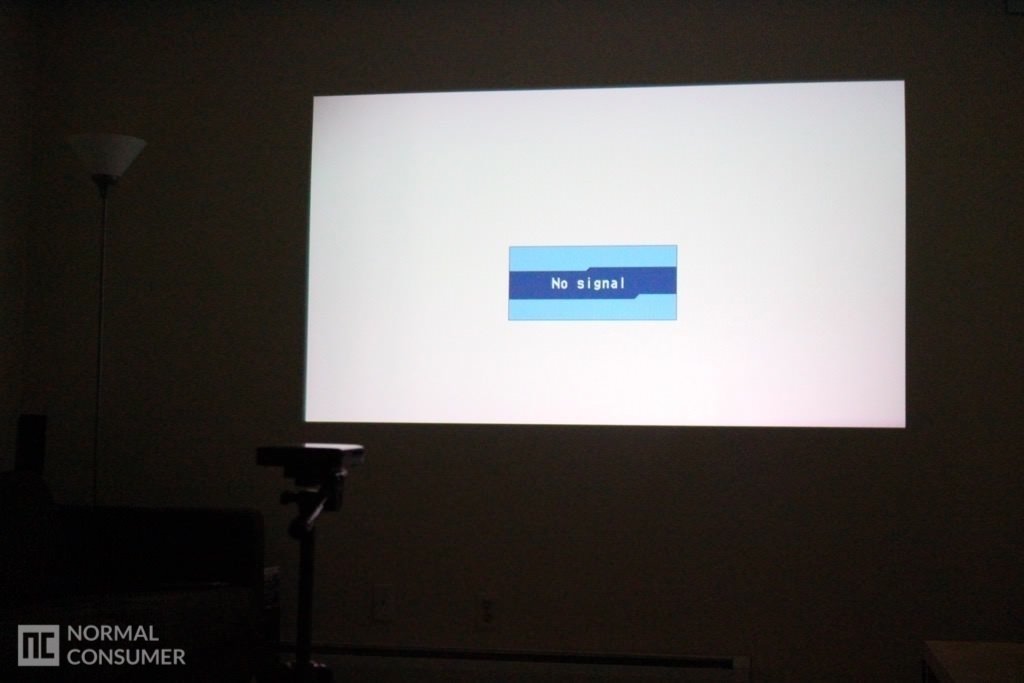 This little box beams bright light, no doubt about that. The 85 lumens may seem miniscule especially knowing that a full sized projector like this is able to project in 3000 lumens, but you need to see it yourself and be surprised by how capable Brookstone Pocket Projector really is.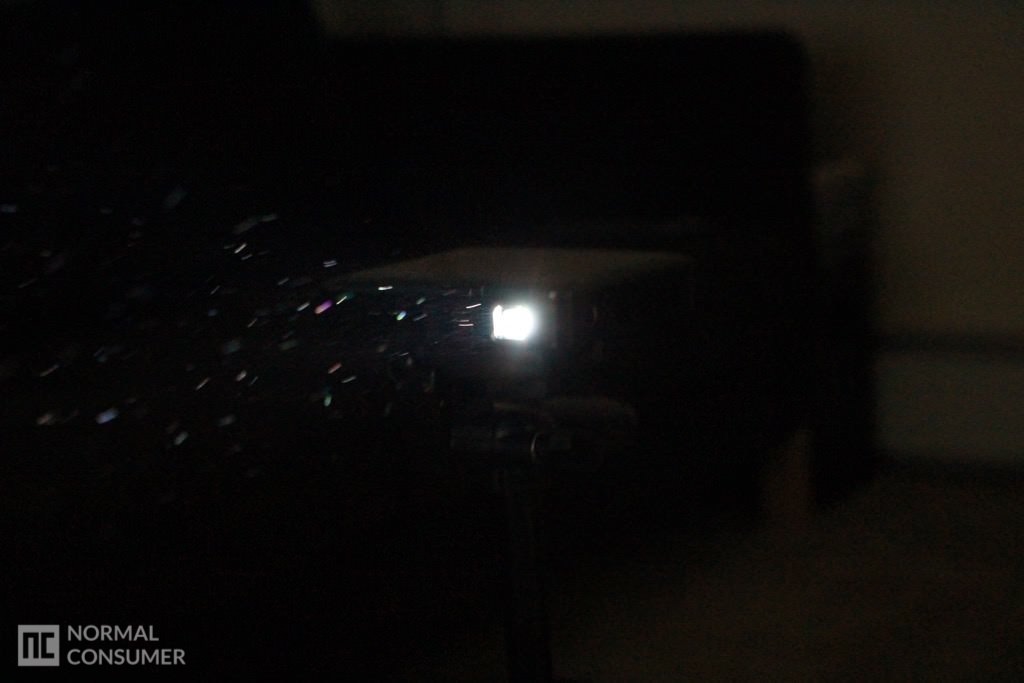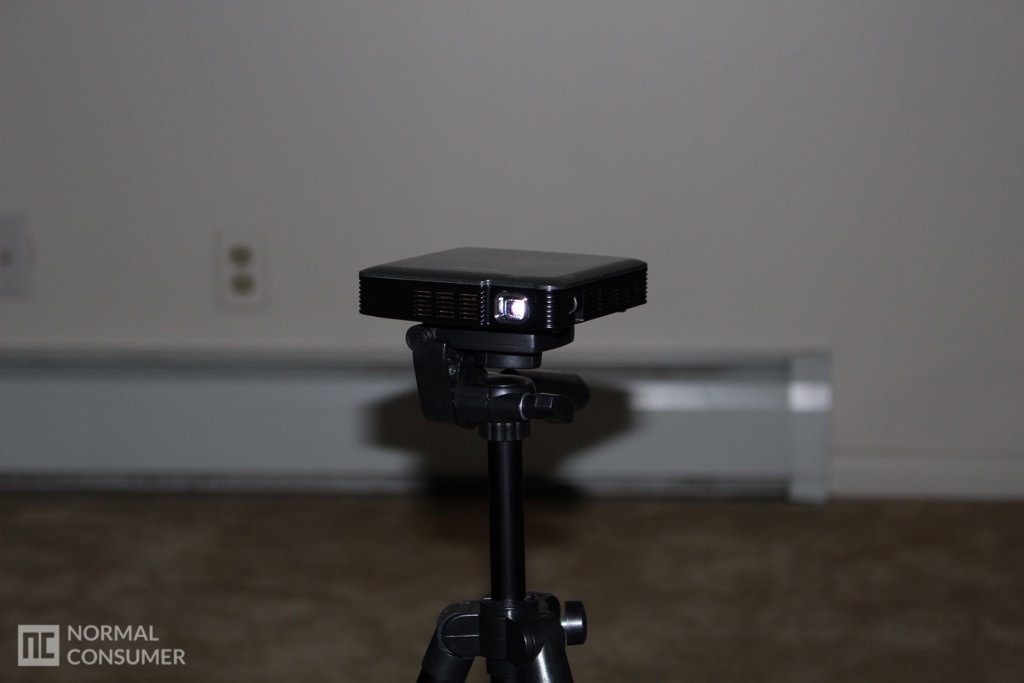 (We did not take any pictures with an actual video playback because that would require manupilating the images to match what we're actually seeing with our eyes.)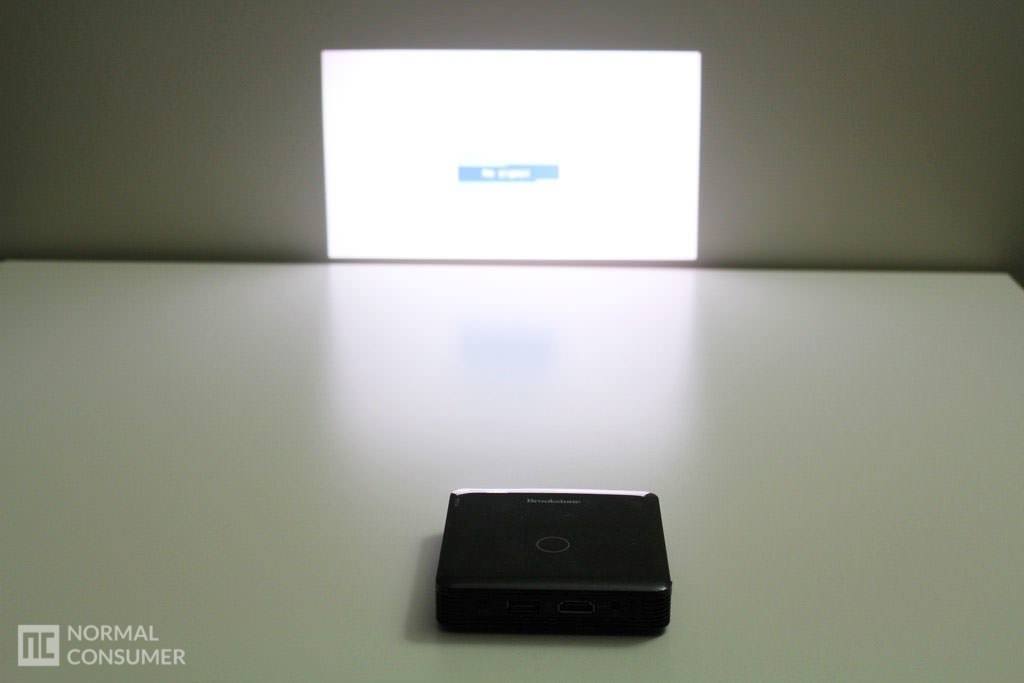 Are you looking for an extremely portable projector that you can carry it around or have a compact setup wherever you go? Look no further, this is it. We do wish the settings were a little more with quieter fan, but they had to pack everything in a small package so it's a bit of a tradeoff. Images are quite sharp when viewing an image or a video, but don't expect to read a long article on it since the focus isn't quite sharp enough for that. With the ability to charge other devices and speakers built in, Brookstone Pocket Projector is quite an amazing product. Do check it out at a Brookstone store if you're at a mall or got some time at the airport!
Pros
+ Super portable and even fits in a pocket
+ Built in battery – 2 hour playtime
+ Ability to charge other devices via USB
Cons
– Can't play media from USB
– Can be a bit noisy in quiet environment