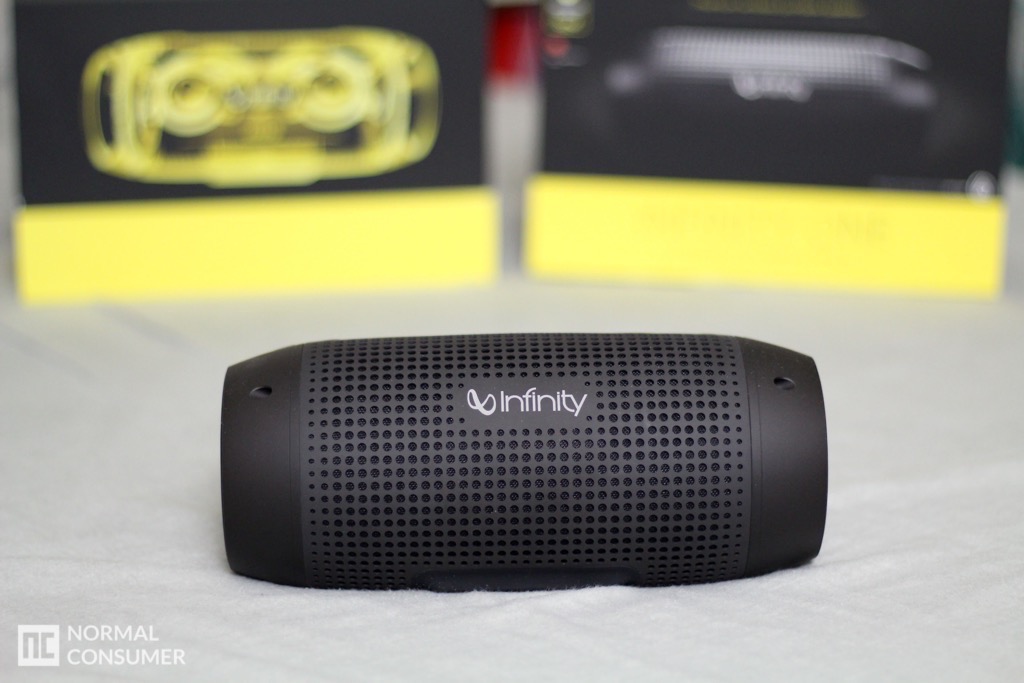 Infinity speakers might not be as well known as brands like Bose, Jawbone and UE, but it's important to note that Harman Kardon makes them and we should be able to expect some quality sound. We checked out Infinity One Premium Wireless Portable Speaker for a few weeks and sound quality is definitely great — solid bass and clear lows and highs without distortions. While these don't come cheap, its sound quality and features offered like NFC, ability to connect to two devices and charging an external device at the higher charging rate of 2.1A, it definitely stands its ground within the competitions!
It's a portable speaker but a big one. When I saw the packaging, I was surprised by how big and dense it was, but that was because I was used to smaller sizes like its younger brother JBL Charge 2. When I lift this device, it reminds me of Bose SoundLink Mini as they're both solid and heavier than they look.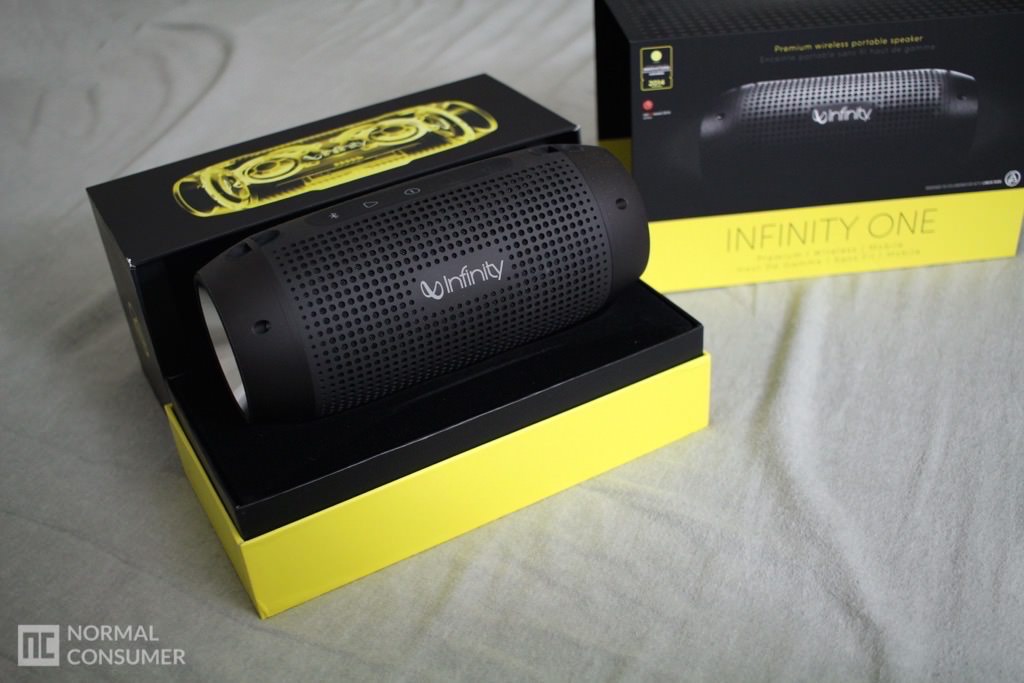 After pulling out the main speaker from the box, there's another box that contains a manual and a DC wall adapter. That charger has an output rate of 1.7 Amps so it's worth noting that it'll charge faster than typical USB chargers but maybe you got a better one higher than that.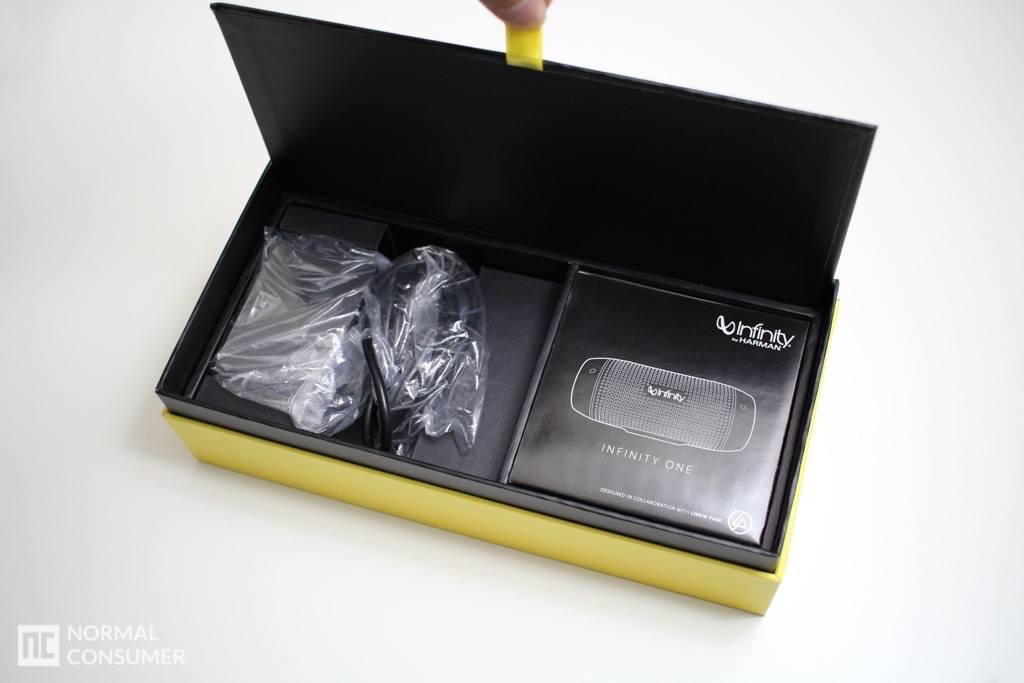 As you can see the Infinity One next to my little The Crasher by JLab, I don't know about carrying it around outside so much, because it's big. But keep reading – the sound quality makes it worth it.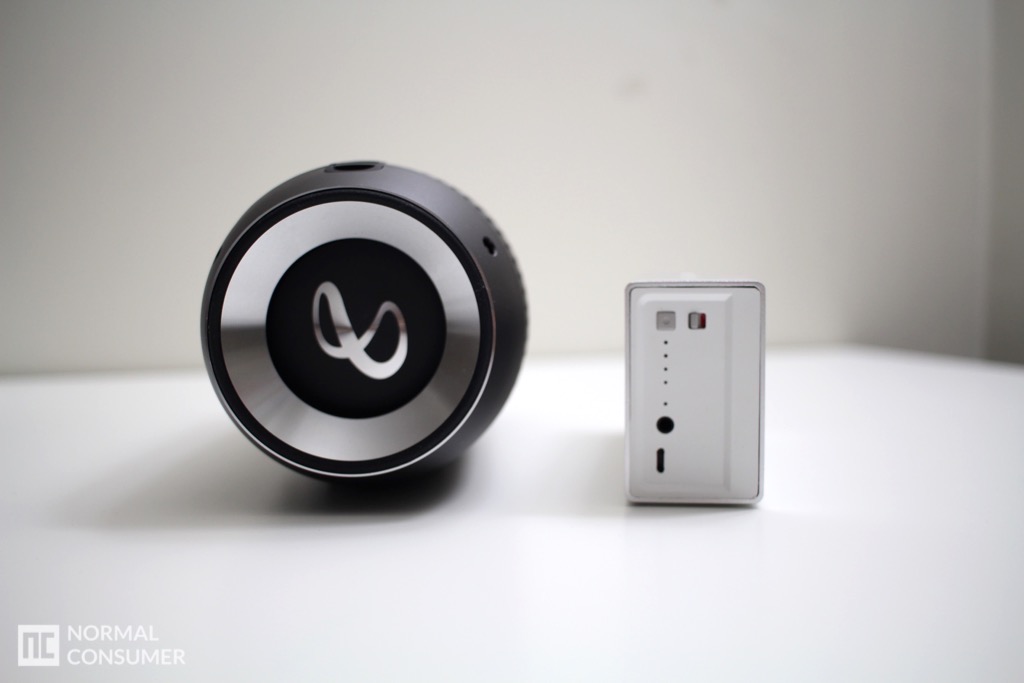 It looks like this from the front, in all ceramic coated aluminum chasis all around that makes it even water resistant. While it feels great, I'm afraid what it will look like if I ever drop it on an asphalt floor.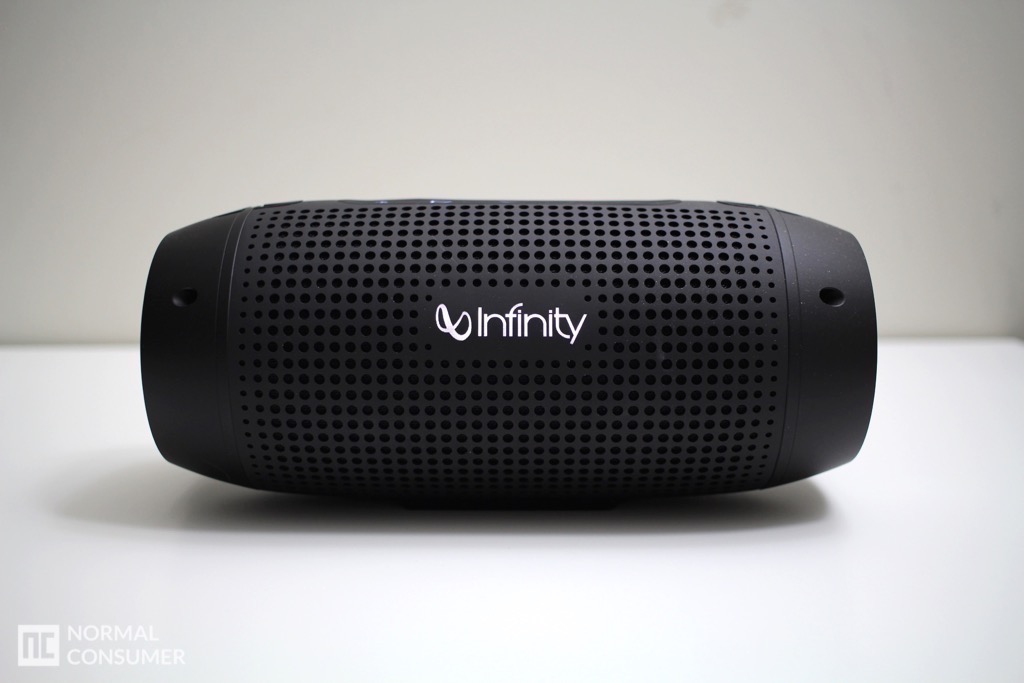 Looking closely at the front of the speaker, you can see the Infinity logo glowing in white. There's no way to turn that off but it's a good indicator that the speaker's on without much distraction.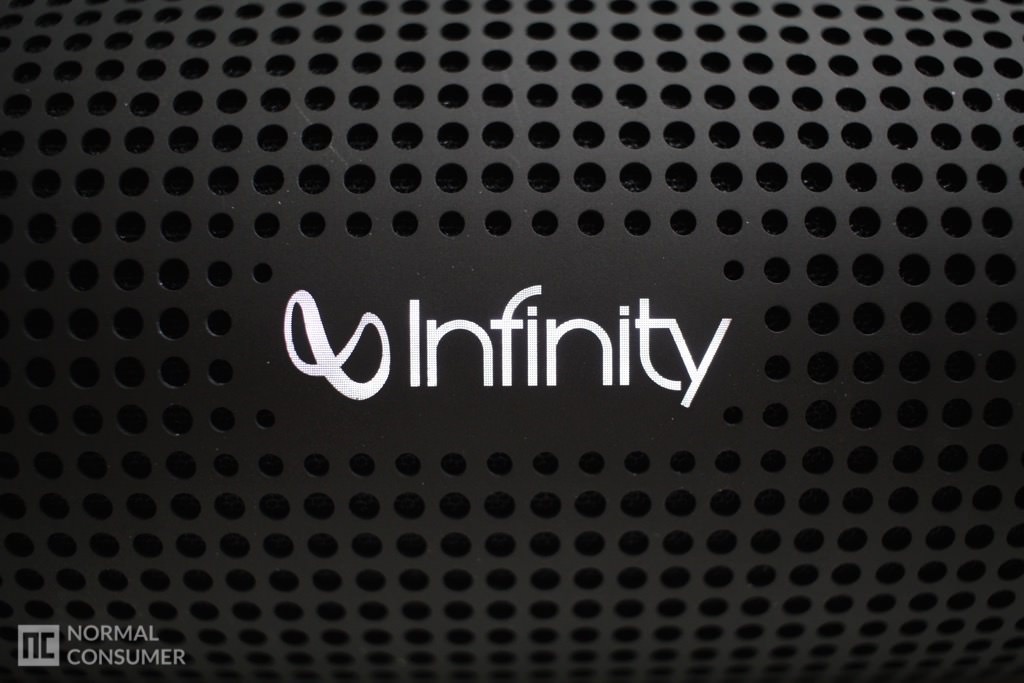 Top of the speaker has a few rubber buttons that also light up. The middle button turns it on/off, right two buttons adjust volume up/down. The bluetooth button on the left is used to pair one or more devices. After one device is connected, you can hold it again until it blinks, and connect another device. Then both devices would be connected and play audio out to the speaker on demand – neat! The play button next to that would play and pause currently playing song as you would expect it to.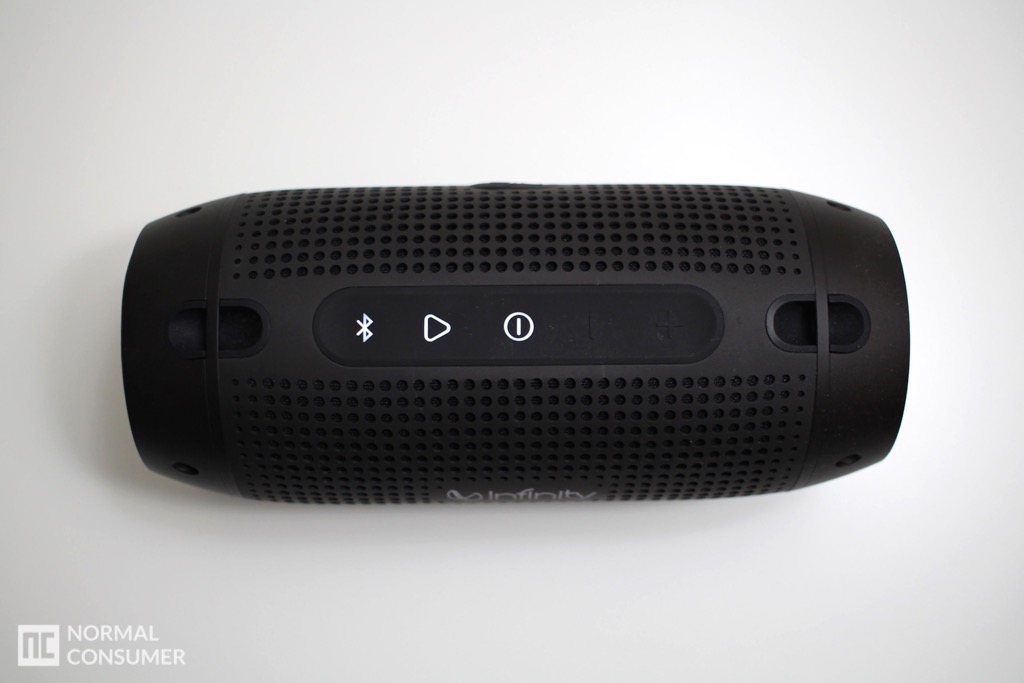 On the back of the speaker is where all the ports are, underneath a rubber flap. USB port is used to charge other devices at a fast rate of 2.1 Amperes, which can charge phones with big batteries or tablets at a great speed. The DC jack and micro USB ports are used to charge the speaker itself, as you can see a red dot right above, indicating the battery is low. Lastly, the aux jack is used to play music from devices directly in case your device doesn't have bluetooth.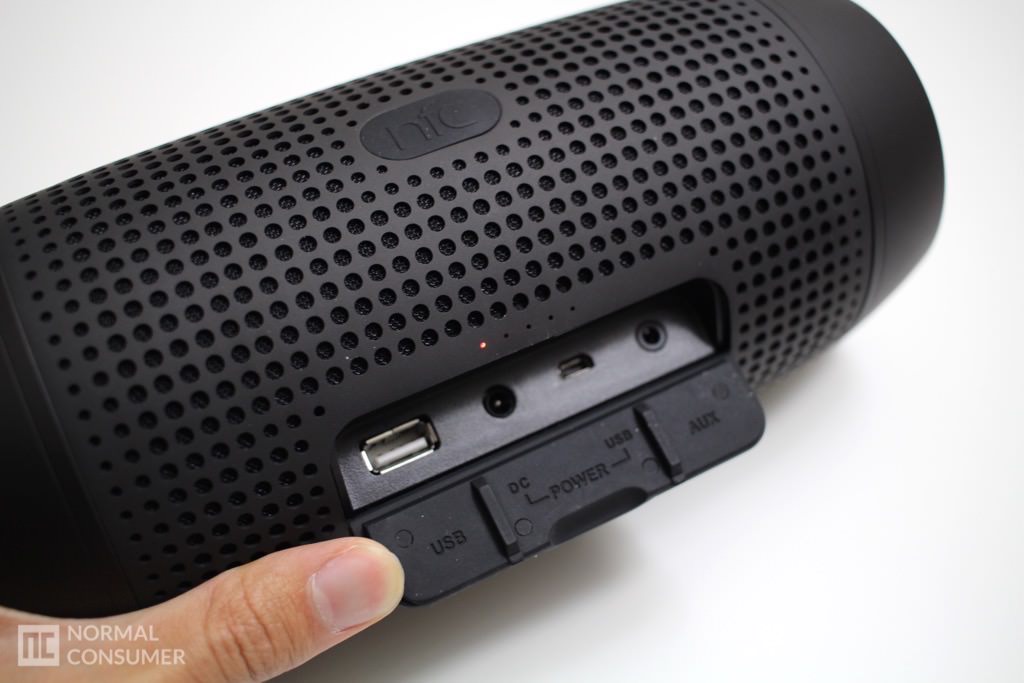 I think the sides of this speaker's really attractively designed with a shiny halo metallic finish on the circle ring. If you poke the Infinity logo in the middle, it goes in and out, and that's where the magic happens with the bass.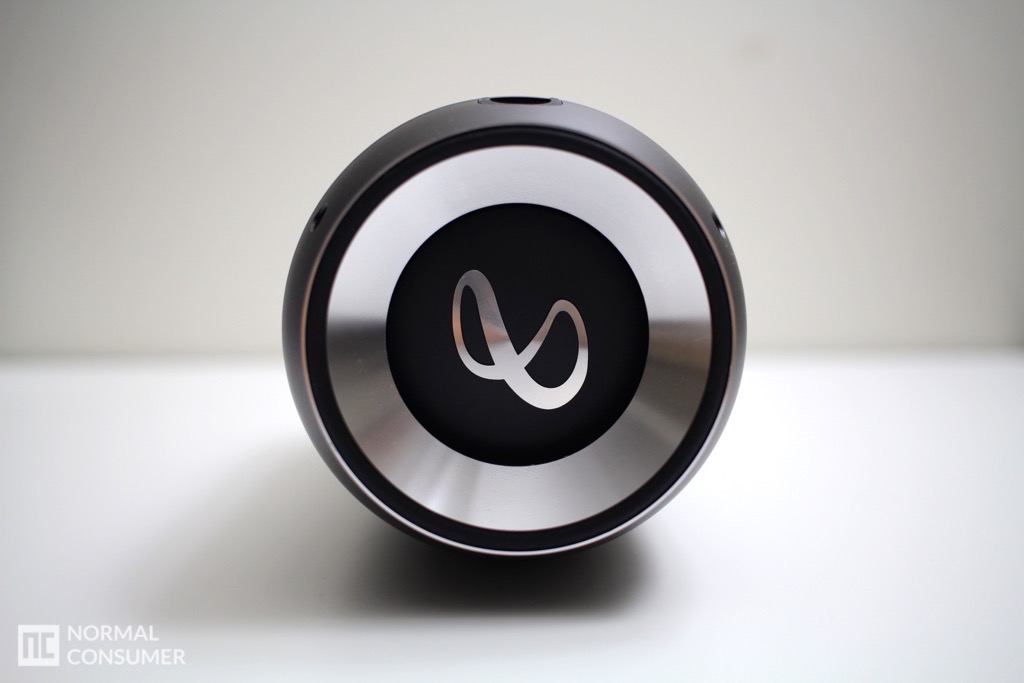 As you can see below, the middle area would vibrate in a similar fashion and you can really feel the bass and even see it. It's kind of entertaining to see it in action as you raise the volume.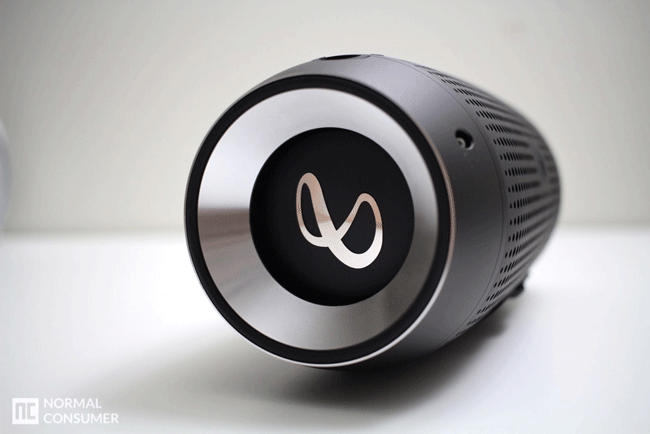 So how does this black brick of speaker sound? Excellent. I feel like it's one of the best bluetooth speakers I've tried out even though the sound may not be 360 degrees like the UE Boom, but it definitely fills a room nicely. I think the treble is great with this speaker. I can hear the lows and highs very clearly without any distortion and I think its larger size definitely helps with that. I've also been a big fan of the Bose SoundLink Mini because of the deep bass and overall sound that feels fuller. This Infinity One doesn't stutter in bass and does very well and boomy. At times, I had to lower the volume late at night so my neighbors wouldn't get angry, heh. Take a look below for some size comparisons next to my 5.5 Inch OnePlus One, RX100 M3, etc.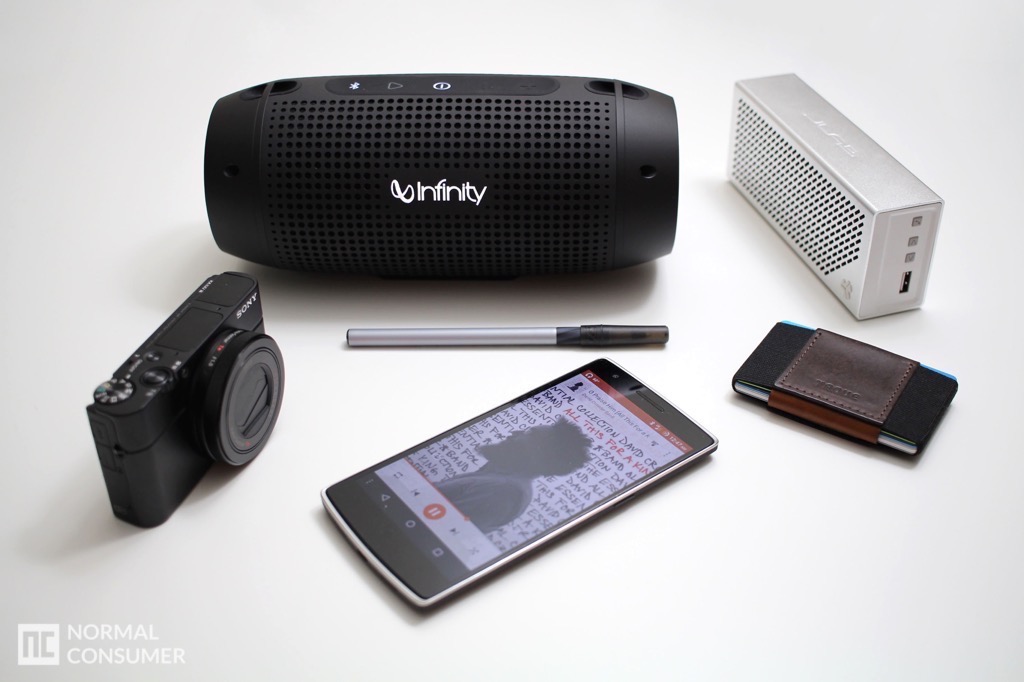 Overall, Infinity One Premium Wireless Portable Speaker is one solid choice of bluetooth speaker if you're looking to hear some rich sound. While you'll be sacrificing a bit of portability, it's perfectly capable of traveling and even charging your other devices. I can see this being great for a grilling or playing sports outside. I personally think they should've put "by Harman" written somewhere on the speaker but oh well, great speaker regardless!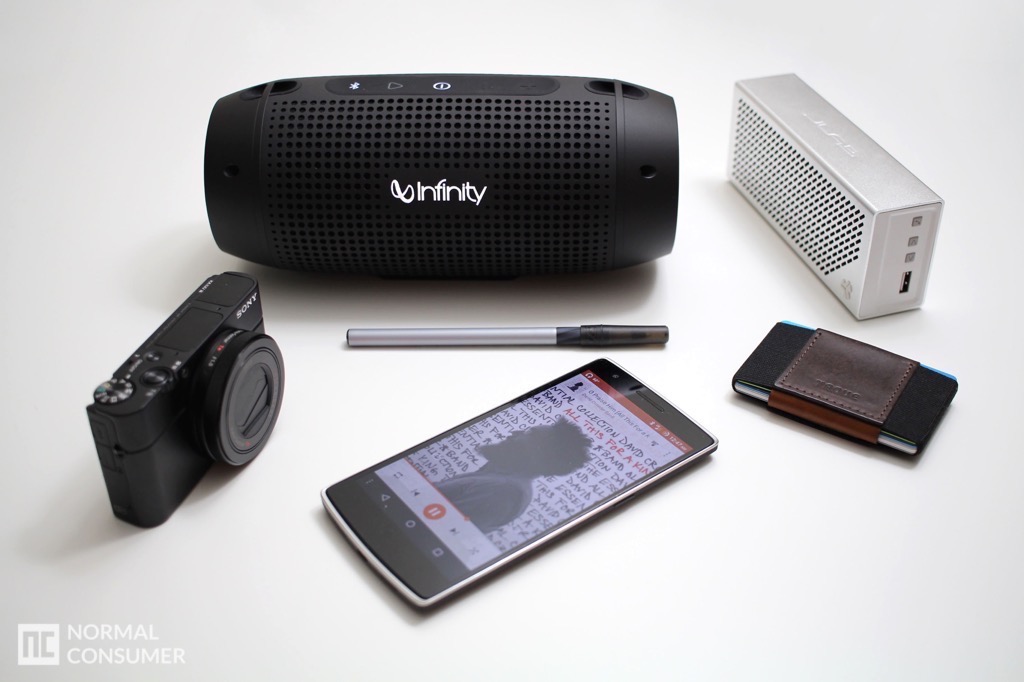 Pros
+ Powerful bass and clear treble
+ Charges via micro USB
+ Ability to pair two devices with bluetooth
Cons
– Charging seems to take a while even though I'm using 2.0 amp charger
– I don't think the light on buttons were necessary but eh