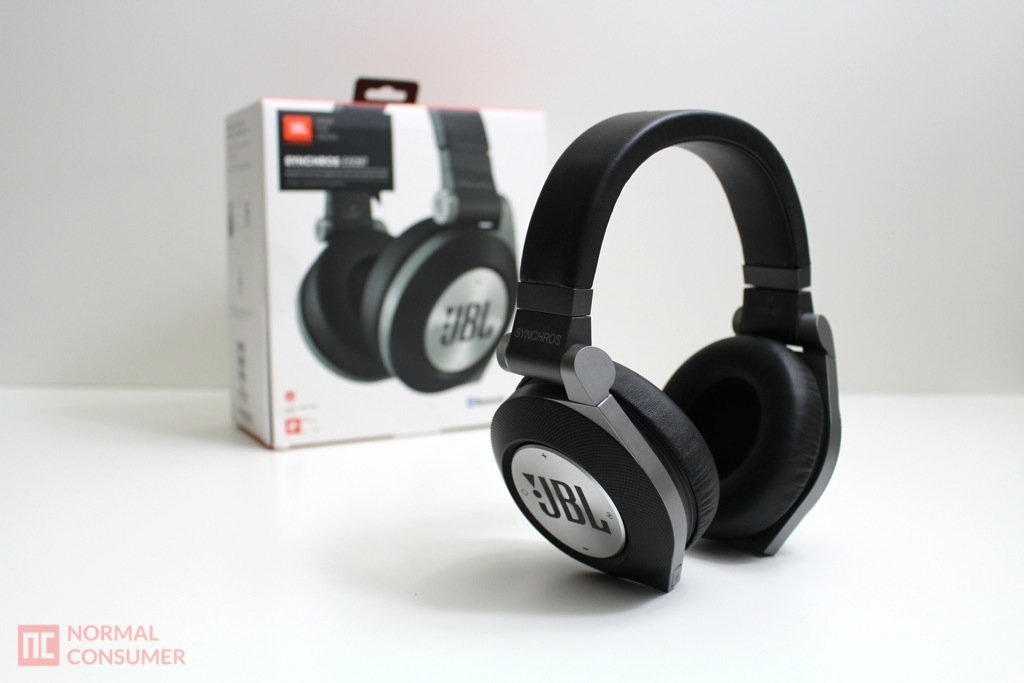 JBL Synchros E50BT Bluetooth Headphone is an over-ear bluetooth headphone with 50mm drivers and battery that lasts forever. JBL has introduced this line of Synchros to bring high quality products and I can tell that it's built very well with good sound quality too. I'm a fan of being wireless and that usually comes with sacrificing battery life, but this lasts a whopping 18 hours. I've been using it in a louder places, and it played music for me without a hiccup for literally many weeks. Its battery life is amazing for the powerful sound it's able to produce. There's a smaller on-ear version, E40BT, so you can choose depending on your taste, but let's look into it!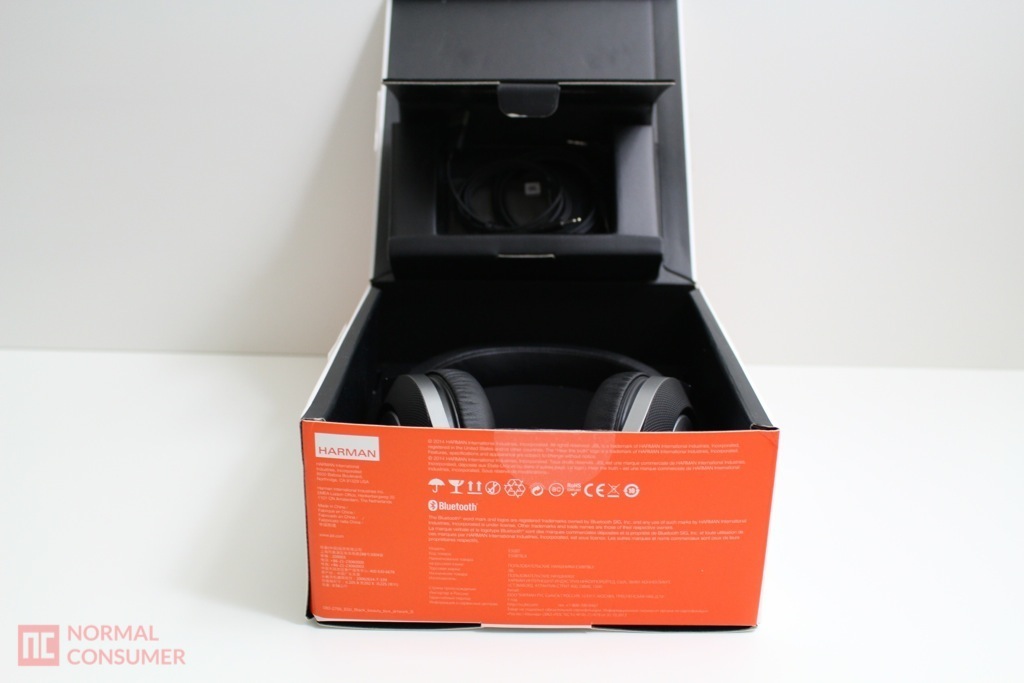 It comes in an informative box that's very colorful, and opens up in style with accessories on top and the main headphone on the bottom.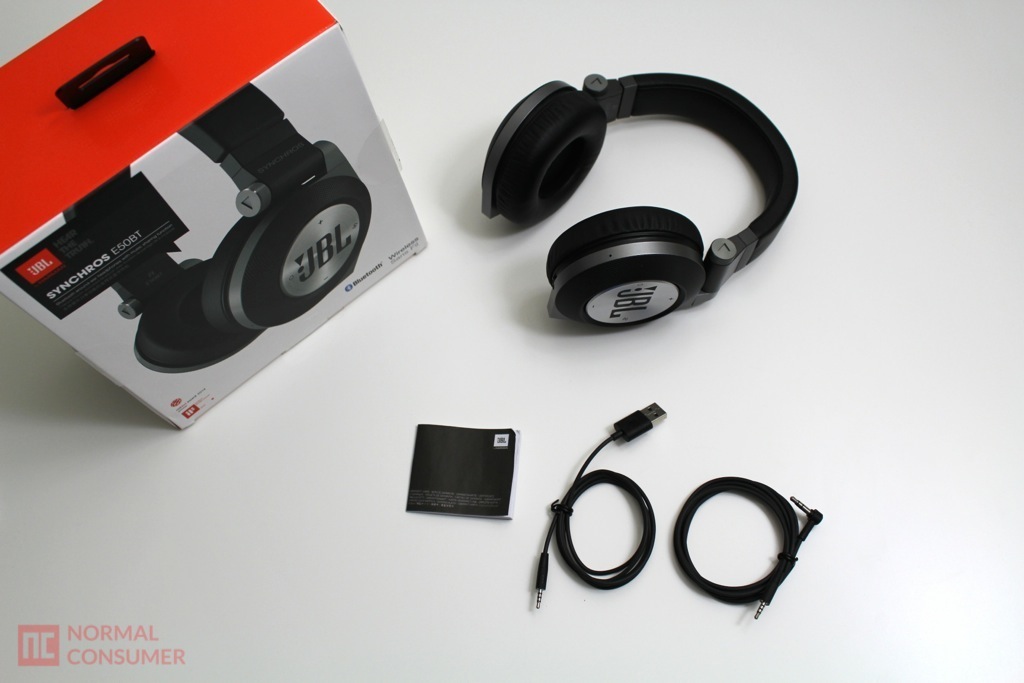 The contents are simple – headphone, manual (forgot to take it out of the box), warranty card, and auxiliary cables for passive listening and charging via USB. Everything came out of the box so easily and I'm a fan of that.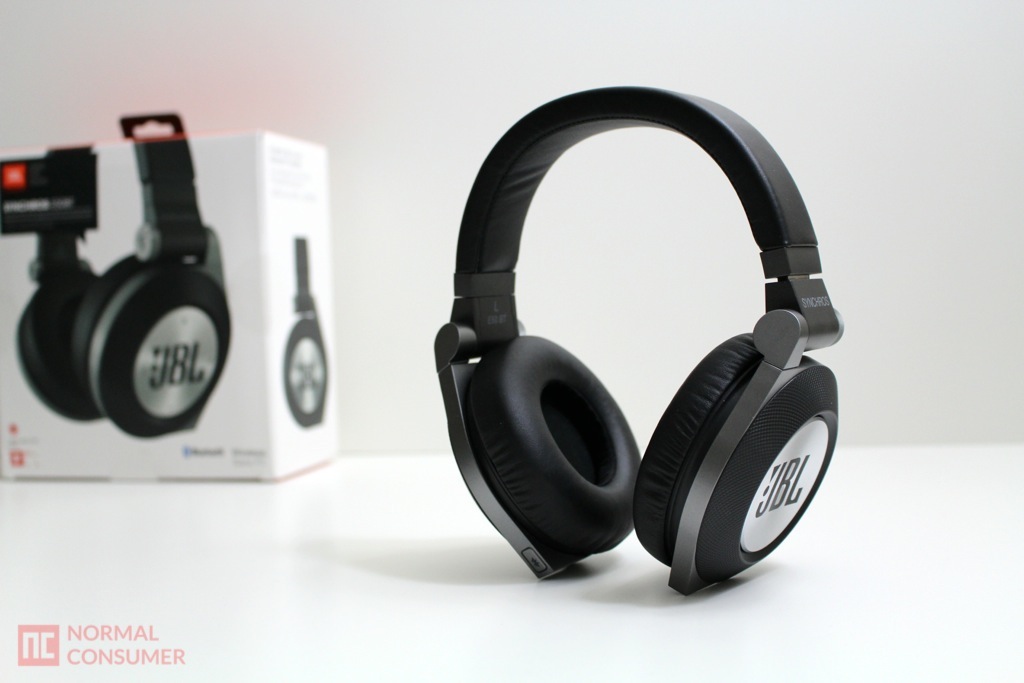 Above is when the headphone's shortest form and below is when the headband is extended all the way. While it looks good and functions well, I personally think it could've been slightly longer to enhance comfort for users like me. I'm about 6″ 1′ tall and I don't think I have the biggest head, but about half an inch longer would've made it more comfortable for me. Everyone's got different head sizes of course, but it's something to think about especially if you wear glasses. I think the on-ear might be helpful with less pressures against the glasses though.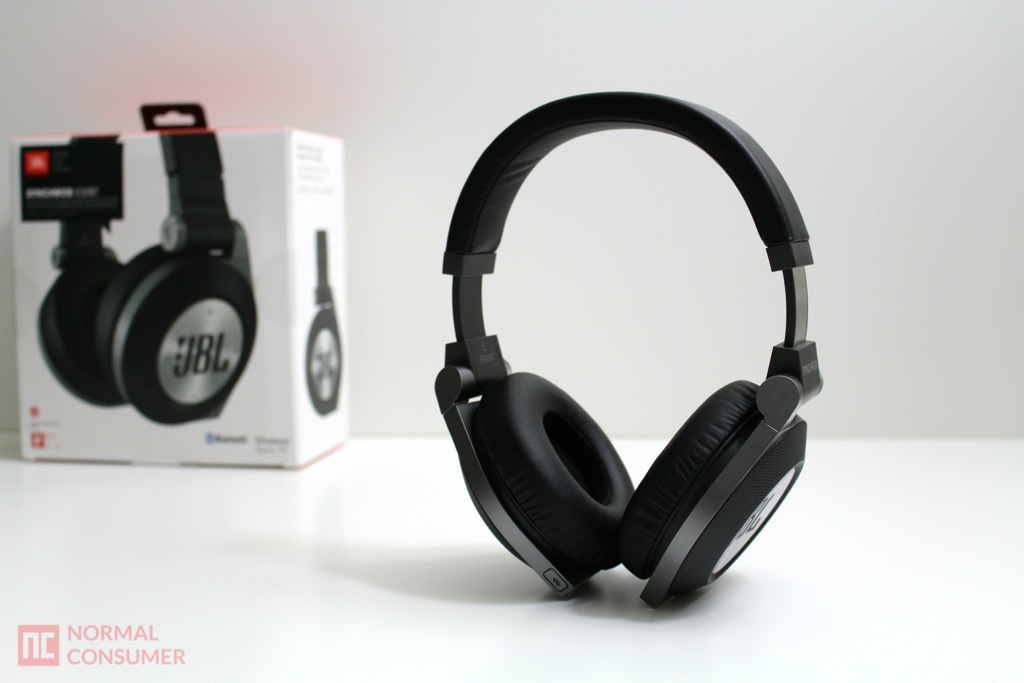 In this closeup, you can see a fairly thick cushions for ear padding, and a slot on the bottom for plugging in the cables. I rarely run out of battery with this headphone that it doesn't seem necessary to carry them at all. You can also see a bluetooth button that turns it on/off and pairs with devices.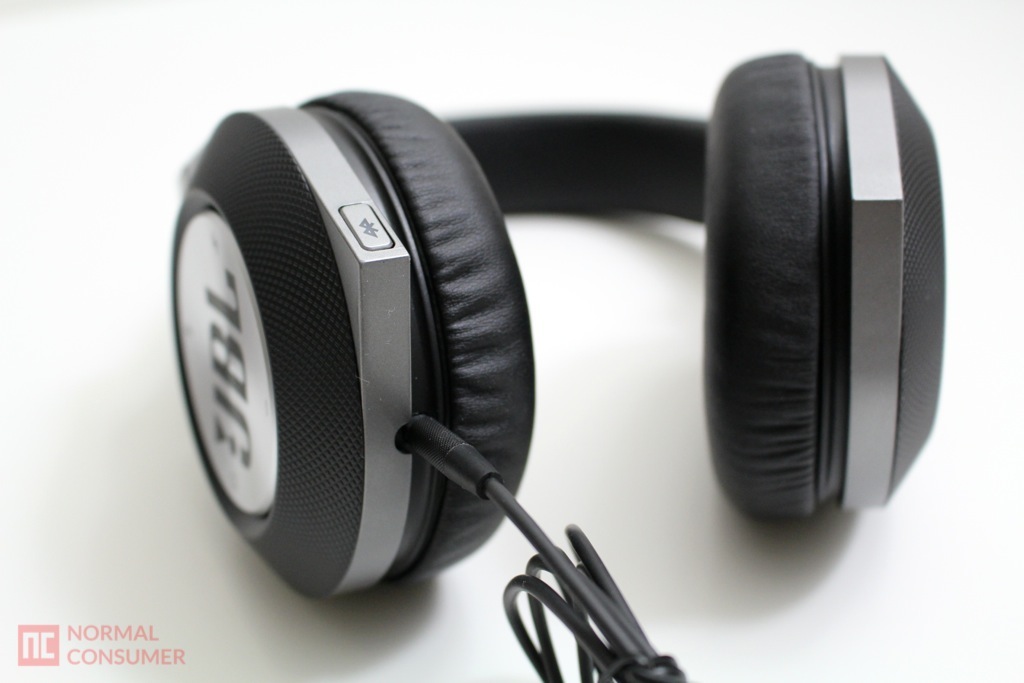 Upon turning on the headphone by pressing on the bluetooth button once, it blinks in red and white which goes to discovery mode to connect with other devices. If you've paired the headphone before, it'll automatically attempt to connect. This is nice because whenever I try to use this headphone, I'd just turn it on, and in a few seconds, it'll beep quietly to notify me that it's connected. Then the light blinks in white occasionally to indicate the bluetooth connection.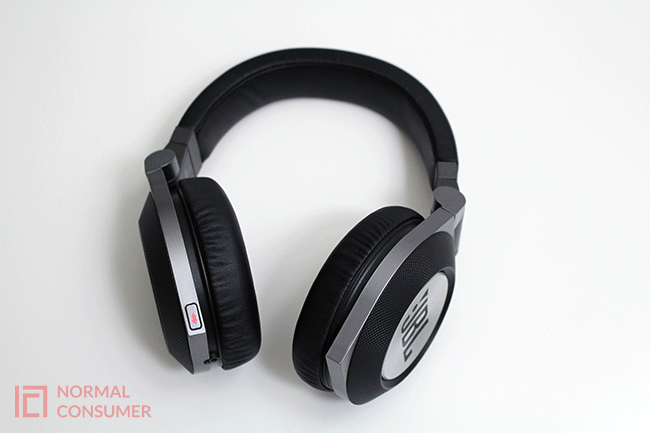 So this headphone connects without a hiccup and its sound is good with a decent bass. While JBL speaks of the "PureBass", it's not as heavy as Bose or Beats, but it's not weak at all. I personally don't think it's the brightest sound that you can find, but it sounds great as you raise the volume. You won't hear much of your surrounding and the music will fill up your ears well. While this is great, I realized it was loud enough for others to hear whenever I took off the headphone. It's the nature of over the ear headphones like this, but just make sure not to crank it up too high at a quiet place like the libraries.
How does this do in portability department? While it doesn't come with a carrying case, it folds up in several ways to make it easier to carry.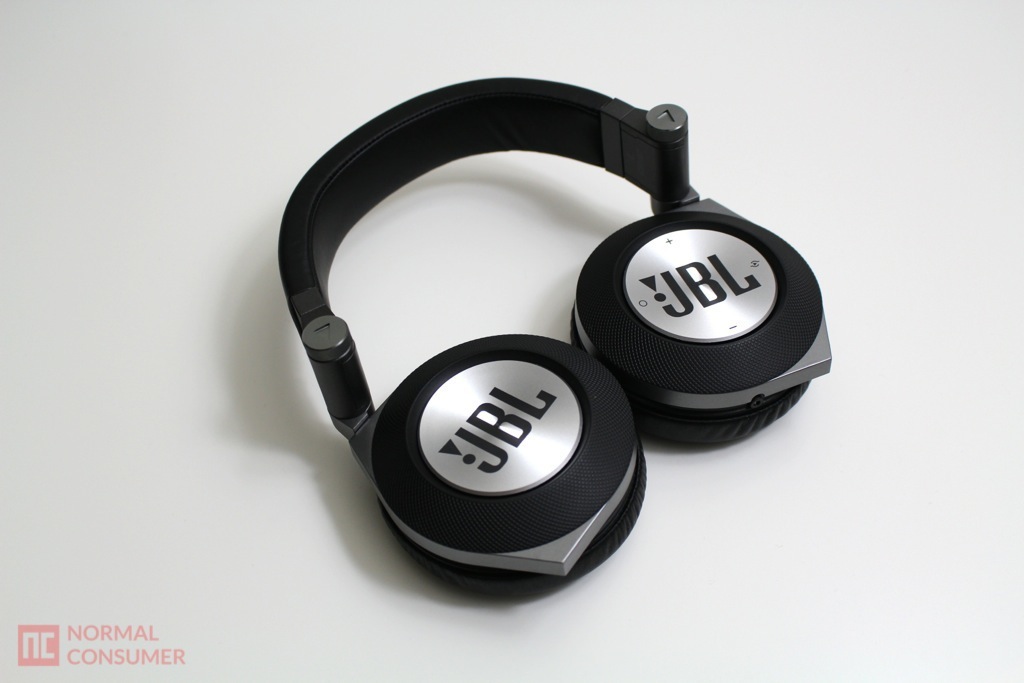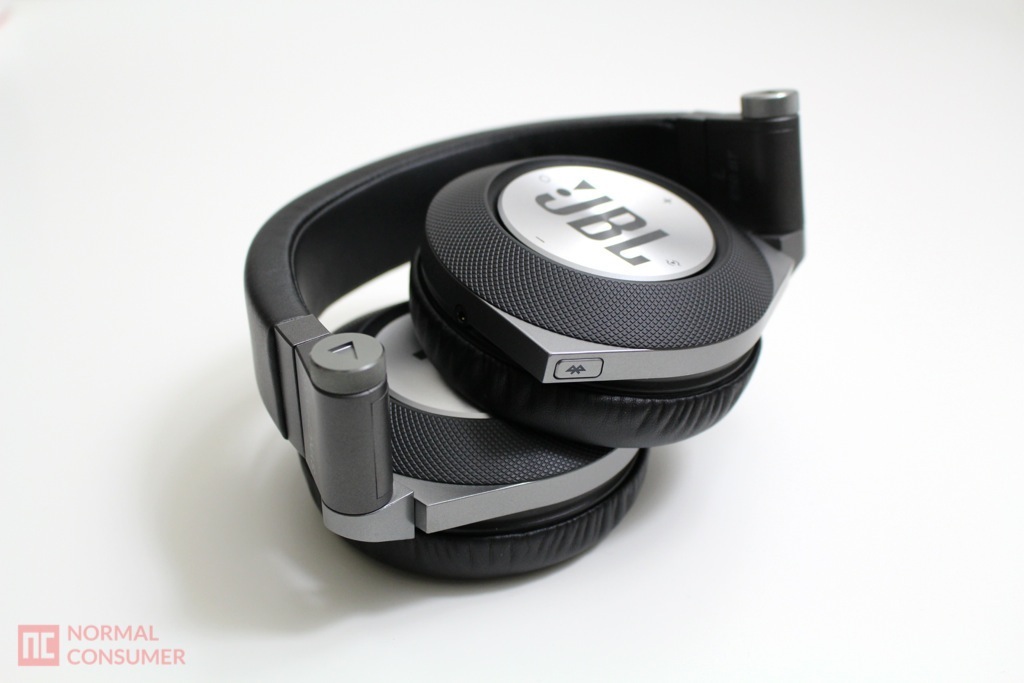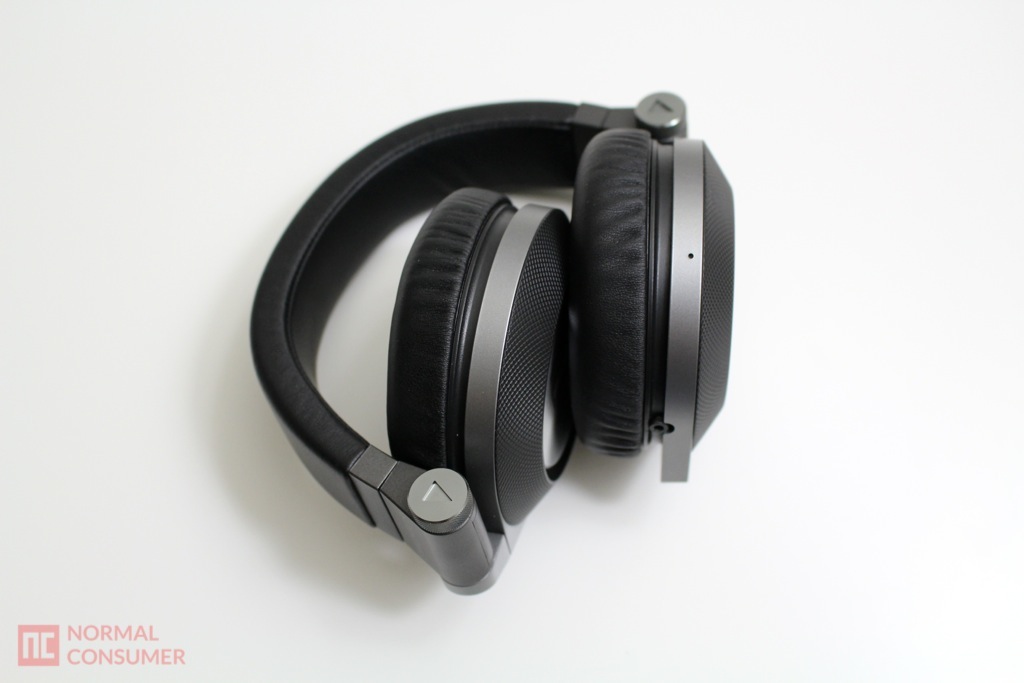 I'm not so sure if there's one perfect way that it's supposed to be carried, but it becomes small enough to carry it in my backpack, but you might have to carry it on your neck if you got a slimmer messenger bag.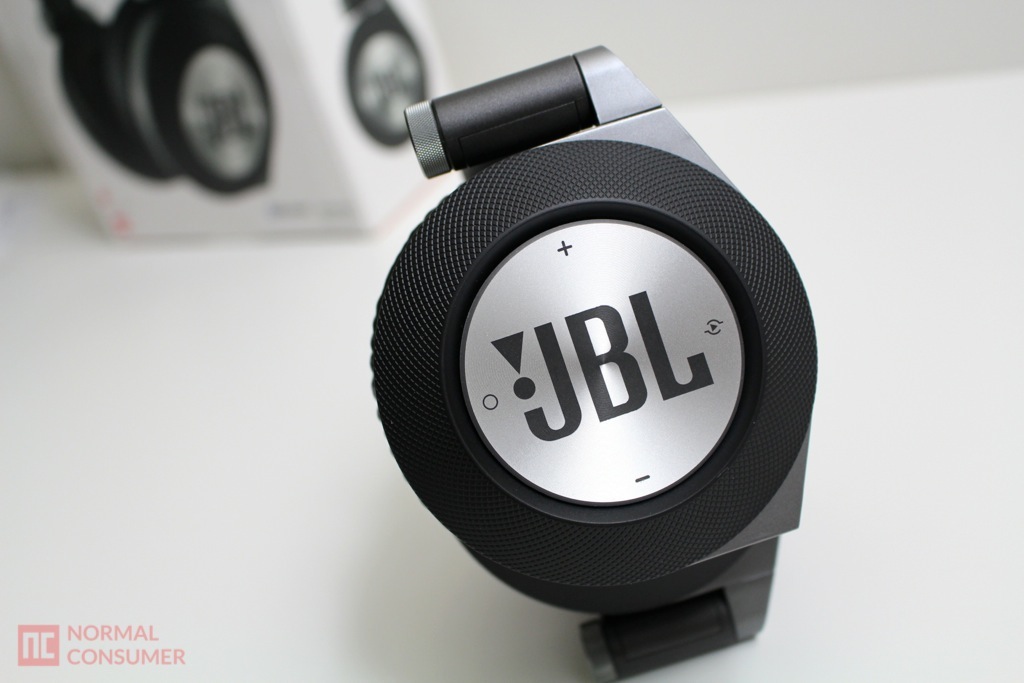 On the left side of the headphone, the entire silver portion is where all the controls exist. The top and bottom buttons work as expected, either raising or lowering the volume, independent of the volume of the device you're connected to. The right button which looks like a play button is rather something called "ShareMe" for connecting a second headphone to your current headphone. This will only work within the compatible JBL devices and I'm honestly not sure how useful this is. It's a cool idea though. The mysterious circle button on left is a multi-function button that takes care of navigating music and managing incoming phone calls. Pressing it once would either play or pause the track, pressing twice for next track, and pressing three times for the previous track. For receiving calls, pressing once or holding it down would answer or reject the call respectively, and holding it down would hold the first call and connect you to a second caller if that were to happened. It's great that JBL thought of situations like this, but trying to manage two calls with a single button sounds confusing to me and might need the manual with me. But if you're constantly receiving calls while listening to the music, that one button will be your best friend.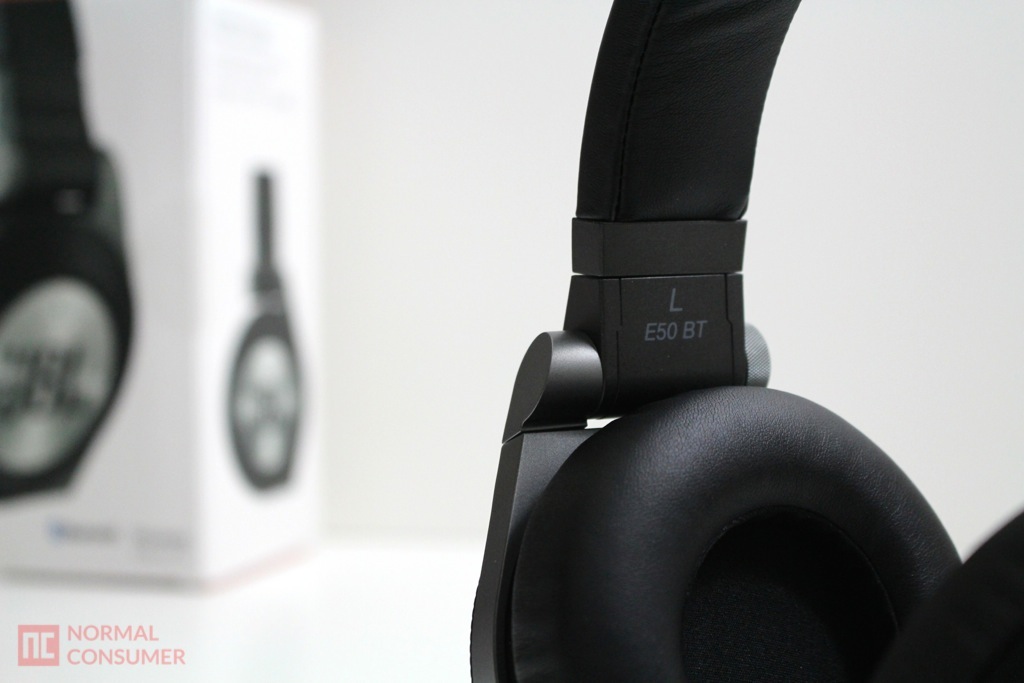 On each side of the headphone, there's an indicator for where Left and Right side is, and putting it on looks like this below. I'm personally not a big fan of how big the JBL logo is, but it doesn't look bad at all. It might make you look a bit dorky because of how much it covers your ears. It would also do a great job at keeping your ears warm if you were to walk in the cold with this on.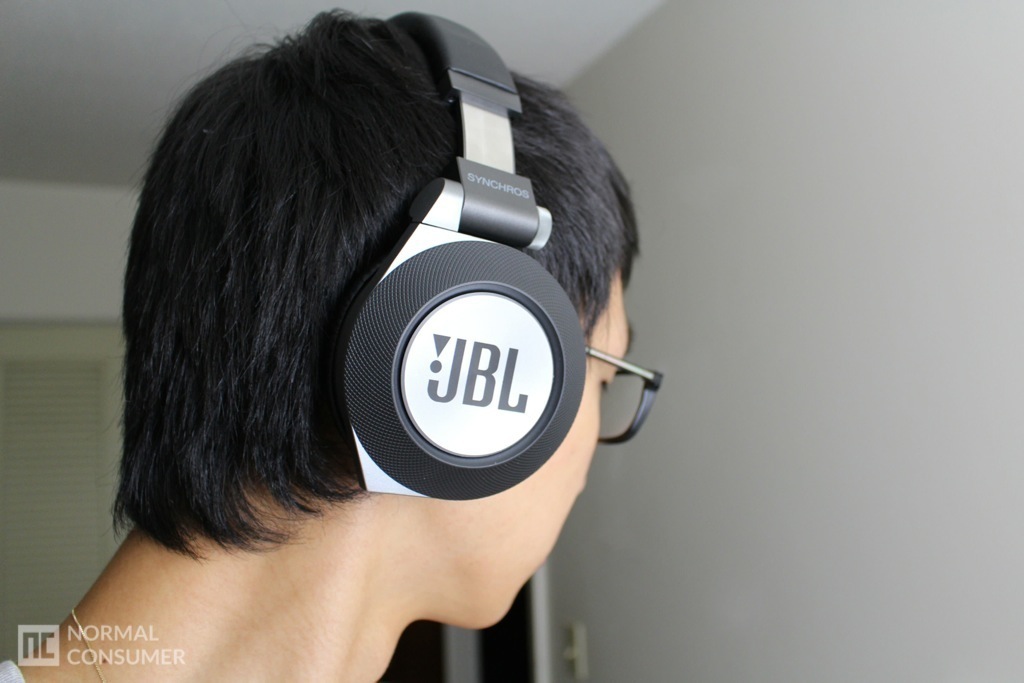 I used to stay away from bluetooth headphones because of how bad they sounded, but JBL Synchros E50BT Bluetooth Headphone brings a promising sound quality without any wires. I've been able to go well over 30 feet in an open area away from the source of music and it handled delivering music without any creaks or statics. I do wish the headband was just a little longer for more comfort, but it works so well and easily. Press the bluetooth button, wait a few seconds, and I'm ready to zone out of the surrounding and enjoy some music. Oh, it lasts like forever too, seriously.
Pros
+ 18 hour battery life, can last you weeks depending on use
+ Bluetooth autoconnects
+ 50mm driver delivers pleasant sound
+ Ability share audio with another set
+ Overall
Cons
– JBL logo is large like bam!
– Headband might be short
– No provided carrying case
– Buttons aren't intuitive at first – have to look at the manual