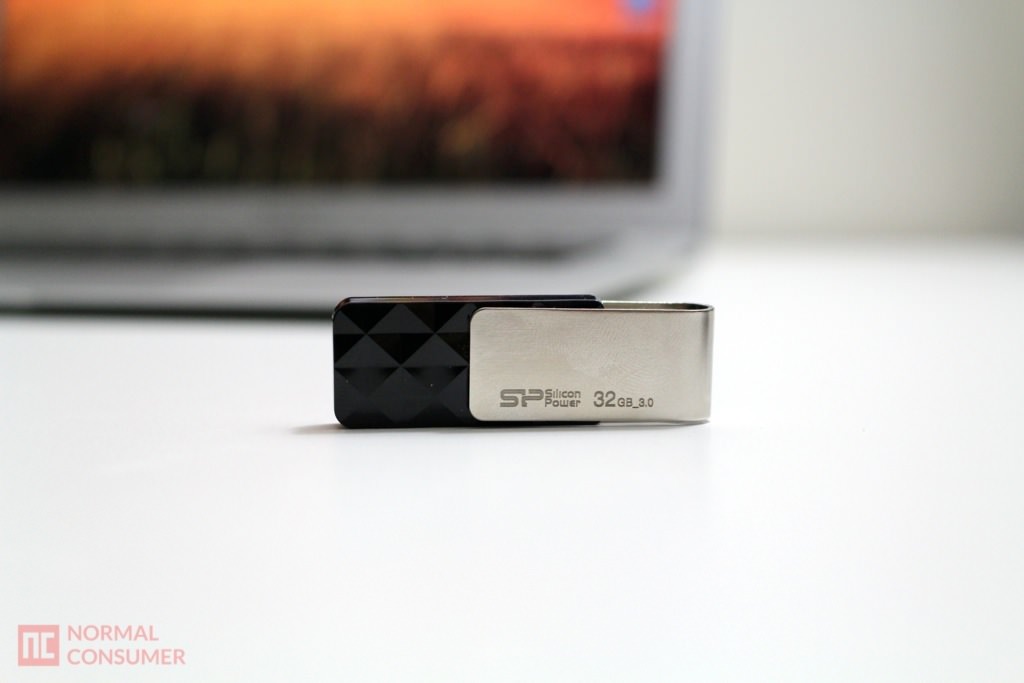 Silicon Power Blaze USB 3.0 Flash Drive is a very stylish USB flash drive offered from storage sizes ranging from 8GB to 128GB in a little package that swivels without a cap. Options for choosing a reliable flash drive these days varies so much, and this flash drive has the look and performance together. While it isn't the smallest or the thinnest one you can find in the market, one wouldn't have to worry about losing its cap or worry if the plug would get damaged with this. Silicon Power did well with designing this flashy looking flash drive.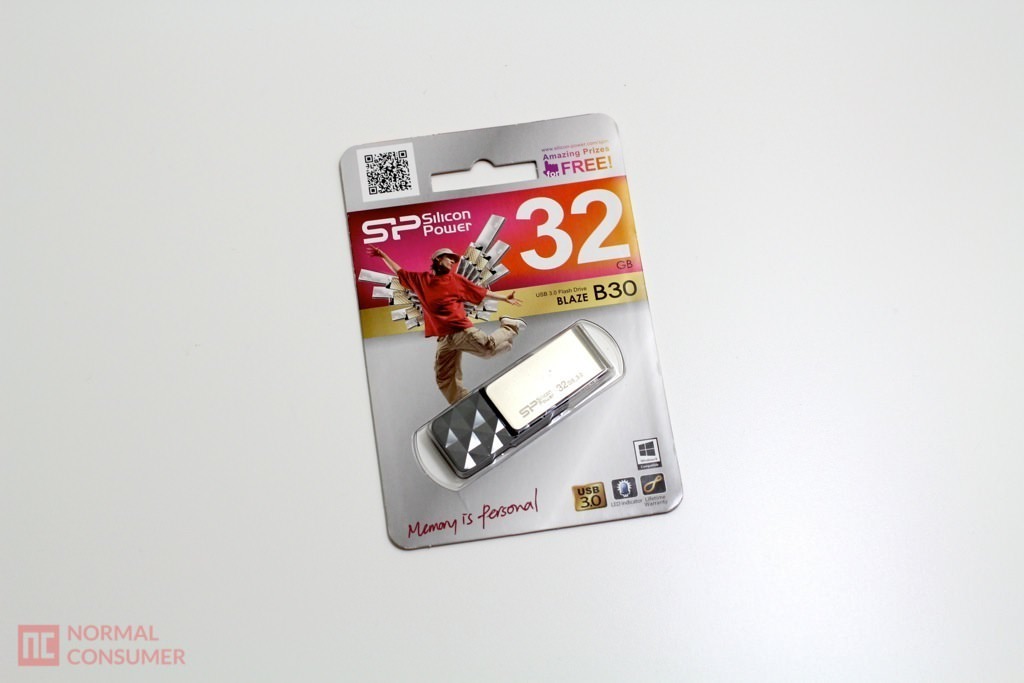 Packaging comes in a typical cardboard and plastic combination with an odd image, but it does tell you that you need to know such as USB 3.0, LED indicator, storage size. While this particular unit is 32GB, you can get up to the large amount of 128GB.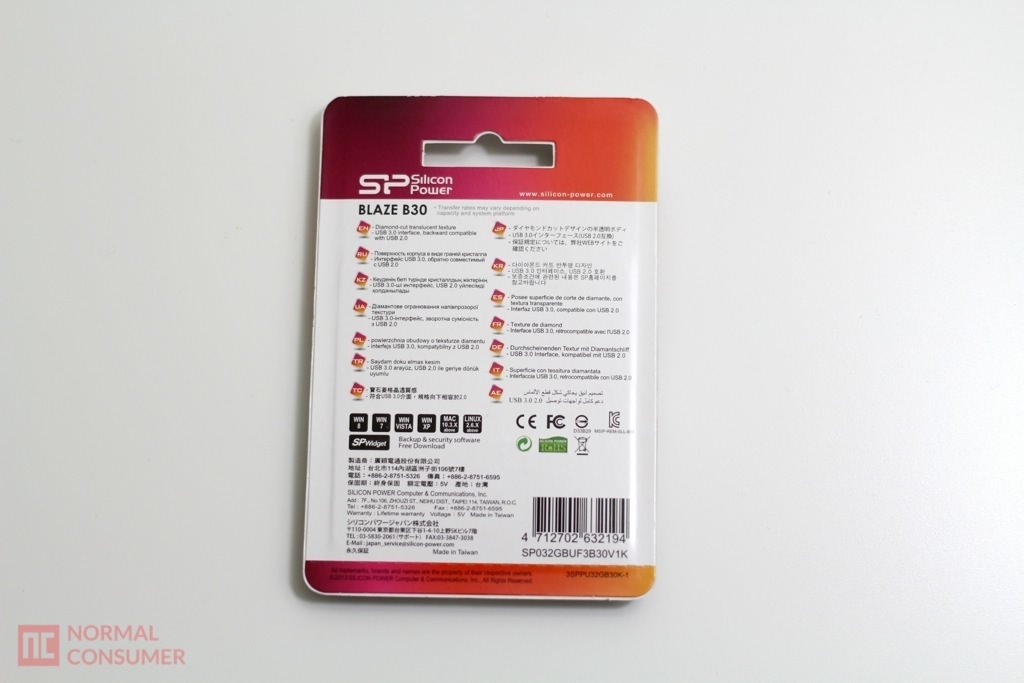 Flipping to the back has nothing much but many translations that talk about its diamond cut design, and compatibility of both USB 3.0 and 2.0.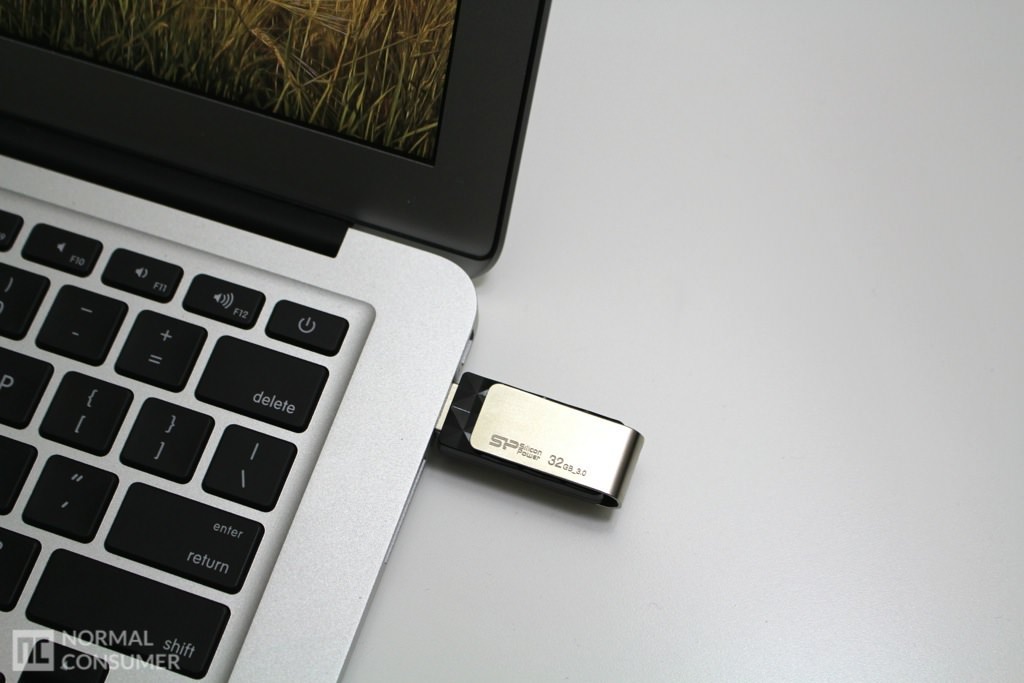 Plugging this flash drive into a 13.3 inch Macbook Air, it looks pretty nice. The metallic finish and black diamond cut lines go along the aluminum and black keys on the laptop, and it's definitely a good looking flash drive. One minor thing is that the USB plug doesn't completely flush inside as you can see a portion in between the laptop and the flash drive. No problem at all.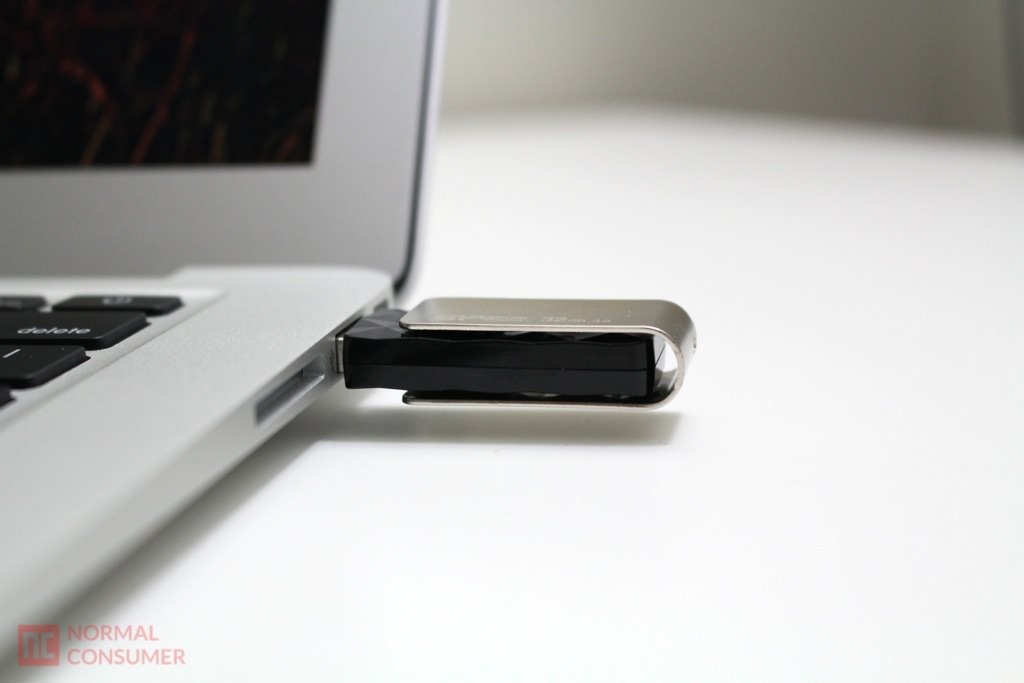 While reading or writing to the flash drive, there's a red LED indicator that shows its activities through the black plastic. If you were to keep the swivel cover aligned to the flash drive, you wouldn't see the light at all, and I personally think white light would've been better than a dull red one, but that's just me.
Its write and read speed are advertised to go up to 120MB and 50MB respectively, and I was actually able to get those speeds. Our disk speed test results showed 134MB read and 54MB write at best, and while the write speed would even drop to 20MB at times, writing speed remained consistently around 120MB. Excellent. Of course, it was tested on a USB 3.0 port and you can expect it to be noticeably slower on USB 2.0.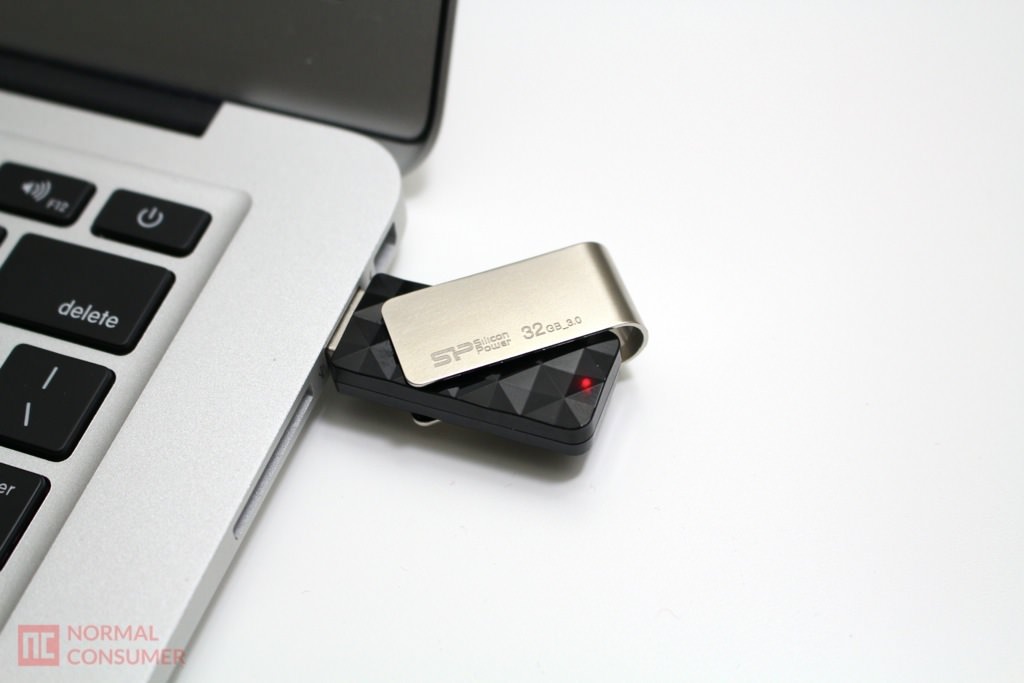 The swivel cover has a cut where you can hook it to a keychain. Unfortunately, it doesn't come with any kind of string but the option is there. I could imagine your keys scratching up the glossy black diamond plastic but the USB port itself should hold up well.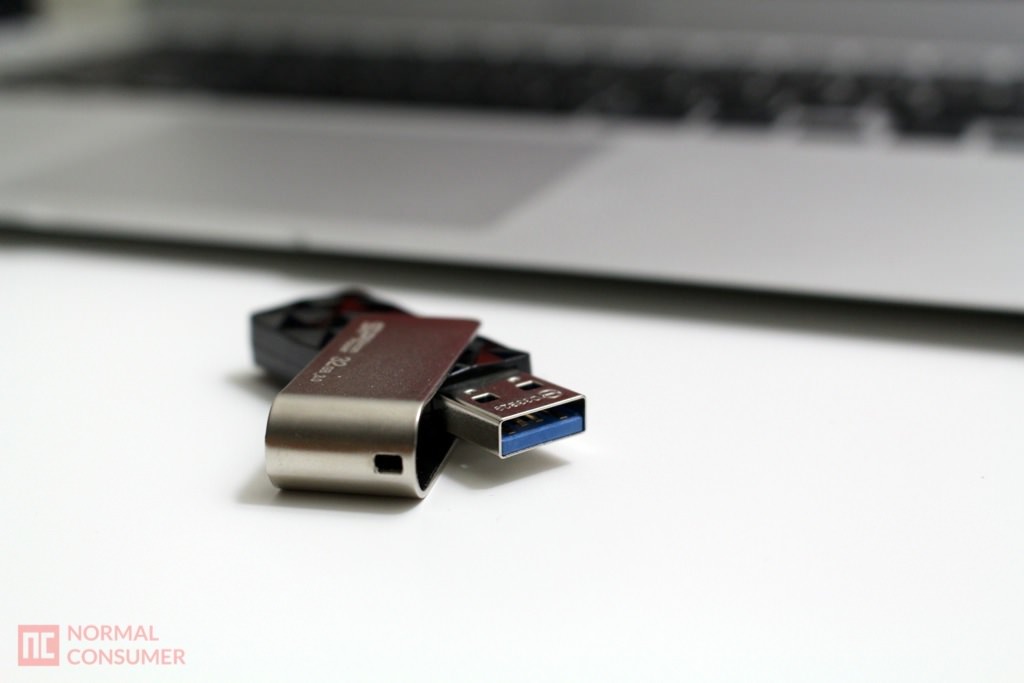 It turns 360 degrees all around the flash drive in whichever direction you choose to, and stays slightly hooked on every 45 degrees to prevent it from sliding all around uncontrollably. The mechanism feels solid and not cheap at all.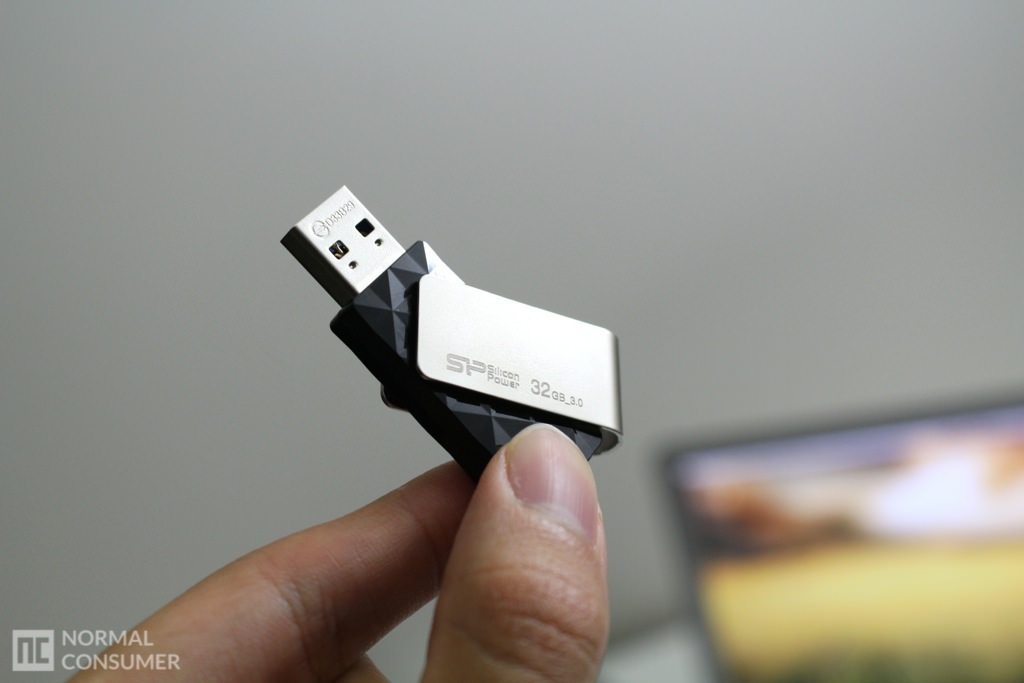 While I used to be in market for smallest flash drives in physical size, you start to appreciate a flash drive like this when you start losing one here and there. It's still small in size while packing up to 128GB in a great looking casing. The diamond cut lines make it very attractive especially under lights and definitely gives it a premium look. While I did find it to get a little hot when plugged in, it performs really well as advertised. Being able to load up a large video file quickly from my computer and plugging in the back of 47″ LG Smart TV went very smoothly and worked without any issues. Silicon Power Blaze USB 3.0 Flash Drive is not only fun to look at, but it's definitely a solid performing device that I'll be using daily!
Pros
+ Stylish, diamond cut casing
+ Never worry about losing caps since it swivels
+ Solid speed
Cons
– Can get warm/hot when plugged in