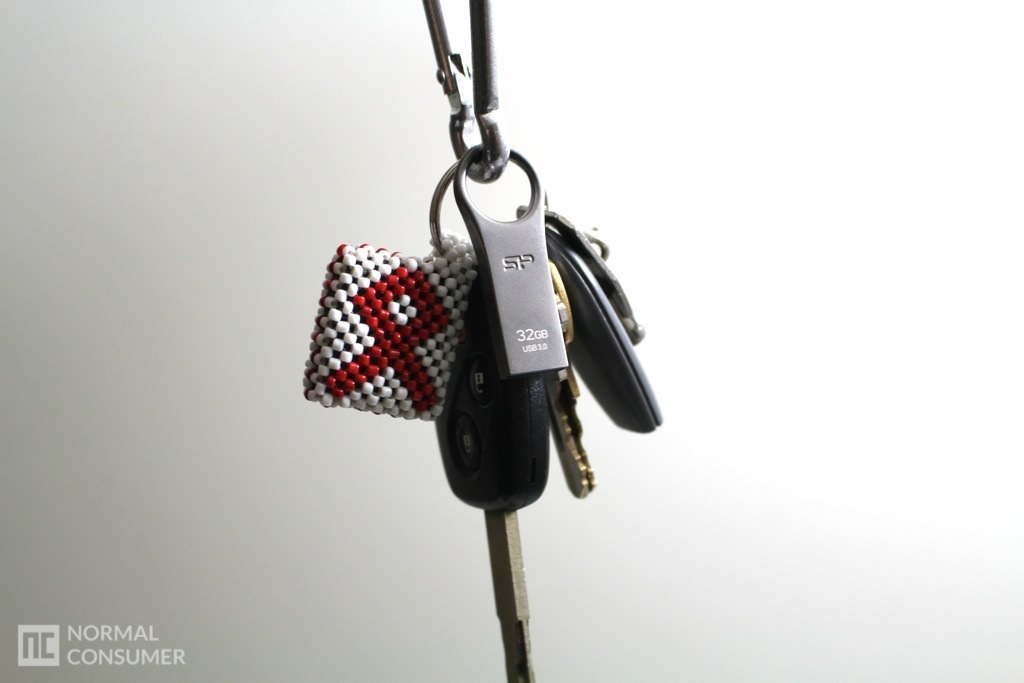 Silicon Power Jewel J80 USB 3.0 Flash Drive is the kind of flash drive that you'd want to carry around with you along with your other keys. The casing is made out of zinc alloy and feels very premium and solid. I used to carry around a flash drive years ago on my keychain but I stopped after each would get scratched up or find its cap missing. But this flash drive already made it to my keychain as it is waterproof, slim, fast (USB 3.0), and has a large ring that makes the keychain well spaced and safely.
As you can see, the large circular ring makes it extremely nice to carry it along with your other keys. If the hole were to be smaller, it would be tight and may not sit comfortably with others, but this is great.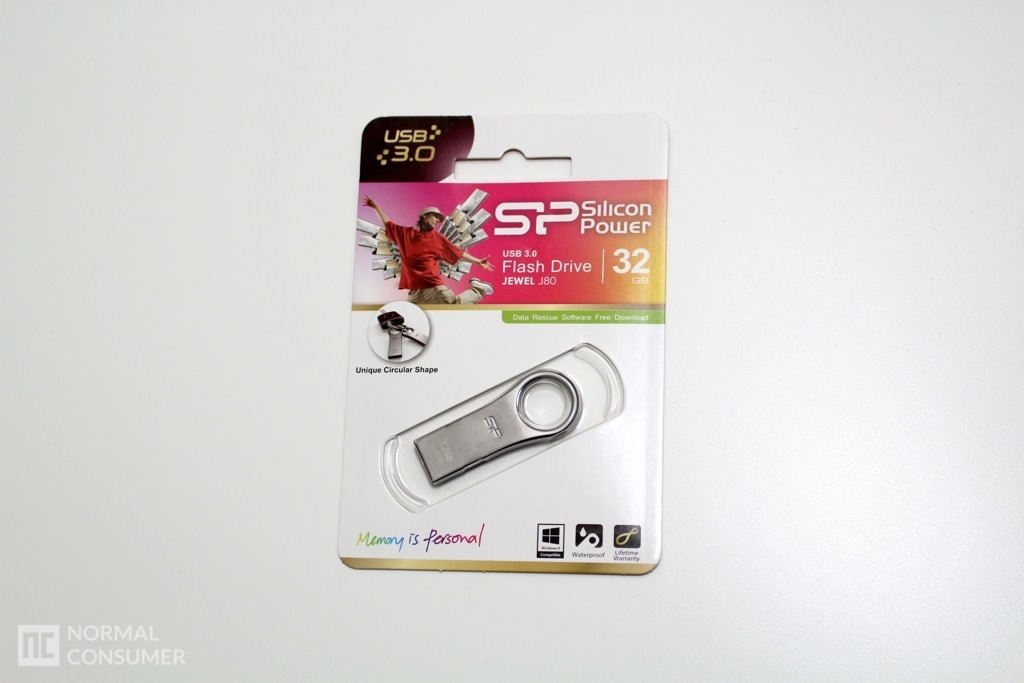 Packaging is simple and shows off the attractive flash drive right away, along with other helpful info such as "waterproof", "unique circular shape", and last but not least "USB 3.0"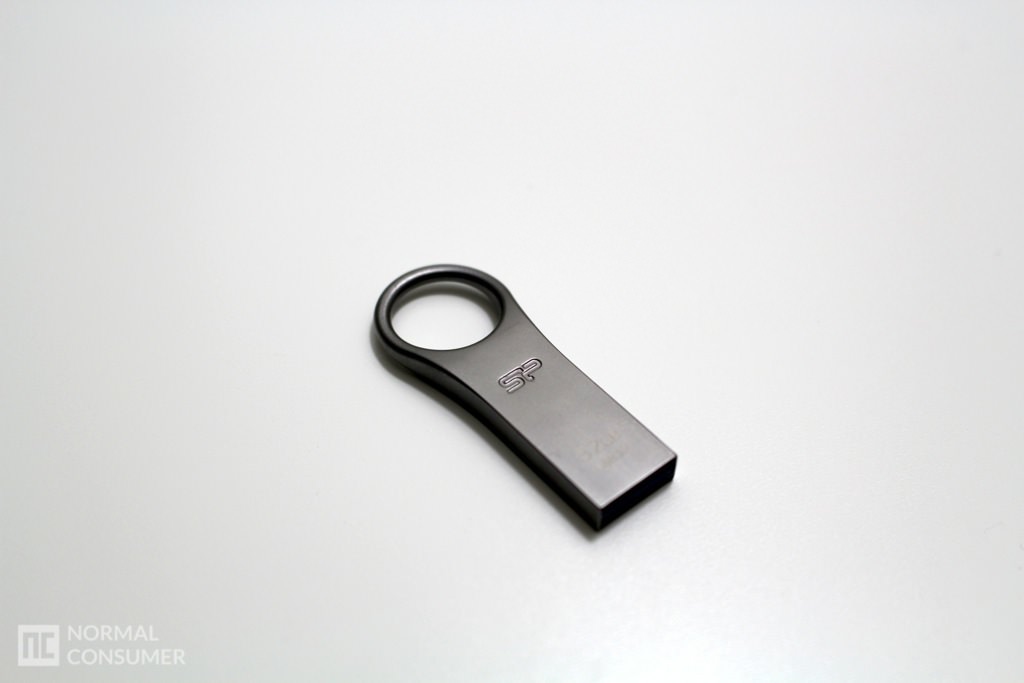 This flash drive has a very clean design, and the SP (Silicon Power) is stamped into the zinc alloy to give it a nice look. Here's the comparison of this flash drive with a few others that we've reviewed so far, B20, B30, and this one we're looking at, respectively.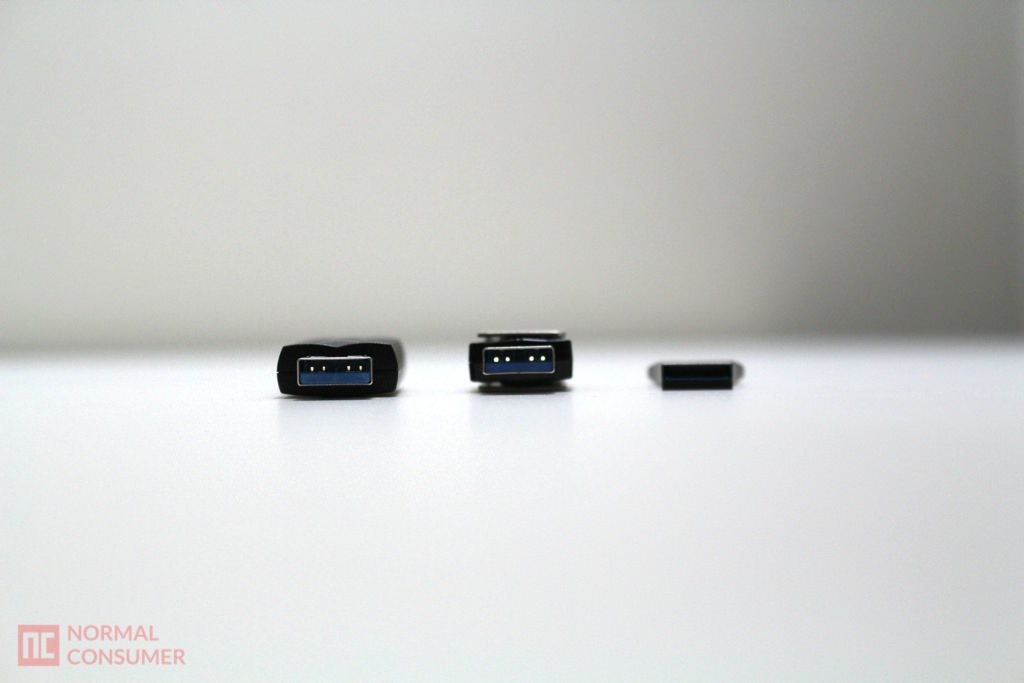 Not only is it extremely slim and low profile, it's compact in size too, as shown below.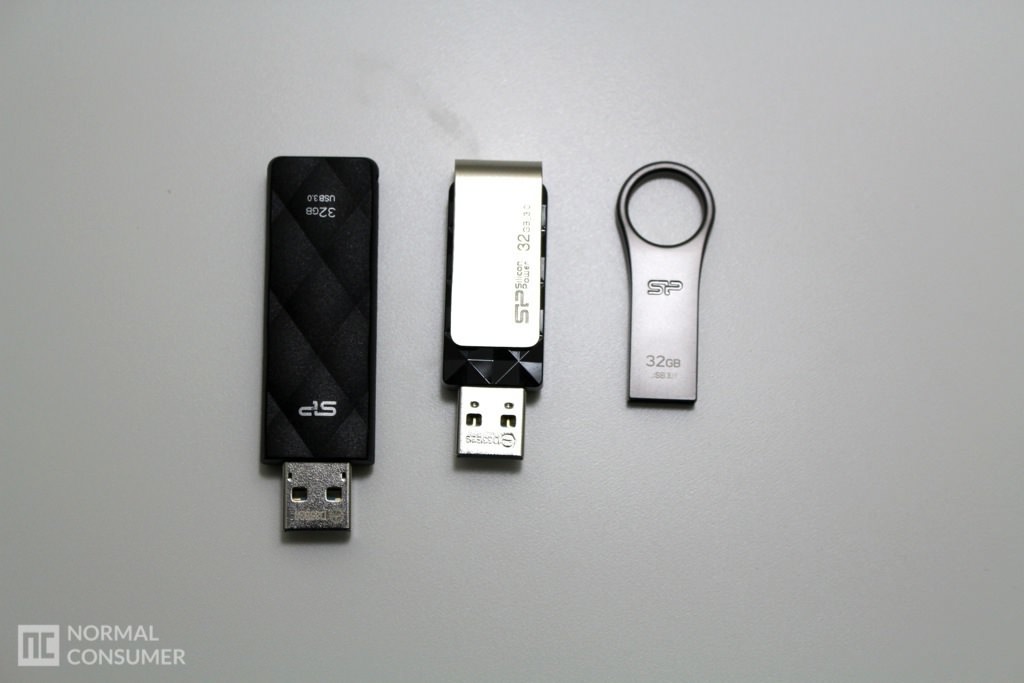 While I'm all about carrying the smallest thing possible, I found it difficult to use in the back of my TV where a larger flash drive was much easier to plug in and out of a limited space.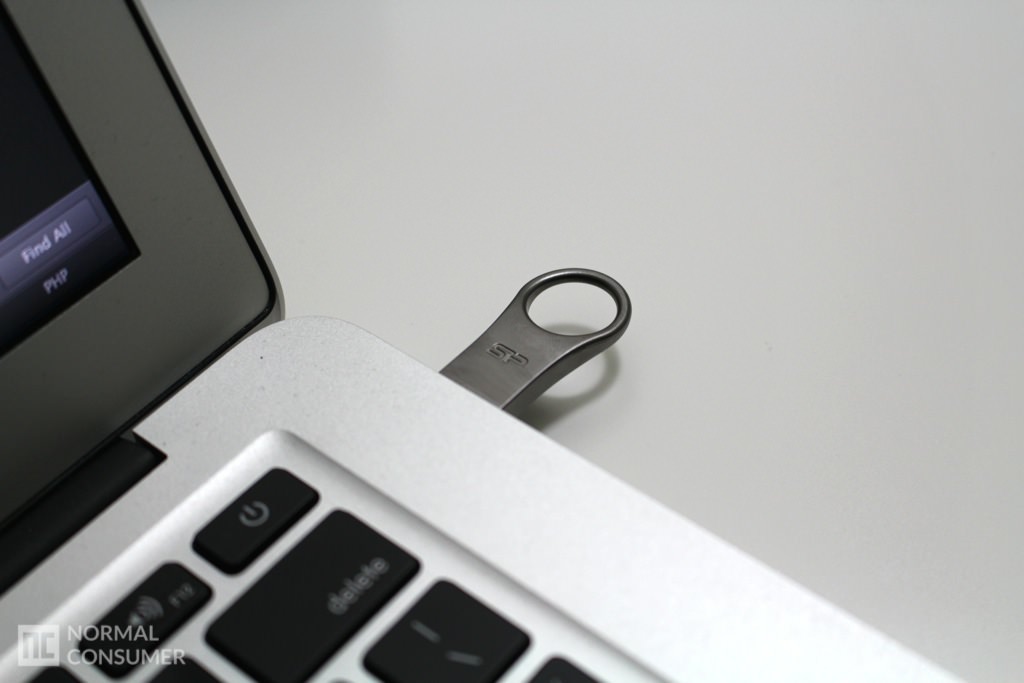 It looks pretty nice when plugged in, with or without a keychain. You can see the large ring allows other keys to hang there without a problem when plugged into my Macbook Air.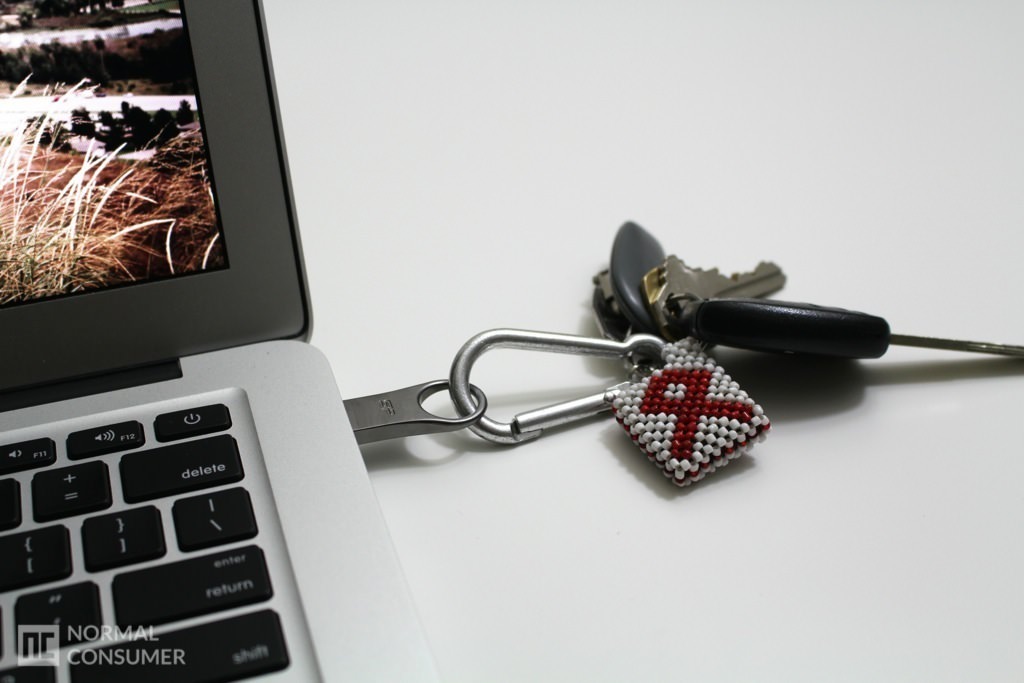 In terms of the speed, the highest I was able to see was 133 MB/s for read and 90 MB/s for write on a USB 3.0 port. While I did notice the speed to fluctuate up and down often, it's still faster than USB 2.0 flash drives. I tried transferring 1 GB file and it took about seconds, which is surprisingly much slower than other Silicon Power's bigger flash drives that we've tested. Speed may not be the fastest, but it's waterproof! I left it under a running water for some time, wiped it with the towel, let it sit for some time to dry, and it worked fine. Of course, I wouldn't plug anything wet directly into a powered on electronic, but we know this will handle many rainy days.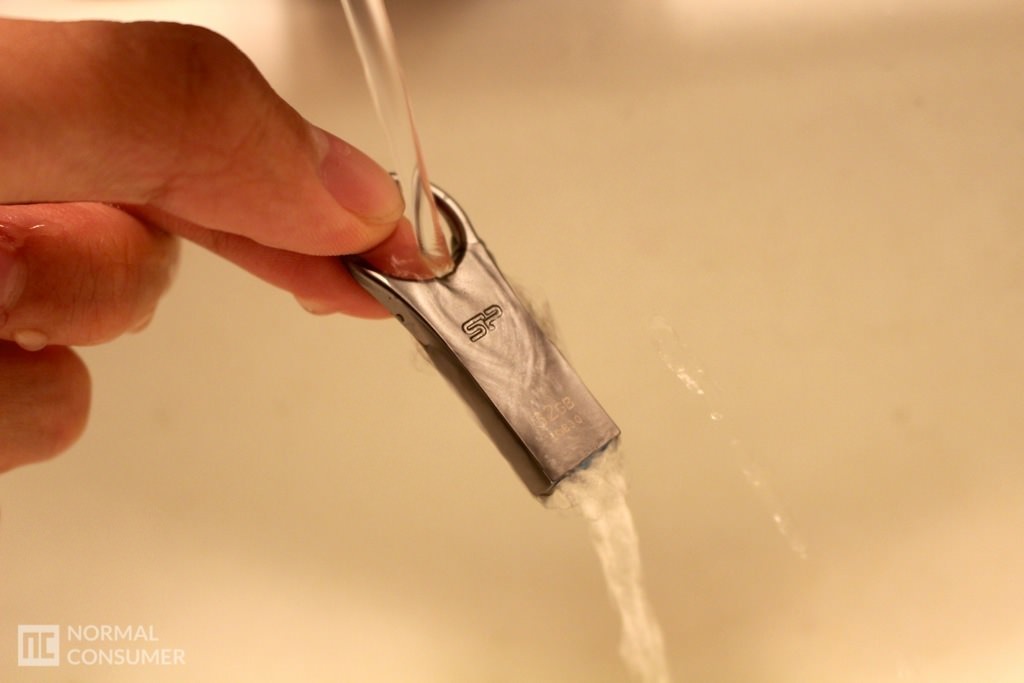 I personally think this is one of the best looking flash drives I've seen in a while and works perfectly as my daily driver that I'd carry around wherever I go. Silicon Power Jewel J80 USB 3.0 Flash Drive does not have an indicator light, but is made out zinc alloy that gives it a nice look and protection.
Pros
– No caps to worry about losing
– Waterproof
– Low profile, slim and small
– Build quality is extremely good
Cons
– Fingerprint magnet, like some oil residue marks
– Write speed is slower than expected