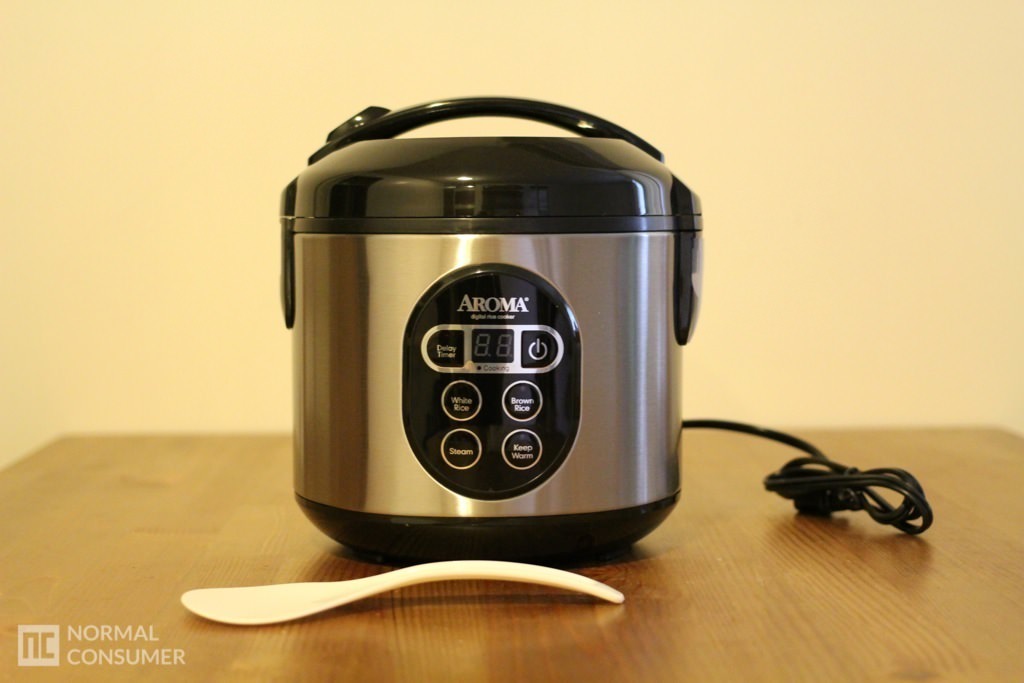 Aroma Digital Rice Cooker and Food Steamer is going to be your best friend if you cook and eat rice often. The last thing you want is uncooked hard rice that's not edible or burnt. There are many cheaper alternatives with a single switch that can cook or keep warm, but this rice cooker can delay up to 15 hours, which is perfect to get it ready for coming home after work. I've tried out a few rice cooker myself, and this works perfectly to prepare some steamy rice that's just right. That's coming from an Asian who grew up eating rice everyday too!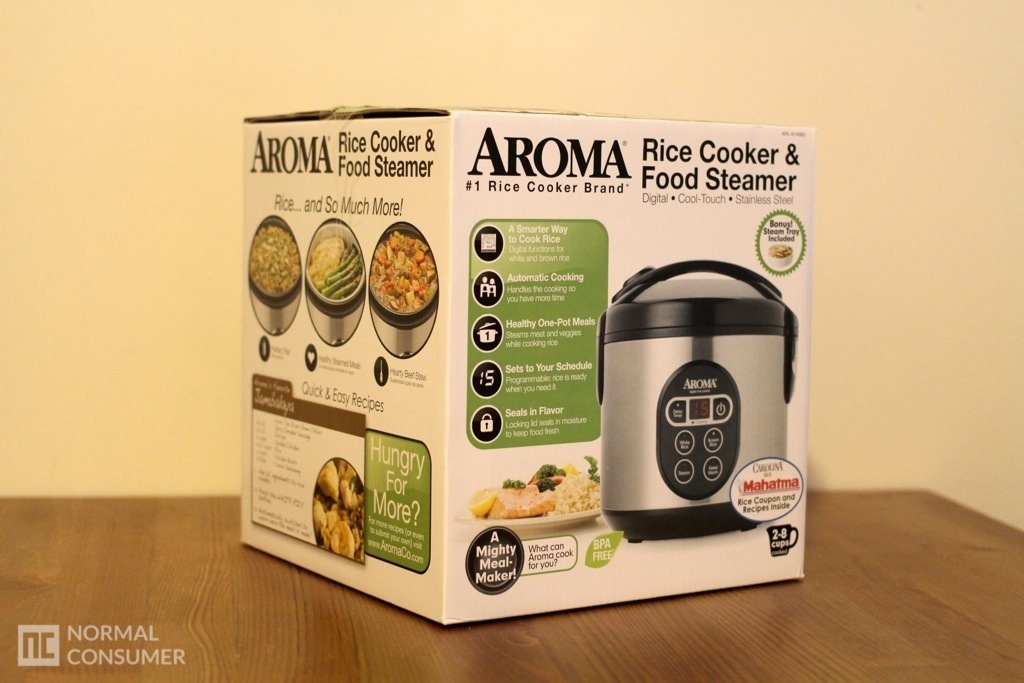 This cooker comes in a cube box with a lot of helpful information around it, claiming that it can cook from 2 to 8 cups of rice, and cook all sorts of other things like vegetable, soup, and more. From my experience of cooking rice for myself, prepping for 1 cup of rice seems to be okay too.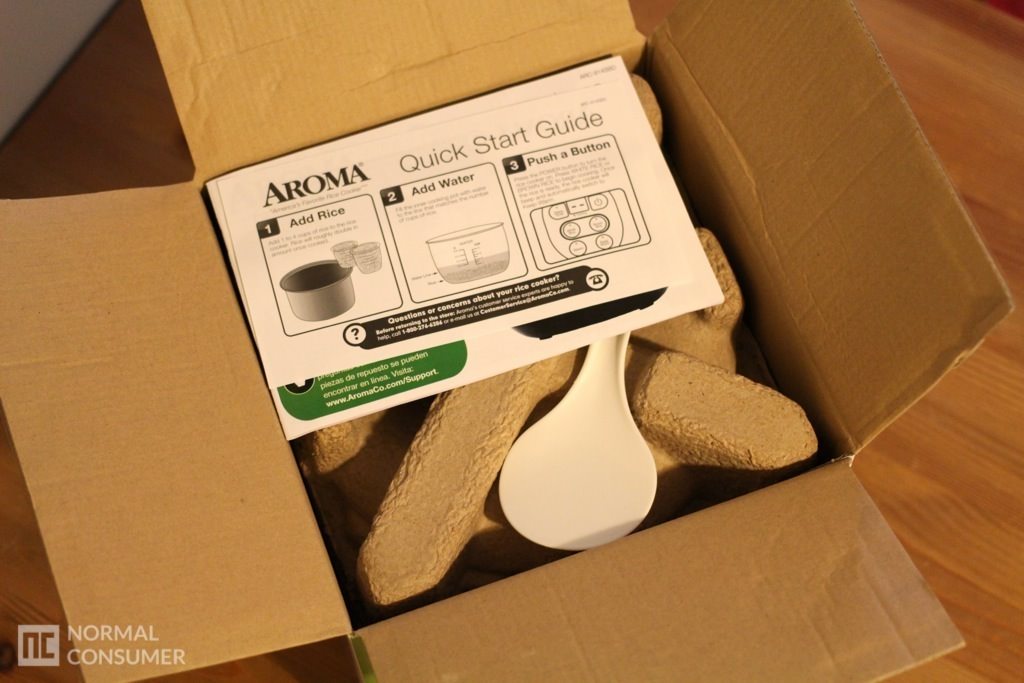 Opening the box gives us a quick start guide which explains how this works in three simple steps: add rice, add water, and push a button. I can testify that these steps are true except I wash the rice with water and drain a few times to clean the rice first. It also comes with a rice scoop that you can use to pick up rice without scratching the inner surface.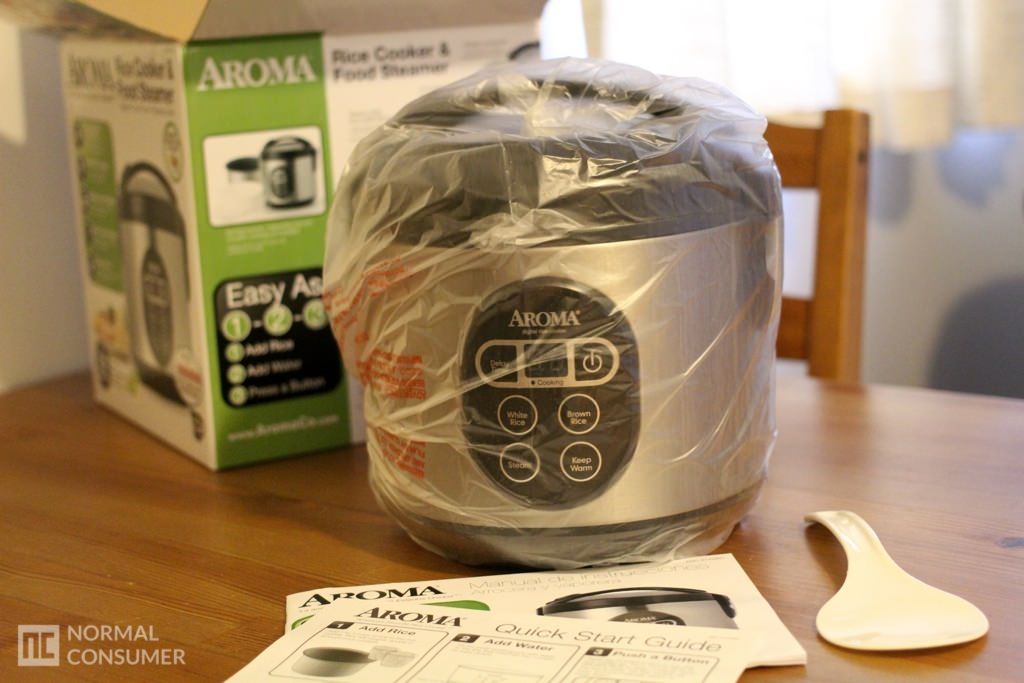 Take off the wrapper… and nice, we can see the stainless steel and black plastic construction. You can open the lid of the rice cooker by pressing the button attached on the handle, and there's more parts like the white plastic tray with holes that you can use to steam vegetables and a measuring cup to scoop out the right amount of rice. Apparently the vegetable tray is BPA free so it won't be harmful, sweet.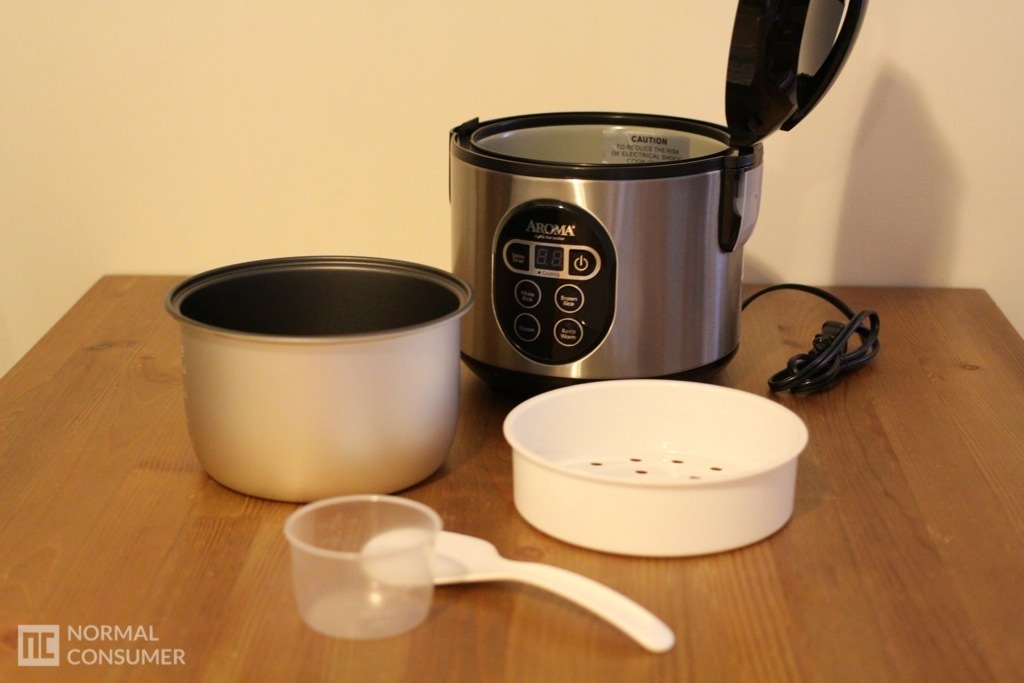 To make rice, I put a cup of raw rice into the bowl using the measuring cup first. Then I poured water, rinsed it enough to clean rice, and put fresh water up to the water level written inside the bowl.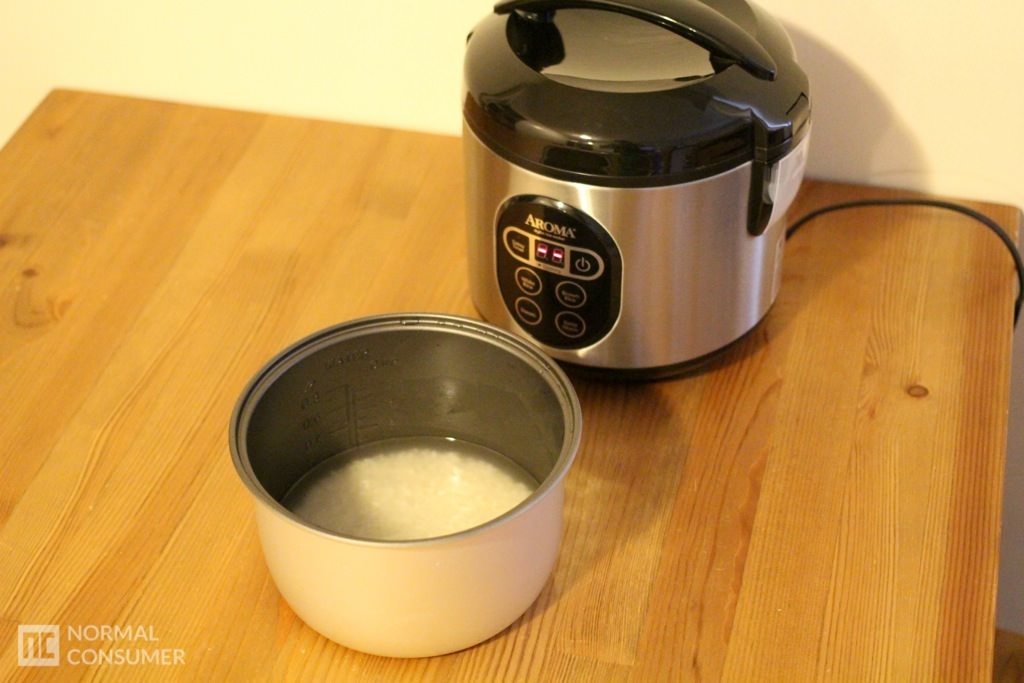 Then I simply put the bowl into the rice cooker, closed the lid, turned it on, and pressed "White Rice" button (Other available buttons are Brown Rice, Steam, and Keep Warm.) You can also press on the Delay Timer to schedule your meal for up to 15 hours. This feature was handy when I set it in the morning, went to work, and came back to find this cooker finishing up cooking my rice.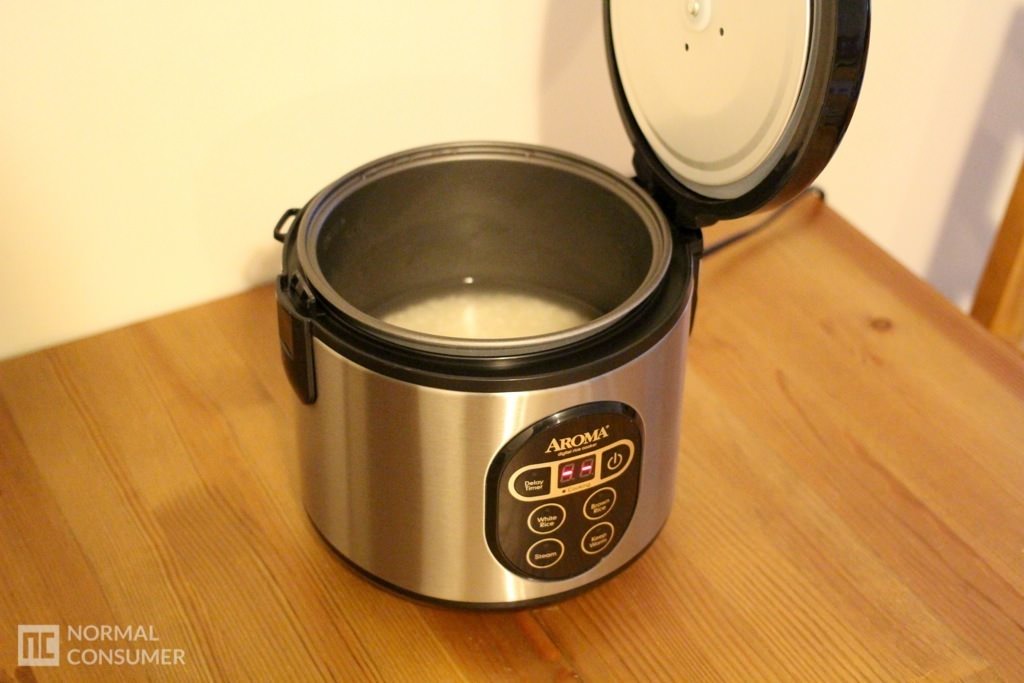 After those few steps, you just need to wait. For one cup of rice, it seemed to take about 20 minutes or so, and longer for additional amount of rice. While at first, the digital indicator won't show anything, it gives you a countdown starting towards the end. From usually eating one serving size, it would show up around last 12 minutes until it's done.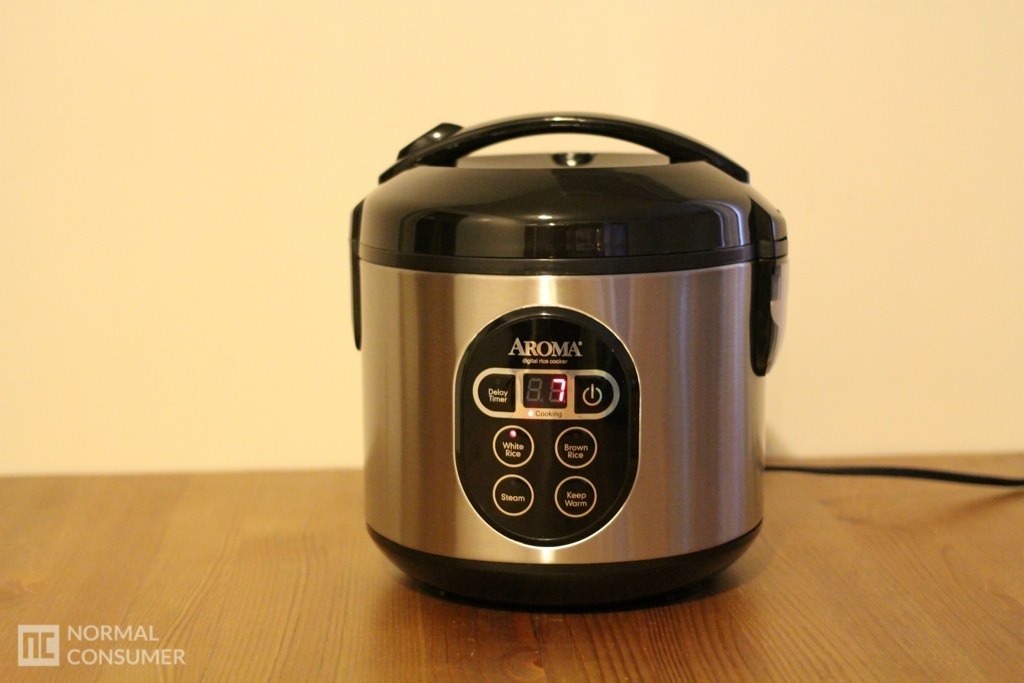 Notice the top of the rice cooker where the little vents will let steam come out, and there's a little slot for hooking the rice scoop. That's handy.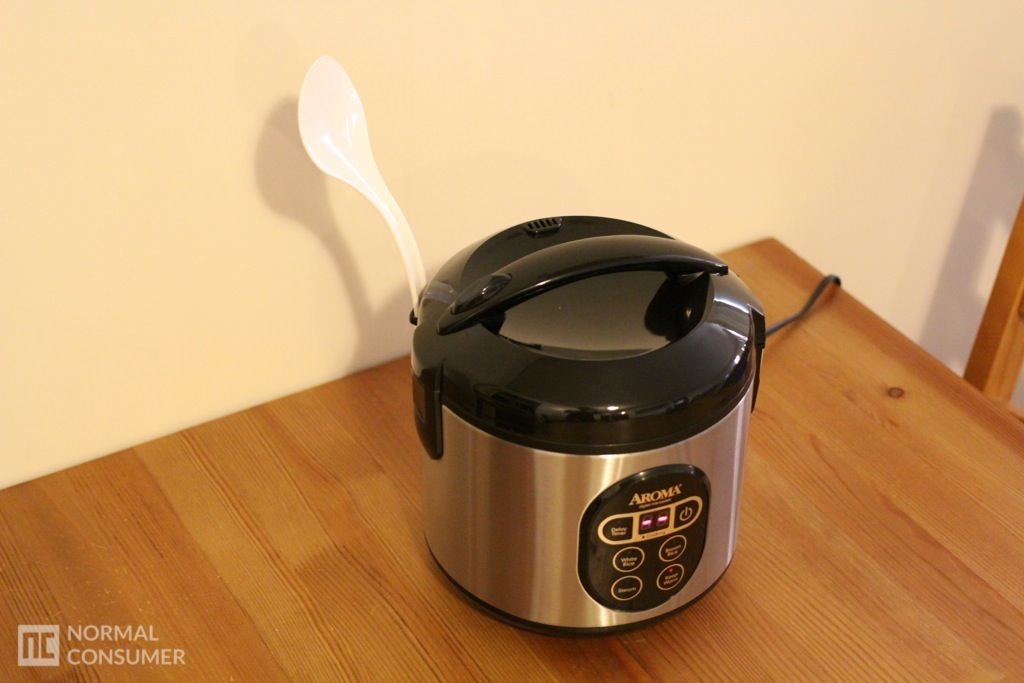 Once it's done, the rice cooker will start beeping out loud a few times. At first, I thought it was my smoke alarm but ha, it'll definitely get your attention that the rice is done! I'd recommend putting additional water if you won't be eating right away and plan to keep it warmed up longer, but this good looking rice cooker can make some tasty rice.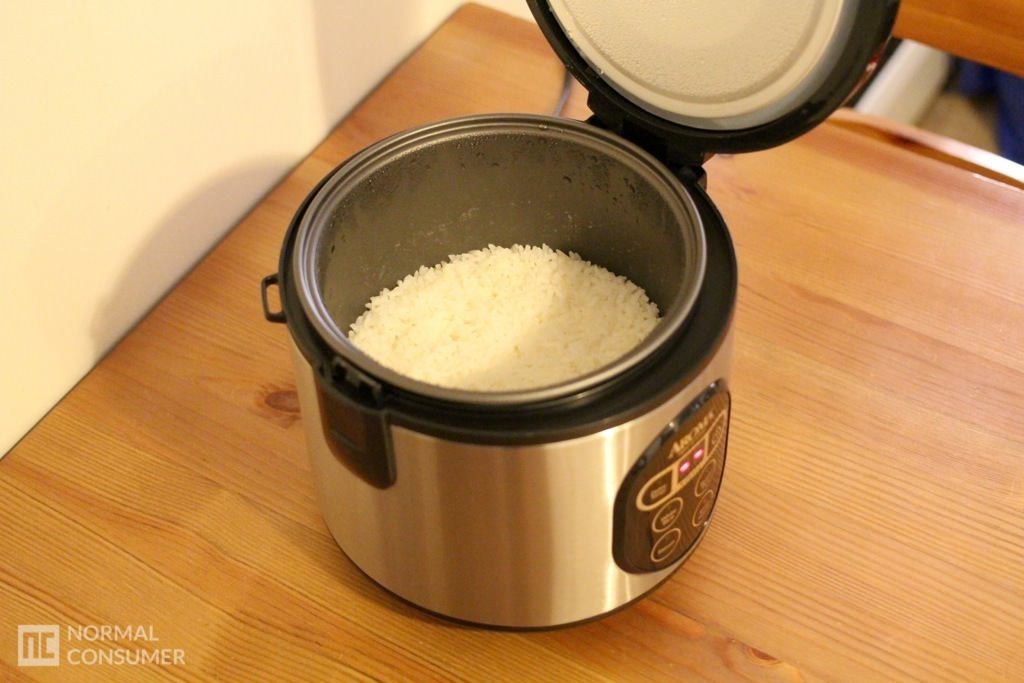 I remember using cheaper rice cookers with lids that would splash hot water drops, and this Aroma Digital Rice Cooker and Food Steamer is so much better. I should've bought this at first before trying out cheaper alternatives. I've been eating rice for a few decades now and I know this rice cooker makes some delicious rice that's not undercooked or burnt. This smaller version I use is for up to 8 cups but you can also get a 20 cup one if needed. You scoop rice, pour into the bowl, rinse, add enough water, press the button, wait, and eat. I'm sure even a caveman could do it!
Pros
+ So easy and can't go wrong
+ Can also steam and cook food other than rice
+ Stylish
+ Lid stays closed, no water splashes
+ Delay timer up to 15 hours
+ Stays on "Keep Warm" mode automatically after finishing
Cons
– Beeps are a bit loud for my little apartment but it may be good for you
Wishlist
– Having an actual clock like many microwaves would be nice