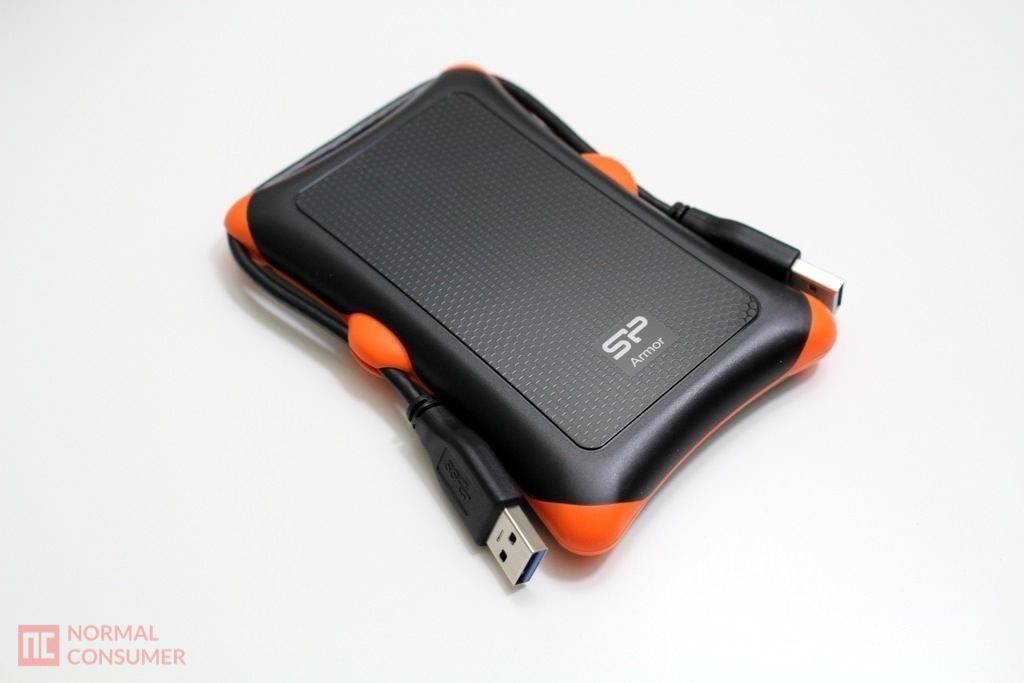 Silicon Power Shockproof USB 3.0 External Hard Drive is a durable external hard drive that will survive a drop from up to 3 meters high and last you through many accidental drops. This is great because many spinning hard drives may malfunction and fail from physical damages, and this hard drive boasts an advanced internal suspension system. This hard drive comes in two flavors (Black/Orange and White/Gray) with storage sizes ranging from 500GB to 2TB in the same 2.5 inch housing found in laptops. Not only will this device keep your data safe, it will also transfer data fast with an USB 3.0 interface. We'd say this is an external hard drive that you can confidentaly toss in your bag to go.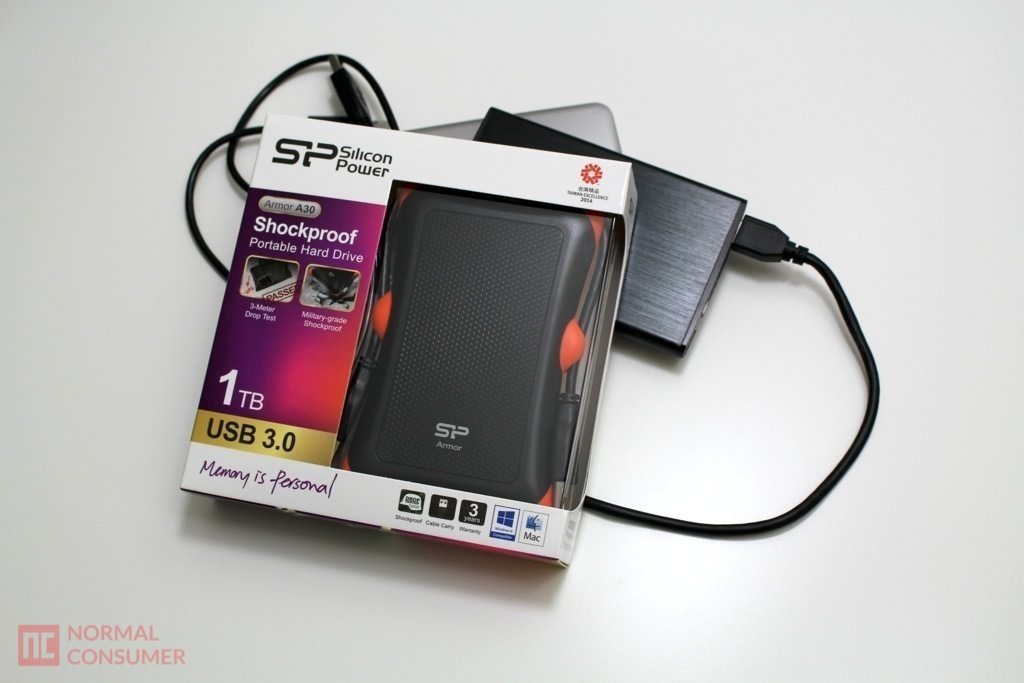 Immediately, we're able to see what the hard drive looks like and all the important information are presented to you in front of the box: shockproof, good for up to 3 meter drops, 1TB, USB 3.0, and even 3 years of warranty.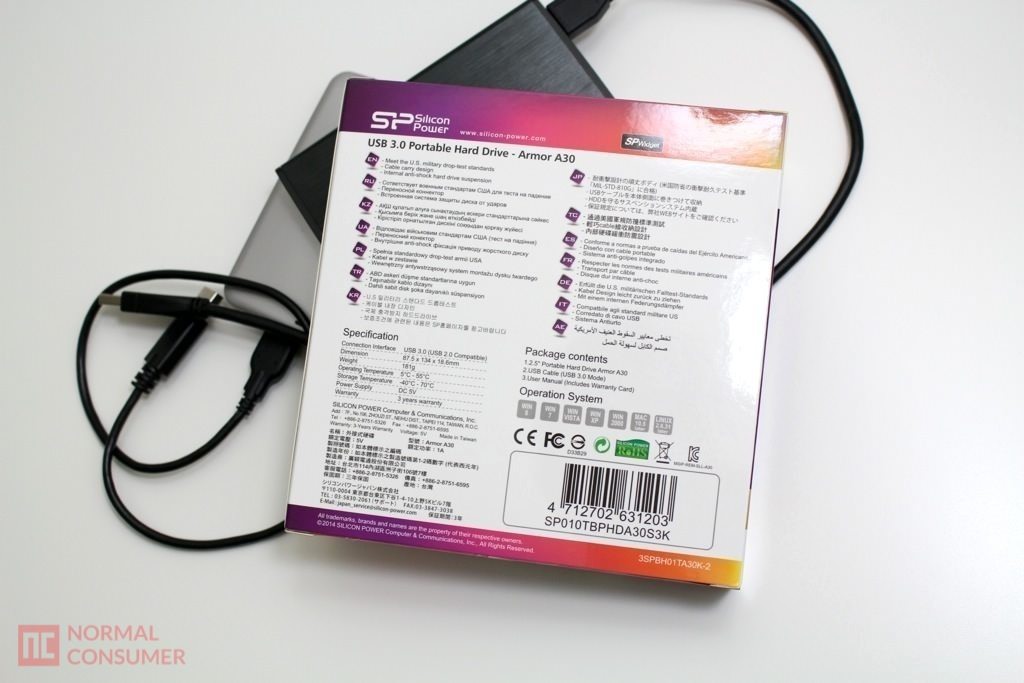 The other side of the box has nothing special and some less content may have helped with the clutter, but what caught our eyes was the list of all the compatible operating systems. While they list so many, it's worth noting that the hard drive comes in a FAT32 format. We know as a fact that will work most of the case, but becomes an issue for storing files larger than 4GB since FAT32 does not support that. So an option is NTFS for Windows or HFS+ for Mac OS. We've noticed that a few other brands such as Seagate includes a driver that will make NTFS compatible on Mac OS too, but this hard drive only comes with a file on activating warranty through the web. Not a deal breaker at all since you can simply format to your needs, but something to think about.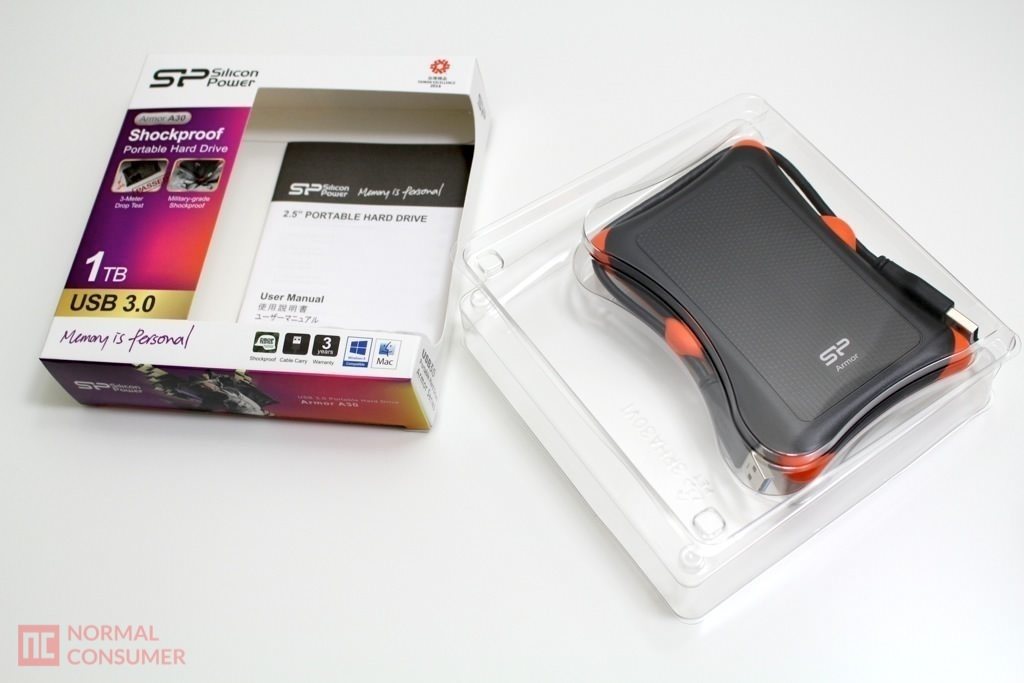 The packaging opens up nicely with the plastic holding the hard drive and a thin user manual. One of the easiest packaging to unbox, and they get +1 in the packaging department from us!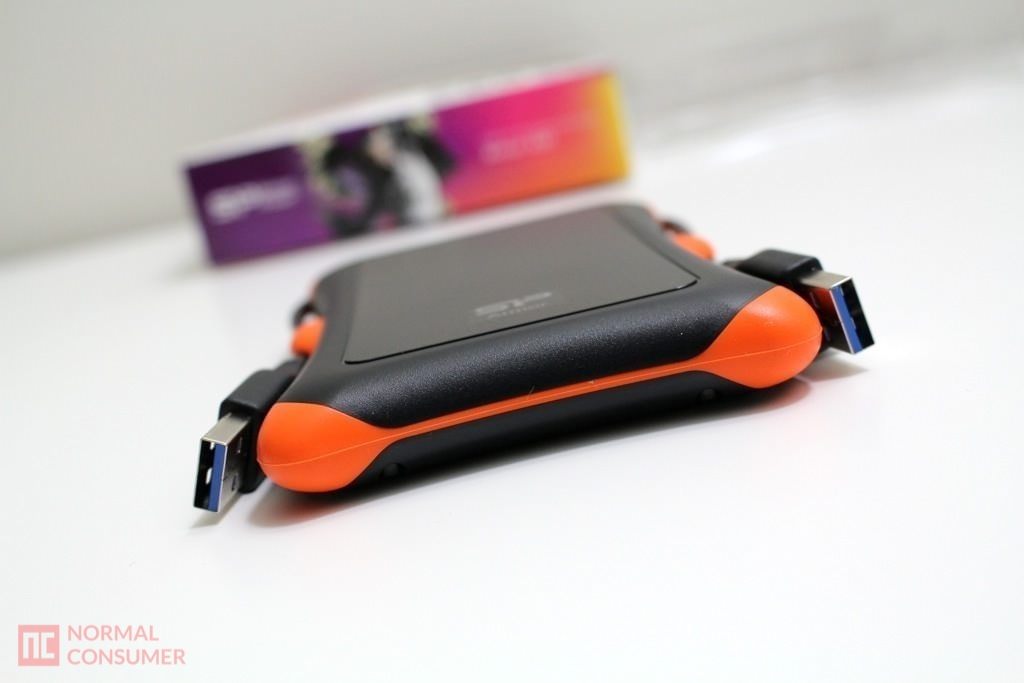 One of the most distinct character of this hard drive is the bumpers (orange in this color scheme) that are in tact along the edges and corners and act as shock absorber. As shown on the first image, the bumpers also have cutouts to hold the USB cable around the edges of the device and stays nice and tight without any dangling motions.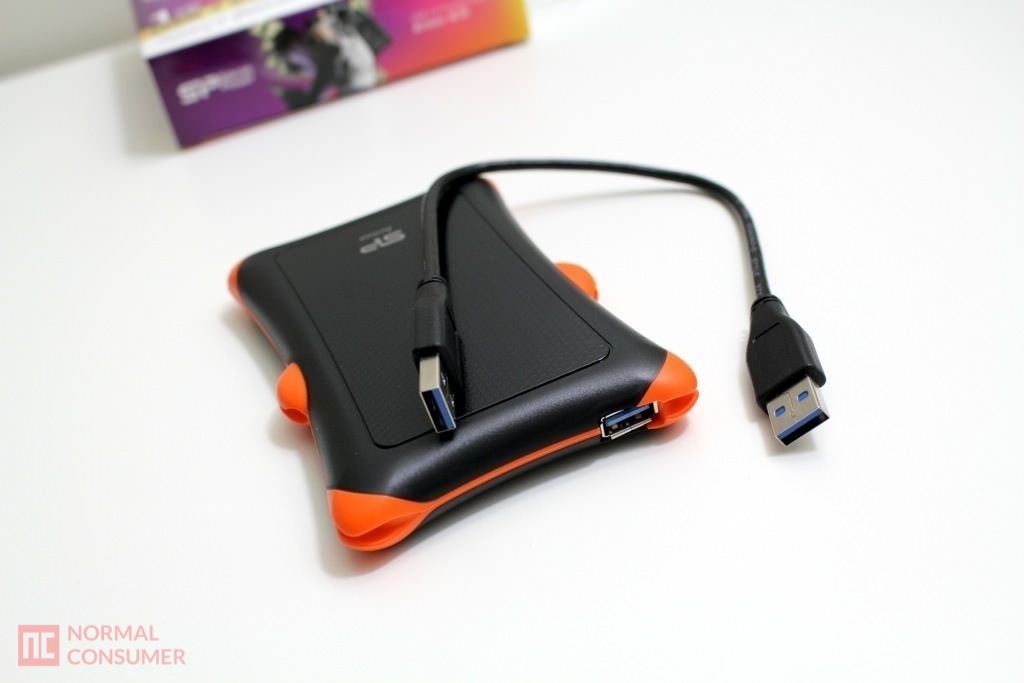 We can see the blue parts in each of the USB ports, and it's interesting that the cable is not a typical USB to Micro or Mini USB, but rather a type A Male to A Male USB cable. While this seemed odd at first for us, we realized this actually helps you to plug in whichever side without having to check which side belongs where. Especially since this hard drive encourages you to use this specific cable to keep it attached around it, we think it's a great move. Just need to not lose it…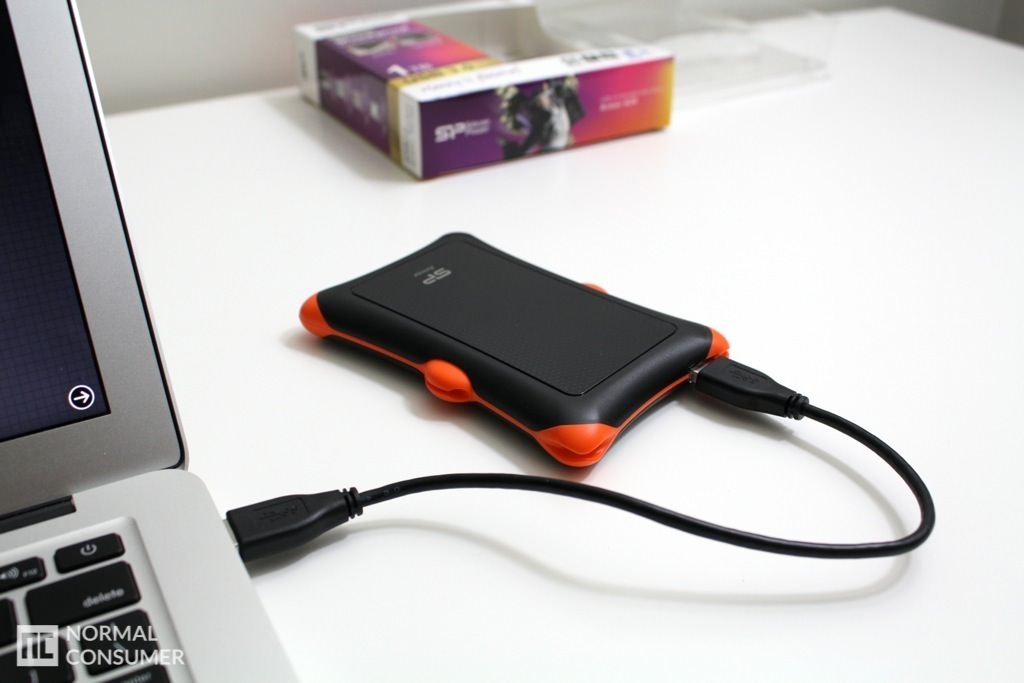 By connecting the hard drive to the computer, it starts spinning in a barely noticeable noise and is ready to go. With a USB 3.0 port, we were able to get an average speed of 106MB read and 77MB write, and it transfers files very fast considering that it's still a spinning hard drive and not a solid state drive. Moving a 1GB large video took about 7 seconds and it would still read/write fine while the hard drive is being hit against a tabletop. While we haven't tried throwing the hard drive across the room, we did drop it from 6 feet up high and ta da, still good to go. The indicator light is also embedded beneath the black casing with a blue light. It's hidden and visible, but not extremely bright where it gets distracting, great.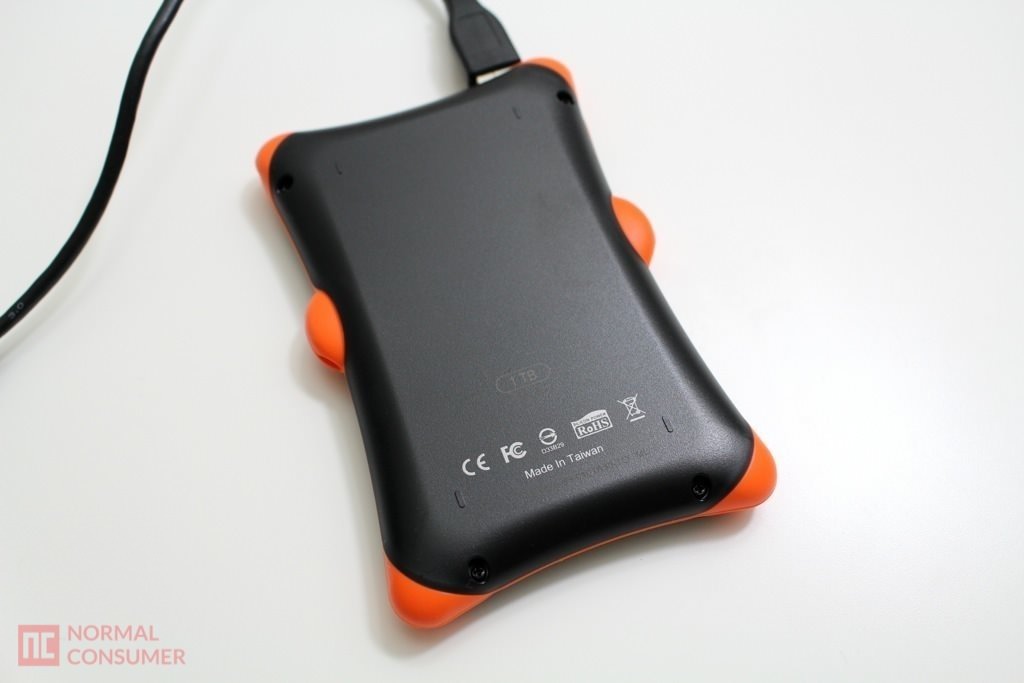 This hard drive boasts of the hexagonal pattern for scratch resistance on top, but the bottom is nothing but a bare plastic. Either putting some rubber stickers or something like the orange ones would've helped with flat drops and sliding on a surface.
In conclusion, Silicon Power Shockproof USB 3.0 External Hard Drive is a perfect external hard drive for your to go needs. Since there's no turning back on a damaged hard drive, this hard drive is definitely a relief from being afraid of losing data like the precious pictures you took last trip. The design is appealing, speed is fast for a spinning hard drive, and it remains idle when not being used so you can even keep it hooked up to a desktop at all times. We're confident this hard drive will survive a minor earthquake and some abuses from tossing your bag on the floor.
Pros
– Shockproof, rugged
– Cable holder around the edges
– Rubber bumpers in the corners for drops
Cons
– USB cable is a male to male instead of micro or mini USB on one end