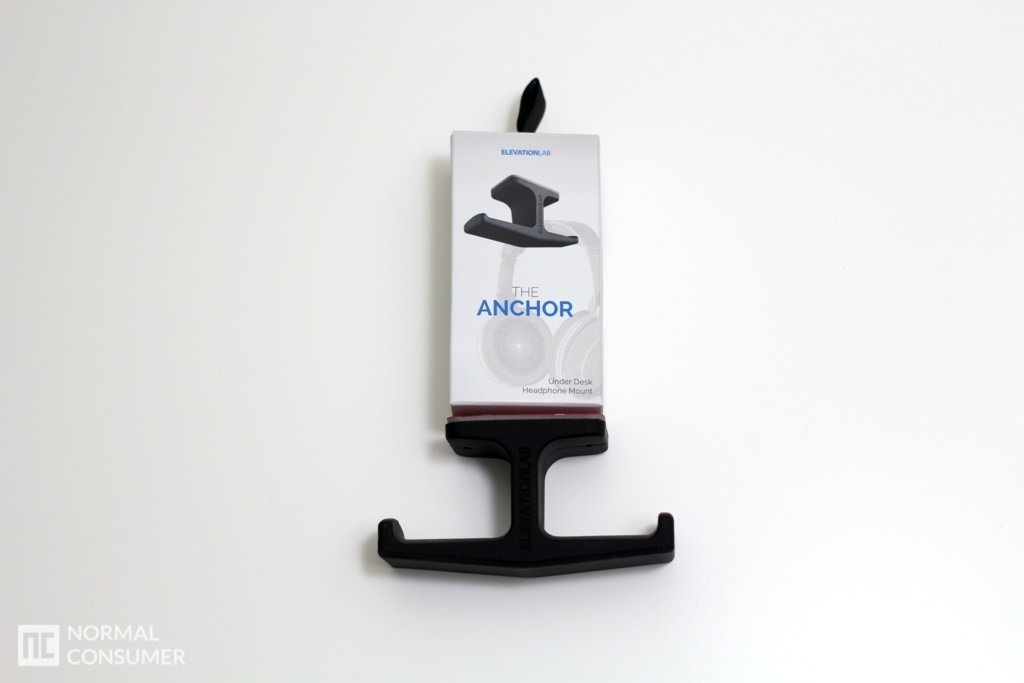 ElevationLab Anchor Under-Desk Headphone Mount is a simple add-on to organize headphones without cluttering up your workspace. I like to keep my desk clean and this is perfect to keep my headphones out of the way, but still keep it accessible within my reach. Traditional headphone stands usually sit on top of a surface and can hold one headphone, but this mount can handle up to two headphones and will stay hidden wherever you decide to place it. Its flexible rubber body is soft textured but will certainly hold up all headphones regardless of the weight. It looks like an anchor too!
Check out ElevationLab's video to get a feel for this product.
It comes in a box shown the above and it was quite a challenge to pull it out of the tight box because of the soft touch material. It's not a regular rectangle shape and I think a slightly larger packaging wouldn't have hurt. It comes with a 3M adhesive that's also used by the GoPro folks, and it's really strong, like really. I even struggled to peel off the red plastic strip.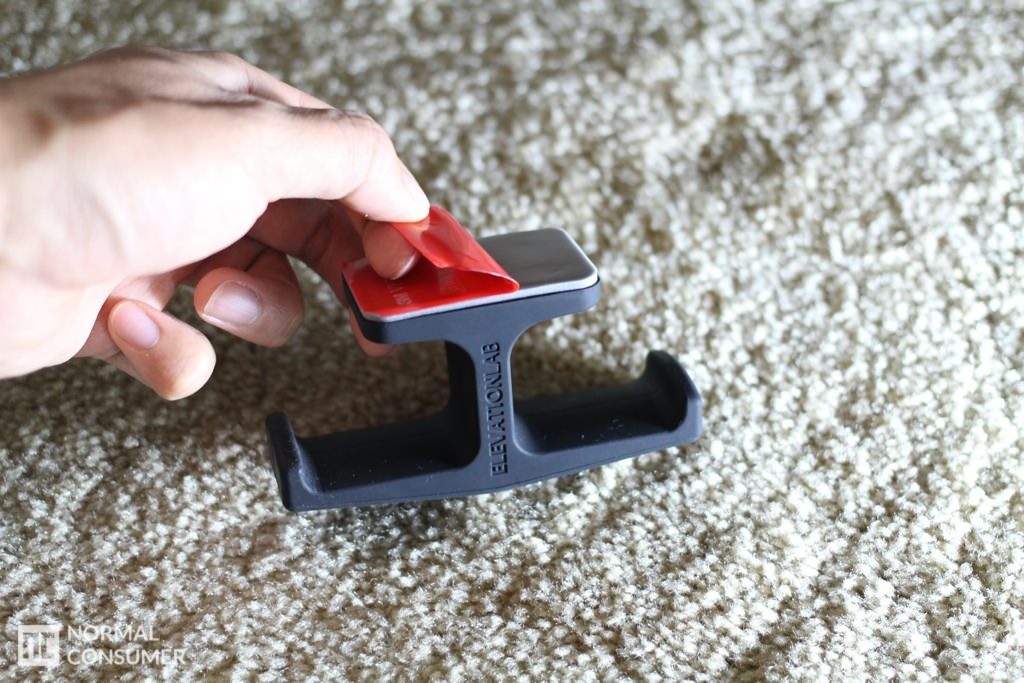 You need to be careful with where to place it at first because once you stick it, it'll stick hard as if it was super glued. You can use a hair dryer to heat up the adhesive to peel it, but you probably wouldn't want to do that often. I put mine on the left edge of the table so that it wouldn't get in my way and just enough to not make the headphones stick out.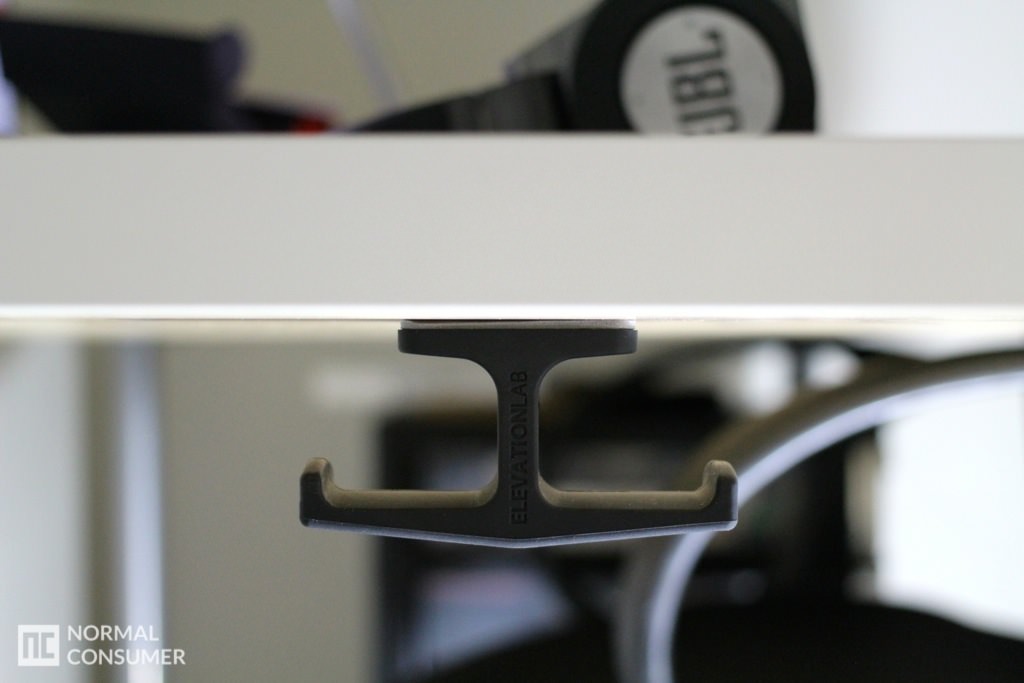 While it's made out of some heavy duty silicon, it does flex and work like elastic rubber bands where it comes back to its original shape no matter how much you flex it or weigh it down. To test its extreme, I bent it as much as I could and it didn't struggle at all.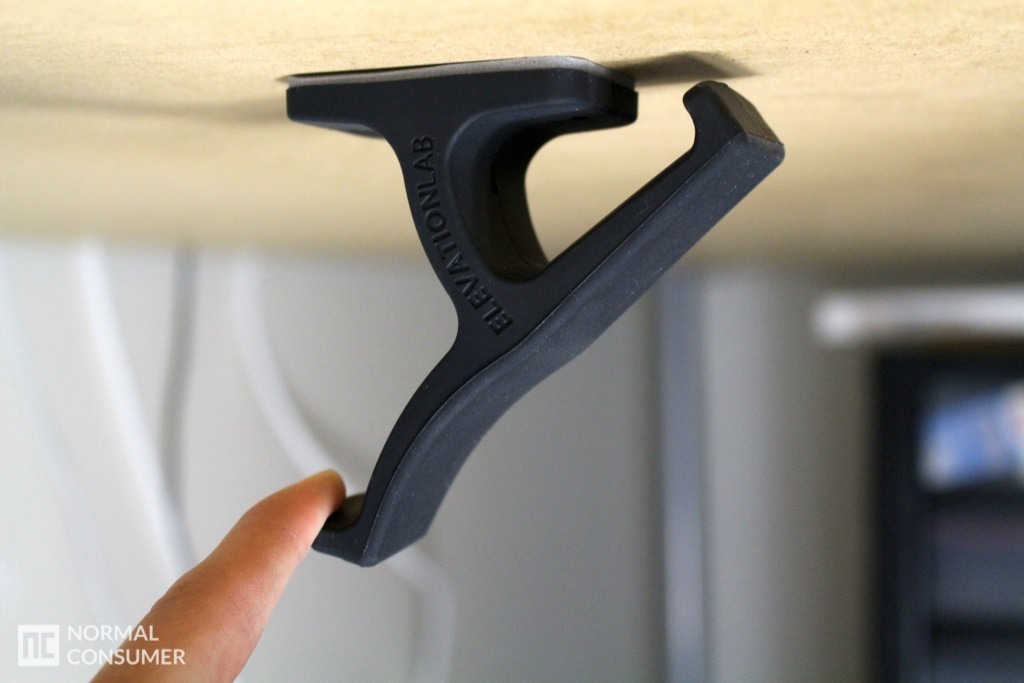 I put on the JBL Synchros E50BT Bluetooth Headphone that we reviewed before, and you can see how it barely bends the Anchor. Some heavier headphones might weigh it down further, but the lifted edges will keep things from sliding or falling off — good design!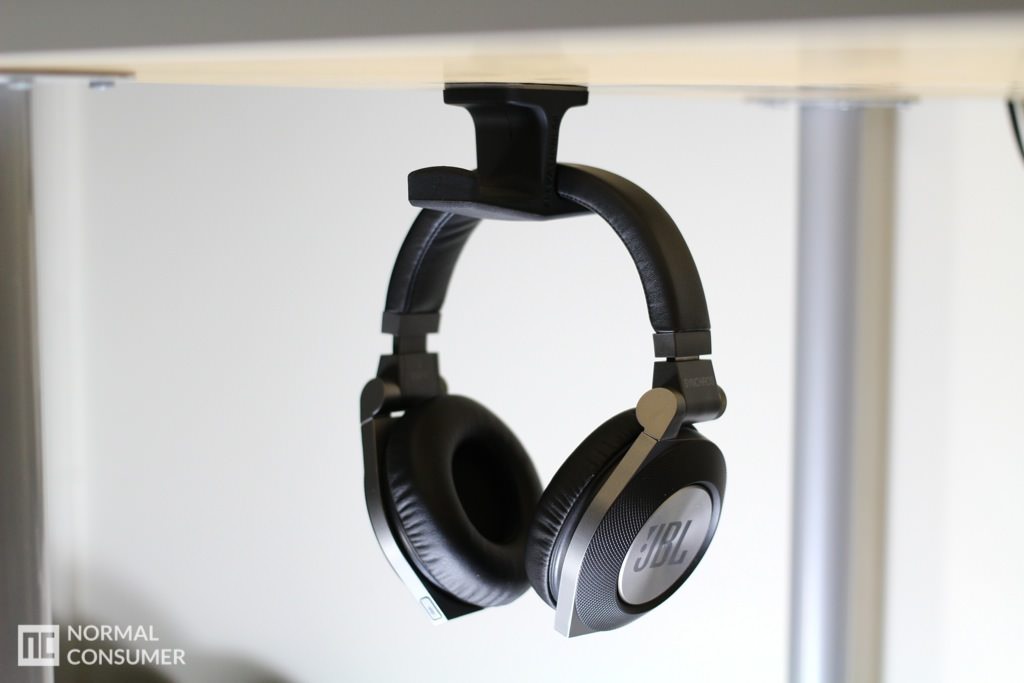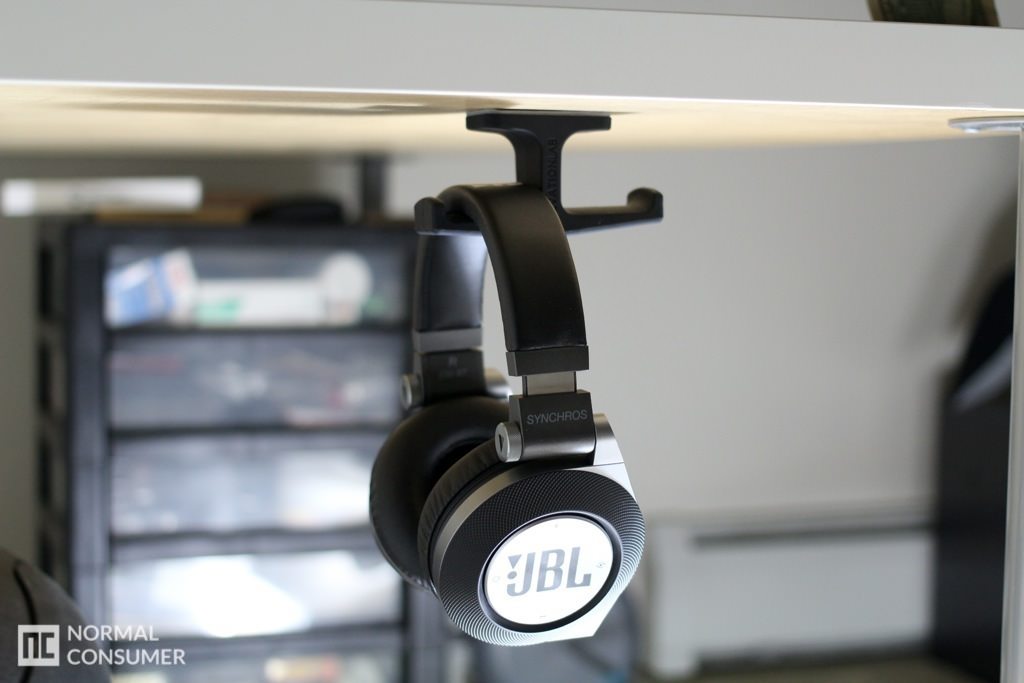 It's nice that there are two hooks for two headphones, and this is what it looks like with Harman Kardon NC Headphones on it too. No struggles at all!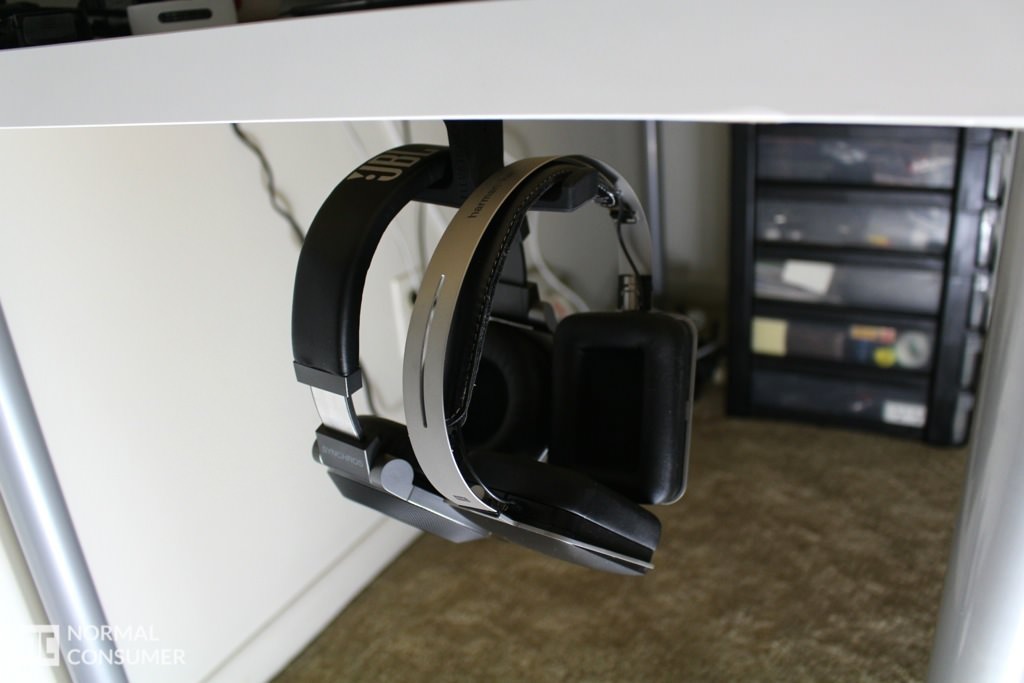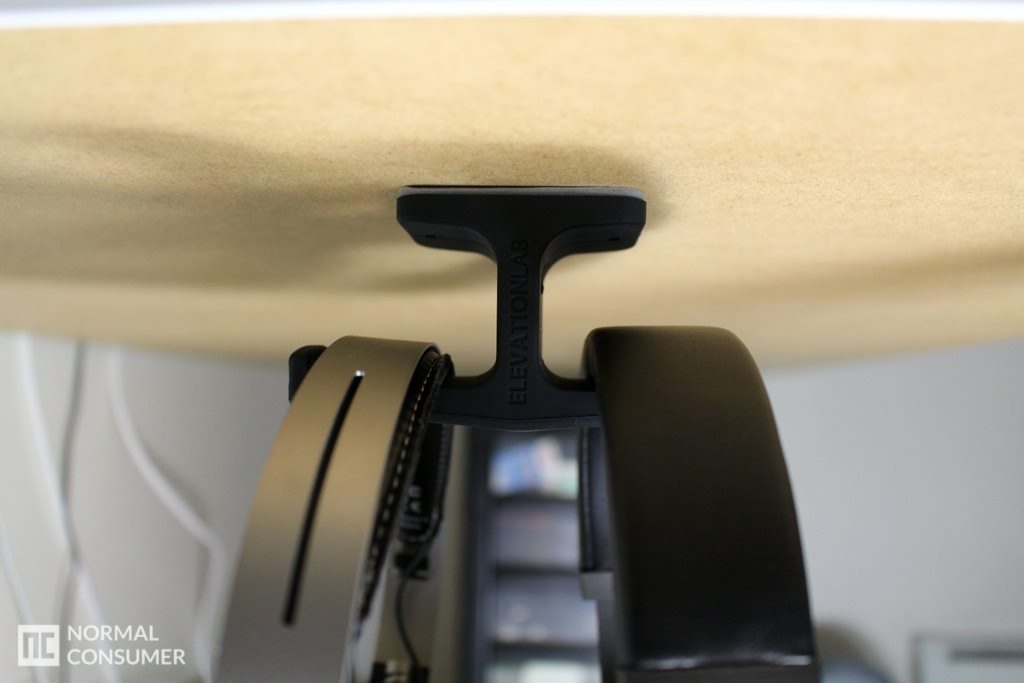 It can hold things other than headphones if you'd like. If you happen to have weird things like an electric kettle, that will hang under the desk well too.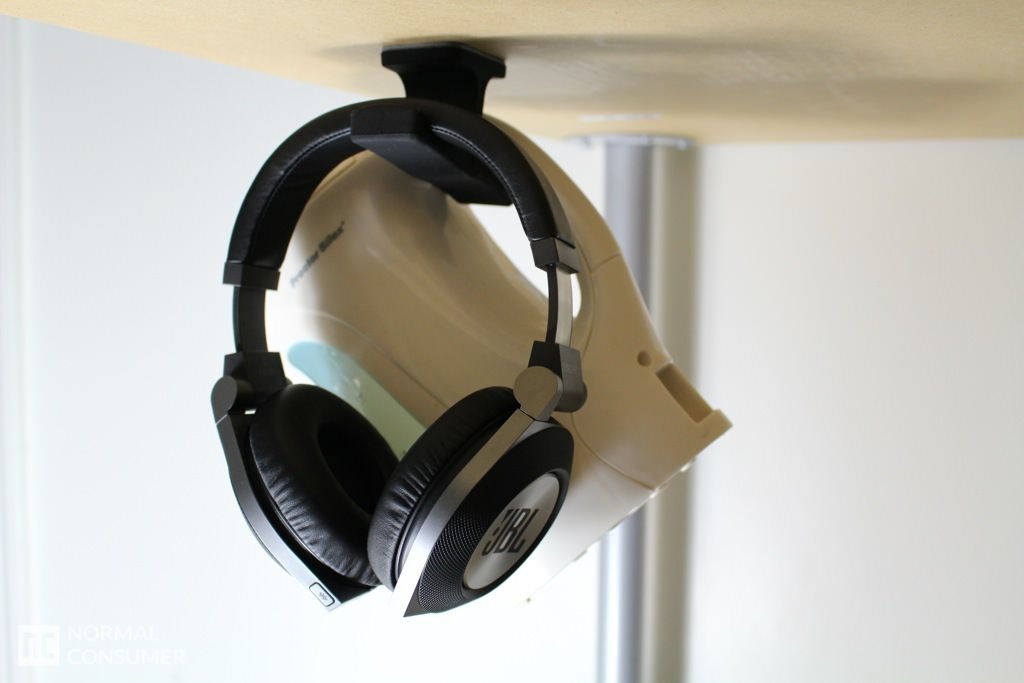 You can also hang a bag on it too, and now you have an idea of all the things you can hang on the Anchor.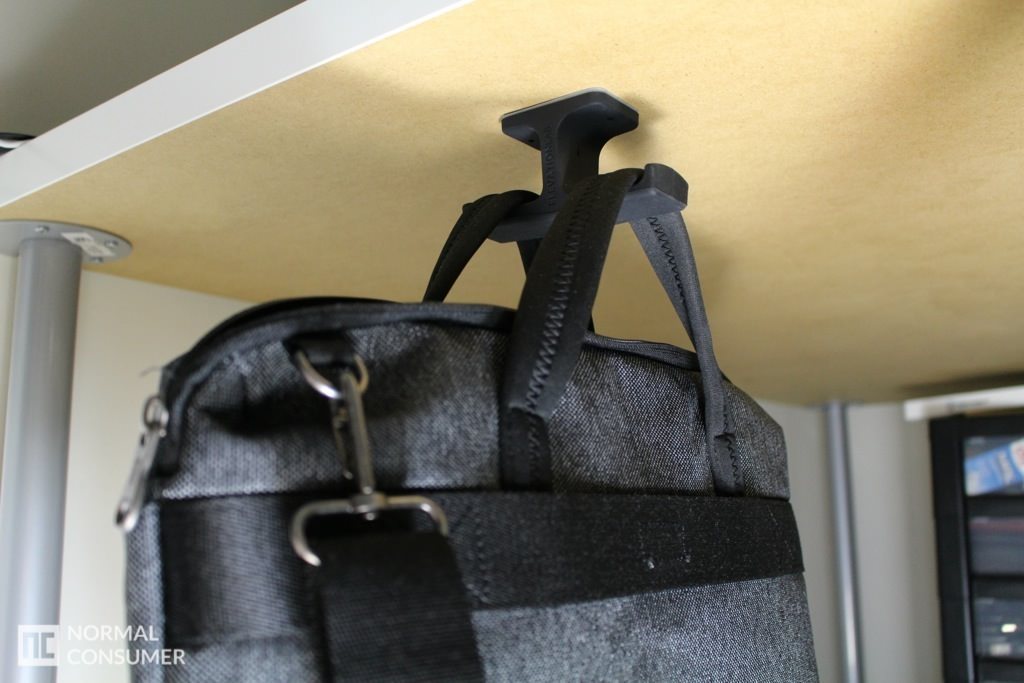 ElevationLab's Anchor is a neat little hanger that will help you music listeners keep the desk clean. I used to hang my headphones on my lamp and in random places, but I love how Anchor keeps my headphones out of my sight, dust free, and still reachable under the desk. I wonder if the adhesive could be replaced by a strong suction cup but I can see that the Anchor is very well made. If you've got headphones and a desk, I'd give this a shot and I think you'll be as pleased as I am! Perhaps they can make an aluminum version next though.
Pros
+ Heavy duty
+ Holds up to two headphones
+ Able to hold other objects
Cons
– Packaging is too small – Unboxing is a bit challenging